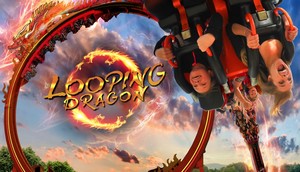 January 2015 update: This ride is now going to be called El Diablo. Same ride, they just decided on a different name, likely to incorporate it into Plaza del Carnival rather than Golden Kingdom.
Six Flags Great Adventure announced today the addition of a new ride for the 2015 season. Looping Dragon, a Larson 22 meter Fireball model, will be placed in the Golden Kingdom section of the park, around the former location of Rolling Thunder which was removed this past off season. The ride will feature "face-off" style seating and "heart pounding" 360 degree loops.
It will be Great Adventure's 13th roller coaster…wait, what?
Okay, I like that Six Flags is getting a new flat ride. They really do need help in that department and a giant Larson Superloops style ride fits the bill nicely…but calling it a roller coaster? I don't think even carnivals call their Fireball or Ring of Fire rides "roller coasters" even though they could potentially benefit from doing so.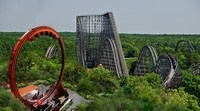 What I'm actually more excited about is the fact that Six Flags is actually going to use the Rolling Thunder area for something rather than neglecting it like they've done with some other areas of the park. There's a lot of room back there and I see Looping Dragon as just the first of many improvements to that area of the park.
So, while a lot of people are poo-pooing all over this addition, I have to say… I ain't even mad. It's also going to be fun seeing the coaster credit whores fight about whether it's a new credit or not!
Here's the newsletter article about the new ride. I'm not sure if I've ever seen a Fireball ride described with such gusto.