Ring of Fire, manufactured by Larson International, is such a stereotypical carnival ride. It's loud, it has a combination of 80's gaude with a side helping of mechanical terror, and the ride op practically sits in the path of the train to operate this harrowing device.
Ring of Fire is a large steel ring with a train that is attached to a moving track. The track is sort of like a steel conveyor belt that spans the entire inside of the ring. The track is moved by hydraulic motors and travels along rollers positioned all along the inside of the 59 foot tall loop structure. Those rollers make Ring of Fire's unmistakable roar.
During setup, the loop structure unfolds from the trailer and is then fastened at the top. Cables span the structure of the loop to keep it structurally sound. If the carnival wants to make it look tacky, they can put those little multicolored pennants along the cables.
The Ride
I'm amazingly biased against Ring of Fire as A. the ride makes me nauseous, and B. the cramped cars are almost panic attack enduing. I'm sure many people have a blast on this thing but I'd take Larson's open air version, Fireball, any day over the enclosed variant.
I'll just document one of my more memorable rides on Ring of Fire. It was in July of 2005 at the Meadowlands Fair in East Rutherford, NJ. My cousin and I decided to ride Ring of Fire. This particular Ring of Fire actually looked pretty decent with a new, black paint job and sequenced turbo lighting.
We walked up the ramp, showed the ride op our handstamps, and proceeded to one of the seats. When I got to the seat, I was surprised to find that the compartment was about 3 1/2 feet wide, and about 2 feet front to back! It was smaller than hell! We crammed ourselves into the seat, and then waited like 10 minutes for all the other riders to load. During the 10 minutes, we noticed the total obliviousness that people had to the "2 riders per seat rule", even though ride op and numerous signs had made the point clear. We also noticed the stagnant water smell that permeated the compartment, obviously the ride had been hosed down numerous times from vomit.
Finally, the ride up closed the restraints, which are these giant padded lapbars that close downward. Once closed, the 2 steel bars that hold the bar in place are seriously no more than 8 inches away from your face. The op then closed the doors, pinning us in our cell for the next few minutes.
The train rocked back and forth quite a few times in attempt to complete a loop. To my absolute surprise, the ride was pretty smooth! During one of the final swings, some person's pants button hit me in the face. I grabbed it…somehow. I then held onto it for a few seconds, contemplating what to do with this. What was I going to do? Exit the ride and ask around if someone was missing a fucking pants button? I eventually chucked it, whilst upsidedown, into an unoccupied section of parking lot. I then started to get a bit nauseous; I had to close my eyes eventually so I wouldn't get sick. I can't imagine what it must be like to have someone hurl in that tiny compartment. Luckily the ride ended quickly, and I sort of stumbled out of the car because it's damn near impossible to get out of that tiny seat in one clean motion.
Other Info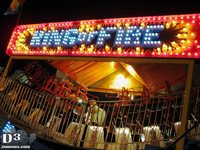 Ring of Fire is the second generation of looping rides by Larson. The predecessor to Ring of Fire was Super Loops, which debuted in the 1970s. Super Loops is nearly identical to Ring of Fire only with a few mechanical and cosmetic differences. Ring of Fire then debuted in the 80s, giving the ride a more "thrilling" theme. Then came Fireball in 1998 which saw the addition of open-topped trains and shoulder harnesses.
Larson also makes giant models of Fireball with a 72 foot tall loop. These 'Giant Loop' models seem to be for permanent installations only. Several parks have these giant Larson loops including Greezed Lightnin' at Great Escape, Mardi Gras Hangover at Six Flags Great America, and Brain Drain at Elitch Gardens.
Multimedia
First, a video of Majestic Midway's Ring of Fire. This one looks great and runs fast!

And here's a video of Powers Great American Midway's Larson Fireball…without a doubt the fastest run Fireball or Ring of Fire I've ever seen.

10: Yo Yo | 9: Trabant | 8: Hustler | 7: Cobra | 6: Ring of Fire | 5: Paratrooper | 4: Scat | 3: Zipper | 2: Hi-Roller | 1: Sky Diver | WTCR Home