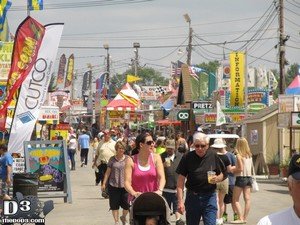 There seems to be an increasing number of "state fairs" in New Jersey now. There's "State Fair" Meadowlands, Freedom Fest "State Fair," and New Jersey "State Fair." The only one that can really lay claim to the official "state fair" designation is the New Jersey State Fair & Sussex County Farm and Horse Show up in Augusta, NJ.
The fair went from August 1 to the 10th. As usual, I went with a couple of my cousins. We arrived at about 12pm on the 6th and redeemed our mega passes at the gate. Reithoffer Shows' blue unit was running the midway and the fair had…
Air Race
Super Himalaya
Wild Claw
Zipper
Pharaoh's Fury
Yo Yo
Enterprise (Starship 2000)
Gentle Giant wheel
Sizzler
Fireball
Avalanche
Grand Carousel
Tilt-a-Whirl
Tornado (Wisdom)
2x Slides
Haunted Mansion
Scooter
Mini Wave Swinger
Western Mouse coaster
5x Funhouses (Crazy Outback, Magic Maze, Jungle Fun, Toy Box, Rock n' Roll Funhouse)
Many Kiddie rides (Raiders, Circus Train, Bumble Bee, Crazy Bus, Rockin' Tug, Hot Wheels, Flying Tigers, Wiggle Worm, probably some more that I can't remember)
Games, games and more games
An incredible amount of foodstuffs
Agricultural, horticultural, and livestock exhibits
Circus, racing pigs, and other entertainment
Horse show
A massive amount of vendors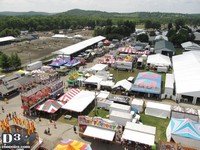 The weather forecast the night before called for a 50% chance of rain later on in the day, but this dropped to almost no chance the day of. Wow, were we actually going to get a day at this fair without some sort of rain?
We hit a few rides first before heading on to other things. Our first ride was on Scooter, a bumper car ride. The ride went for like 3 minutes and in that time I kind of drove around looking for my cousin's cars in order to slam into them. Well, not really slam, more like "forcefully roll" into them. Next up was Tilt-a-Whirl; I haven't seen this ride at the fair in a while. We all piled into one car and got a few good spins. Probably best not to have too much spinning as my two cousins can't take that as much as I can.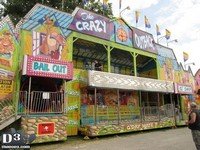 We took a run through Crazy Outback next, a Cuckoo Haus re-themed to various Australia stereotypes including boxing kangaroos, boomerangs, "g'day mates", and bogans. Funny enough they were still playing polka music on the ride. Really, what could they do for Australian music? Have a didgeridoo CD play for hours? Unending loops of 'Down Under' by Men at Work?
Our next stop was Zipper, which not only had a sign saying that there were "no single riders" but also had "no rocking the cars" added under it! I'm guessing they mean while the ride is loading as there was no stopping me from rocking it as the ride was in motion! We got a really intense ride with ridiculous G forces at some points. By chance, the pod managed to stay upsidedown from one end of the boom to the other at one point. Neat! The Gentle Giant wheel was our final ride before heading out to the rest of the fair for a while.
I have nearly 100 photos in this trip report, so here's the first batch: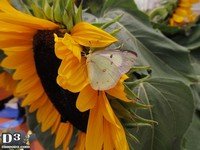 On to the rest of the fair for a bit, our first stop was the plant and flower building. I know, pure excitement, but I always like taking a walk through. Represented were about every vegetable one could imagine and some that you wouldn't. I mean, what the heck is a tromboncino? Well…it's this. They were also growing plastic forks I think.
Next we headed over to the circus show. A show called Hollywood Circus had basically taken over the entire entertainment area this year, bringing in an indoor circus show, petting zoo, racing pigs, and a few side shows. The circus show was pretty good, although I didn't get any photos because they were paranoid about cameras inside the tent. It's too bad, I had a good seat and could have gotten some great shots. The acts featured a superhero clown to warm up the crowd, a trapeze act, a pair of jugglers, dancing horses…I guess that's what it could be called, and a guy doing the wheel of death. It was about 45 minutes total, not bad for a free show!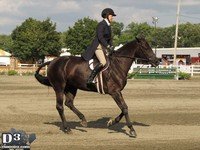 We walked around the fair some more afterwards, checking out the mobile New Jersey museum, the honey bee exhibit and then the horse ring. They were doing a gate jumping competition. We watched a few riders run the course before heading off. It was like 5pm now and while there was no rain, it had become pretty hot instead! We decided to grab something to eat after watching the horses for a bit. This year we ate at the Knights of Columbus' building; I got some chicken tenders, cheese fries and a Coke.
After eating, we checked out the animal barns. Each barn is divided between cattle, pigs, and goats. An indoor hall housed the small animals such as rabbits, chickens, pigeons, and others. We stopped by at the arts building next for the photo and painting show, a personal favorite of mine. One of the shots was a nicely composed shot of a bird in mid-flight…taking a dump. If I was judging, I would have given it every blue ribbon in the joint.
Here's the second batch of photos, all non-ride stuff in this one.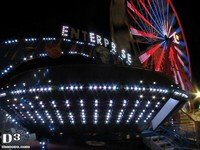 We walked back to the rides for a bit, hopping on Sizzler first. This Sizzler has a new light package with RGB LEDs on the booms and cars along with an LED sign. The ride is blindingly bright at night. We got a pretty long ride on it, about 4 minutes. I hopped on Enterprise next, Reithoffer's re-themed Starship 2000. Last year, they were in mid-refurbishment of the ride at the time of the fair. The outside has some neat artwork, the inside has RGB LEDs on the ceiling sweeps that flash through a series of colors.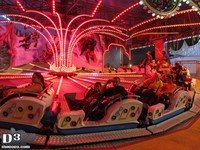 Super Himalaya was next. Let me tell you, Reithoffer's Himalaya has got to be the nicest on the road right now. It looks great with a ton of LEDs, and runs pretty fast forwards and backwards. Finally, we took a spin on Haunted Mansion, a dark ride. It's too scary to even describe…yep. We took a walk around some of the vendor areas next. One tent I remember the most was some type of hunters association, I'm not sure, but they had a stuffed bear and bobcat  on display.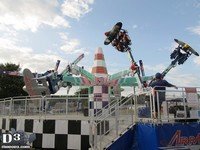 One of my cousins and I did a final round of rides before getting ready to go. First was Tornado, one of those Wisdom spinning rides. I haven't been on one in ages. You can get those cars spinning pretty fast without much effort! Our final ride was Air Race, which my cousin was a bit apprehensive about riding. The ride was no single riders so he was getting on it regardless. Really though, I know why they have that rule for this ride, it only has 16 seats and they can't have 8 riders wanting their own plane, but it still seems like such BS. Anyway, the ride was pretty good, and my cousin didn't get sick! The ride itself is really great looking with LEDs all over the sweeps and center mast. The ride ran for maybe a minute and half with the arms changing direction three times.
Before leaving, I picked up a milkshake at the Frozen in Tyme stand. They have some pretty good shakes there! We left at around 9:30pm. Great fair as always!
First, here's a short video of Air Race. No frills, music or anything, just the ride!
Here's the last batch of photos…47 of em'!