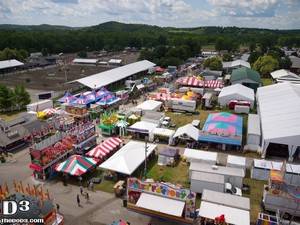 I went to the 75th annual New Jersey State Fair & Sussex County Farm and Horse Show on Wednesday, August 5th with a couple of my cousins. We originally planned to head over on Friday, but the weather forecast was for rain all day so we rescheduled for the 5th. It ended up not raining on Friday. I'm surprised.
I printed out my ticket and presented it without hassle to the gate and Mega Pass booth. They, on the other hand, opted for will call and had a problem because the fair didn't have their tickets at the booth. Luckily, one of the managers straightened the situation out. Make note to print those tickets!
Reithoffer Shows was doing the midway, and the fair had:
Air Race
Wild Claw
Super Himalaya
Zero Gravity
Zipper
Enterprise (Starship 2000)
Sizzler
Fireball
Gentle Giant wheel
Tilt-a-Whirl
Yo-yo
Pharaoh's Fury
Surf City
Tornado
Haunted Mansion
Grand Carousel
Scooter
Kite Flyer
Super Slide
Fun Slide
Several fun houses (Jungle of Fun, Magic Maze, Rock n' Roll Funhouse, Crazy Outback, Ice Palace, Hero Zone.)
Many kiddie rides (Circus Train, Flying Tigers, Jumping Jumbo, Mini Wave Swinger, Wiggle Wurm, Western Mouse coaster, several more that I missed.)
Agricultural shows and exhibits
Animals of all sizes
Shows & entertainment: Circus Hollywood, Motocross jumping show, Mountain Biking show, Racing Pigs, Chainsaw artist, petting zoo.
An abundance of food
An array of games
Many, many vendors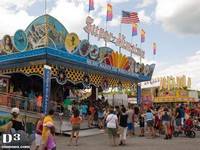 First, we hit a few rides before heading off to the rest of the fairgrounds. Our first ride was Sizzler, a really nice looking Wisdom Scrambler type ride. The ride lasted for about two minutes. Next door to Sizzler was Gentle Giant, a larger gondola wheel. I took a bunch of photos while on the wheel, so what better way to describe the ride than with some pictures?
Scooter, a bumper car ride, was our next stop. Usually carnival bumper cars are set to run at a modest pace. Not this one! Head on collisions on this bad boy were true collisions. Being the nice guy that I am, I refrained from hitting any kids too hard. But in one instance, while gunning for one of my cousins, a car with two kids barreled around a pile up of cars and crashed head on into mine. The kids looked liked two ragdolls jolting forward into the lapbar.
Next up was Haunted Mansion. My cousins were ushered into a car with two others, so I rode by my lonesome through this terrifying maze of blackness and motion sensor triggered ghouls. The ride had no faux spiderwebs. Good. I hate those things considering the 1000s of faces/lips/snots that have gone through them.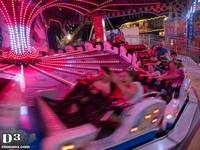 Super Himalaya wasn't open yet, so we hopped on Tilt-a-Whirl. We all piled into one car and tried to get it to spin with little luck until the end. One of my cousins noted that his hands smelled like metal after the ride. That would make sense since the lapbar is…metal. Once we exited, Super Himalaya suddenly had a full load with a semi-large queue extending out of it. Well, that was quick! This has got to be nicest traveling Himalaya that I've ever seen. I'm not big on bulb counting, but this ride had nothing out. Looks like they rehabbed the cars a bit, putting in new, black netting that connects from the lapbar to the floor of the car.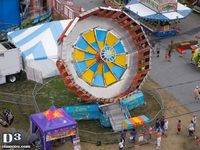 I was the only one up for Zero Gravity, so I scrambled on the ride as it was still loading. Zero Gravity was new this year to the fair. I always thought the name was funny since Zero Gravity has quite a bit of gravity. I actually think this might have a comparable G force to a Gravitron ride. It also spins up quite a bit faster than older Round Up style rides. The ride lasted about a minute and a half which is just fine with me.
One of my cousins got on Zipper next. Looks like they did some work to this ride…or maybe it was one of their other Zippers since I know they have two. Whatever the case, it looked awesome. Equally as awesome was the ride which had some insane series of flips, ejector airtime, and moments of total inability to know up from down. I always rock the pod to coax it into flipping, so I have no idea how the ride would have been if I just sat tight and let the ride do its thing.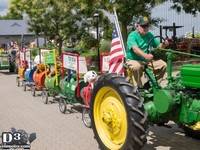 We ventured off into the rest of the fairgrounds at this point. We walked through the antique machinery museum first which featured things like an old time clothes washer, motors, and old tractors. The other side had a large, antique hay bailer and some other vintage farming equipment. The greenhouse was our next stop to see the vegetable and forage exhibits and flower show. I couldn't help noticing that most of the tomatoes were green. The red ones were the winners…well, to me at least. There was also a massive pumpkin. Not one of those huge, "how does this even grow this big" pumpkins, but large pumpkin that could plausibly be grown in your backyard without pumping it full of pumpkin steroids or something. It had a blue ribbon. I agree with that prize; good call, judge. We stopped to grab something to eat after this. I got some pizza. One slice was markedly smaller than the other. Cost the same price of course…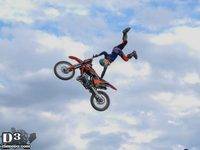 We checked out the motocross stunt show next over at the outdoor arena. This was a show featuring a trio of motocross dudes doing aerial stunts. I tested my cameras burst mode a few times during the stunts, as seen in the video below. This time I remembered to set it to take only jpegs unlike with the human canonball guy at the Meadowlands.
We walked around some more, checking out the petting zoo and some animal barns. We also did a quick walk around of the photography contest area. I'd love to be able to enter this competition, but it's still only for Sussex county residents and Sussex County Camera Club members. Boooo.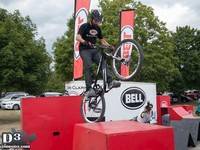 There was a mountain biking show going on up the path, so we headed over. The show was one guy, who vaguely looked like Dave Grohl, doing various mountain biking hops and maneuvers. As a biker myself, some of the stuff he did made me cringe in fear at what it would be like to be on a bike in that situation. He managed to hop three foot steps, over large gaps, off an ~8 foot trailer, and over some hapless kid.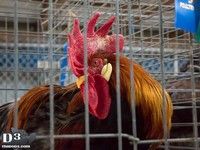 We checked out the rest of the animal barns and then stopped at the horse show. There was some sort of gate jumping competition or time trials going on. Circus Hollywood was starting at 7pm, so we headed up to the big top to find a large line had already formed 20 minutes to showtime.  The show, which lasted a good 50 minutes or so, featured unicycling acts, trapeze, a camel and alpaca act, an elephant act, and a high wire act to close out the show. It was pretty good for a free show at a fair! Unfortunately they didn't allow photography, so no photos.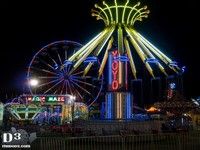 We did a once over of the vendor areas before hitting a few rides to end the night. We took a spin on Scooters again and then hopped on Yo-Yo, a Chance swing ride. Our final ride of the night was Air Race, a Zamperla 8×2 Air Race model. This ride is so covered with LED lights that it looks more like a light fixture than a ride. We got a pretty lengthy ride on this with the direction of the flipping changing three times. Before heading out we grabbed some ice cream at the Frozen in Tyme stand. They make great milkshakes! We exited at just before 10pm. All in all it was a wonderful fair as always!