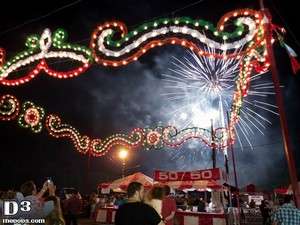 Every year from the 12th to the 16th is the Our Lady of Mount Carmel Festival in Berkeley Heights, NJ, hosted by the Mt Carmel Society of Berkeley Heights. The 5 day event  features rides, food, games, beer and wine garden, and some vendors as well as two fireworks shows; one of which has all but attained legendary status around my area.
For several years, Ace Amusements had done the event, but this year it was McDaniel Brothers Shows. Ace had been doing the Morris County 4H Fair these past couple of years and I assume that's where they were during this event as the 4H fair overlapped with the Mt Carmel festival. This year, the Mount Carmel Festival had…
Screamer
Quasar
Octopus
Hustler
Gravitron
Swinger
Ferris Wheel
Super Slide
Jungle of Fun
Merry-go-Round
Several kiddie rides (Spin the Apple, Tea Cups, Hampton ride, small funhouse.)
An assortment of food
A selection of games
Bands, wine & beer garden, and vendors
Several thousand fireworks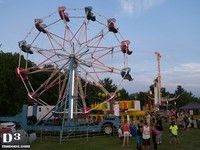 I went to the actual fairgrounds two days, Sunday and Wednesday. On Sunday I went while it was still bright out, at around 7:30pm. Wednesday I got there at 9pm to catch the mini-fireworks show at 9:30.
Sunday, the first day of the festival, was pretty quiet. I think there's two reasons for this: first, despite it starting on the 12th every year, people still forget that it's going on since the 12th could be any day. A fair starting on Sunday, like it did this year, is kind of strange. The second, bigger reason, is that most people come out for the 16th, the final night featuring their annual fireworks extravaganza.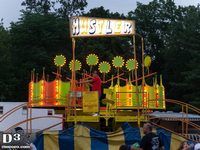 I had seen McDaniel Brothers Shows recently in Warren, where they had many of the same rides, so I'm not going to go into too much detail here. However, a ride that wasn't at the other fair was Hustler. They totally did some work on this ride since I last saw it, and it looks practically new with an orange/lime/yellow paint scheme and with red, yellow and teal lighting.
I hung around for maybe an hour before heading out. Before leaving, I got a bag of zeppolies; nothing says "fair" like zeppolies, right? A couple of other customers and I had to wait as they made a new batch of zeppolies, so we got to chatting with the jointee, who expressed her concern over the low crowds. One of the guys and I assured her that the 16th would probably make up for any slow nights.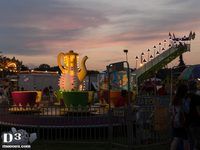 Wednesday night was the "family fireworks show," so I headed over for a bit to get some fireworks with rides photos. Before the show, I got some night shots of the fair. I have a new camera and all, but night shots are still a bit iffy when there's not enough fill light. Luckily I can pump up the ISO much farther than my old camera and have acceptable photos. Still, taking shots of something like Quasar at night was almost pointless with its super bright sweep lights and dark everything else. I tried the timelapse feature out as well, but I'll need to bring a tripod if I want some good results with that.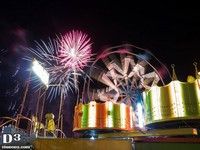 The mini fireworks display lasted about 10 minutes. I camped out by Hustler to get a shot of Hustler in the foreground, the Ferris wheel behind that, and fireworks behind both of them. I eventually made by way over to some lighted decorations near the front of the fair to get photos there. Again, a tripod or monopod would be best for this stuff, but at ~1 second exposures I can still get some non-blurry shots.
July 16th was the feast day and the annual date of the massive fireworks spectacular put on by Garden State Fireworks. One of the local TV stations had a feature on Garden State Fireworks earlier in the year and it's funny how so much manual work goes into a single thing that's literally just going to be blown up in the end. That's fireworks for ya! As I've said in the past, this show features a lot of specialty fireworks that are custom made for this show as well as pyrotechnic competitions around the world. I brought along my camera, tripod, and shutter release along with a beach chair and set up shop outside of the fair. I would have went into the fairgrounds if I had a wide angle lens to shoot with, being that I'd be super close then.
The show started a little after 11pm and lasted about 35 minutes featuring a long finale' that probably had more fireworks than your average township fireworks show. Great show and nice fair, as always!
Here's some photos of the fair:
And here's some fireworks shots from July 16th.
And I took some video of the finale.