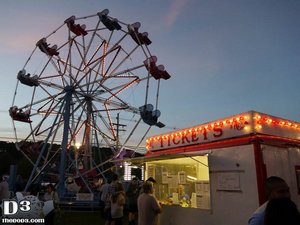 On Saturday, June 13th, I headed over to the Warren Lions Expo in Warren, NJ. It's not too far away from me, but I managed to miss it these past two years. I left for the fair at around 7:45pm and arrived less than 20 minutes later. Admission was $2, and the rides were brought in by McDaniel Brothers Shows. The fair had…
Screamer
Quasar
Tempest
Gravitron
Octopus
Scrambler
Swinger
Ferris Wheel
Slide
Merry Go Round
Several kiddie rides: Sooper Jet coaster, Herschell Helicopter ride, Granny Bug, Jungle of Fun, Tea Cups
A bunch of games
A selection of foodstuffs
A few vendors
Fireworks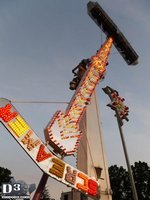 So before I go into the trip report, I want to note that this is the first report using a new camera. My trusty Canon PowerShot SX130IS has served me well through the years, taking over 20,000 shots to date. I saw a good deal for a camera that I was eying and decided to buy it. I actually got two cameras, a larger one with all the bells and whistles that I wanted (Panasonic G6) and a smaller used body that I got for dirt cheap that's relegated to stills and that can be pocketable with the right lens (Panasonic GF3.) Both can use the same lenses and even have similar sized sensors. On this trip I decided to try the GF3 and used the G6's kit lens, which resulted in a tiny body with a comparatively bulky lens…could be worse.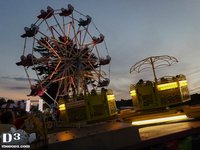 Anyway, the lot was pretty crowded this night! Wonderful weather, day of the week, and fireworks surely had something to do with this. Nearly every ride had a massive line that jutted out into the center of the thoroughfares. McDaniel Brothers Shows seemed to have done some work on all of their rides since the last time I saw them (which was at the 2014 Mendham Pastime Club carnival last September which never got a trip report.) Of note was Tempest which had a neon green and yellow color scheme. I said that I would ride this if it ran fast enough, but unfortunately it was only running at a modest speed here. That being said, the cycle on this ride was super long; probably like five plus minutes.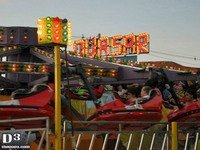 Quasar sat in the corner, still looking nice from its refurb several years ago. It still runs quite a bit slower than I once saw it go, but also not as slow as I've seen it some other times. Like Tempest, this too was running a very long cycle. Octopus also looked cool with neon green pods and blue and yellow sweeps. Octopus had a line that went straight across the pathway to the set of kiddie rides in the middle. The ride ops would stop and start the undulating motion of the sweeps over the course of the ride for some variation.
Gravitron now has white scenery panels with the usual Gravitron lighting. It's a lot better than the old yellow panels that it once had. Scrambler also had a new pink and green color scheme. Screamer and Swinger anchored the back of the lot.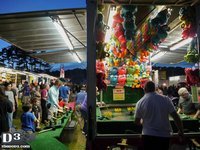 On the right side of the lot was an alley of games and food stands. While snapping photos at the Frog Bog booth, some kid managed to hit one of the rubber frogs up into the mesh holding the prizes where it got stuck. Another person positioned their frog too far forward on the catapult resulting in the frog skimming across the pond and nearly out the other side of the booth.
By around 9:15 I had made a few rounds of the lot. There were going to be fireworks, so I asked one of the Lions Club members when they were. They were an hour away at 10:15. Considering that there weren't many good angles for photographing the rides with fireworks, that I had no tripod, monopod, or clamp mount for the longer exposures needed for fireworks, and the fact that it would mean an hour of waiting around, I ended up just heading out.
All in all it was a fine fair with a pretty good lineup of rides and McDaniel Brothers has some really sharp looking rides now!
Here's the rest of the photos:
Some final thoughts about the camera. Some of the shots may look similar to what I had been posting in the past, but there's a couple of technical differences. First is that the larger sensor means that I can get cleaner low light shots. A photo taken at higher ISO's with my older camera would be super noisy, even when scaled down. With the GF3/G6, there's still noise at higher ISOs but it's not as prevalent, and pretty much disappears when scaled down. Another benefit is burst mode where I can keep my finger on the shutter button and the camera will fire off photos continuously. In the past I would have to wait until the right moment came along…now I can just capture the entire moment! There's many other benefits as well like interchangeable lenses, RAW format files (which I need to actually use), and others. All in all I'm plenty happy with them!