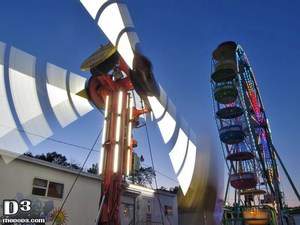 Milestone trip report for the Our Lady of Peace Country Fair in New Providence, NJ as I've now done ten of them on this local fair. I really should have more as I remember having a few on the original DOD site, all the way back when Cookes Amusements did the fair…maybe they're hanging around on one of my old hard drives, I'll have to look.
This year the fair returned to its usual mid-May week, spanning from May 13th to the 16th. The rides were brought in by Blue Sky Amusements, and the fair had…
Zipper
Riptide
Himalaya
Dragon Loops
Tilt-a-Whirl
Scooter
Round Up
Chair Jet
Gondola Wheel
Monkey Mayhem
Carousel
Super Slide
Rock Wall
Several kiddie rides (Dragon Wagon, Tip-a-Canoe, Tubs of Fun, a few more)
An assortment of foodstuffs
Games of chance and skill
Several vendors
One tornado warning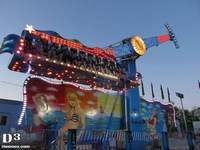 I only managed to go two days this year…more like one and a half, really. I spent the most time on Thursday night. The setup was similar to last year with a couple of alterations. For one, Dragon Loops was added in and placed in between the Gondola Wheel and Rock Wall with Riptide shifting to the right side of the lot. So, this year, the fair had two looping rides with Zipper and Dragon Loops.
On Thursday, the place was moderately crowded when I arrived at 7 or so and quieted down before I left at around 9pm. Zipper had the longest line it seemed with probably Riptide as the second. Wednesday, well, when I got there the place was practically deserted. Possibly a mix of timing, day, and the fact that it was like high 50s out. I heard that the lot was jam packed on Friday.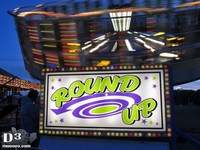 One ride worth noting was Super Slide, which had some work done on it. It had LED decorations on each side of the slide and a pink, yellow, and green color scheme. It looked super, pun absolutely intended. The Gondola Wheel had also gotten some TLC over the winter with a freshly painted trailer and spokes, but the photos I have don't show it too well since it was darker out when I took them.
Dragon Loops had a steady line on Thursday. The ride had a sign out front about not bringing cell phones on the ride, showing an intact cell phone and a busted cell phone with the difference being that one had been on (and subsequently off) Dragon Loops. While cell phones should be secured, I feel like loose pocket change is absolutely welcome.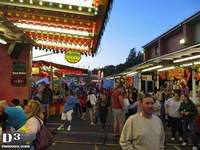 The games area had all the usual games of skill and chance including wheels, knock over the [items], speed pitch, watergun race, shoot out the star, duck pond, and others. Also scattered around the lot where other games like a fishing game and a dunk tank. Inside the gymnasium was a sitdown restaurant and several vendors.
Now, my original plans were to skip Friday night and head down on Saturday night. I got half of that done I guess, but my trip over there on Saturday night was curbed when not only rain showers moved through but when a tornado warned storm bore down on the area as well! I'd be surprised about a tornado warned storm, but there's been at least three now in the past several years, with one actually dropping a tornado in 2013 that passed not far from OLP. I mean, it was barely a tornado, but a confirmed one nonetheless. After the rain subsided at around 10pm, I decided to head over and see if anything was still going on. I doubted it, but why not. I drove past and was pretty sure that I saw one of the rides folded down already. Welp, guess that answers that!
Wish I could have gotten there another day, but I did manage to get quite a few good photos on Thursday.