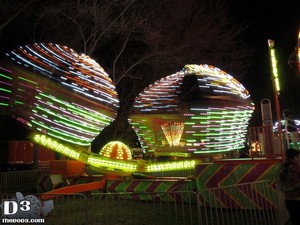 Let's look back at a post I made in March, it's actually still on the front page because I've been updating this site at just an astounding rate this winter/early spring. In the post, I said:
"I figure my first trip to Great Adventure will be either the second week of April or Coasters After Dark. First fair is probably going to be in late April, the fireman's carnival in Middlesex, NJ."
Well, I didn't make either of those Six Flags dates, and barely made this fair. This is why I don't like to make predictions because as soon as I type them, the chances of it coming to fruition immediately drop. But, I did make it out on the final day, April 25th, to the Middlesex Fire Dept. Fair. Campy's Amusements brought in the rides, and the fair had…
Ring of Fire (Fireball)
Gravitron
Scat
Octopus
Tilt-a-Whirl
Scrambler
Scooter
Ferris Wheel
Berry-go-Round
Super Slide
A bunch of kiddie rides (Carousel, Dragon Wagon, Kid's Town, Tea Cups, Rio Grande Train, and more)
A selection of food
A number of games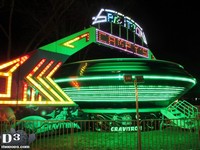 Same ride lineup as last year with some improvements…like, literally! Gravitron had been revamped this off-season with new graphics, LEDs, and metal flake and sported a purple and green color scheme. The new graphics on the ride's skirt feature an alien and some Star Wars-esque space cruiser. The LEDs on the ship were all green and flashed wildly.
Ring of Fire sat in the middle of the midway and had a giant line. There were a decent number of people at the fair, but crowds at this point (about 8:30pm) were a bit thin for a Saturday night likely due to temperatures in the low 50s. Select rides, like Ring of Fire, Scat, and the Ferris Wheel, all had larger lines. Ring of Fire was running quite a bit faster than I remember it usually going. While snapping photos of Ring of Fire, the operator stopped the ride mid-cycle because some dumb kid unbuckled the seatbelt on their harness.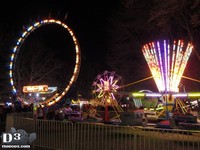 I did a once around the food and game/kiddie ride area. The food stands, especially the zeppole/funnel cake trailer, all had lines rivaling some of the rides. Games consisted of your usual fare: wheels of chance, knock over the [insert item], Frog Bog…or in this case rubber chicken into cooking pot Bog, and a legit gambling wheel of chance where you plunked down some money to win money.
I didn't stick around for too long, maybe 25 minutes. I may have stayed longer if my travel camera could handle night shots better. When I pump up the ISO, the photos start to get pretty noisy looking. I mean, it's a nice camera for a point and shoot, but I've been looking into mirrorless cameras recently as an upgrade to it. Aw, well…there you go, I just typed it out. Now I know that I'll never pull the trigger on a new camera!