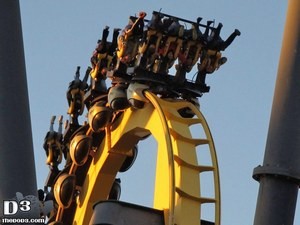 Get ready to conquer your fears in reverse as Six Flags Great Adventure in Jackson, NJ announced this morning on Facebook that namtaB is coming to the park from July 4th to September 7th.
namtaB, literally Batman spelled backwards, is something Six Flags has been doing these past couple of years at various parks. For a portion of the year, the normal Batman trains are switched out with slightly modified, backwards facing trains. The first Batman ride to have this temporary modification was Batman: the Ride at Six Flags Great America in Illinois back in 2013. This year, the modified trains will be running at Six Flags Over Georgia for the first half of the season before being shipped off to Great Adventure for the July opening.
I'll tell you what, I can't wait to ride backwards Batman. I quite like Batman: the Ride; I think it's really intense compared to a lot of other B&M looping or inverted coasters. Running backwards will make it just that more intense! I'm definitely going to have to make sure to get a front (back?) seat ride at some point as well.