This off season seemed to just race by this year, more so than past years. I guess it's because my last amusement related visit was late December with a trip to Six Flags' Holiday in the Park festivities. Fairs and carnivals start around here in early April, but this year was particularly cold at the start of April…like, colder than December which was strangely warm.
Anyway, my first fair of the year was the Middlesex Fireman's Fair in Middlesex, NJ. I headed over on Thursday night, April 21st. The rides were brought in by Campy's Blue Star Amusements and had…
Ring of Fire (Fireball)
Yo-Yo
Scat
Gravitron
Scrambler
Scooter
Tilt-a-Whirl
Ferris Wheel
Super Slide
Berry-Go-Round
Carousel
A number of kiddie rides (Frog Hopper, Rio Grande Train, Dragon Wagon, a lot more that I'm forgetting!)
A selection of games
A plethora of vendors
The lot was very crowded for a Thursday night. The weather was basically perfect with ~68 degree temps and not a drop of rain.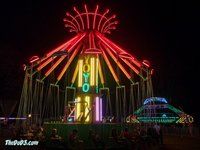 New to the fair this year was Yo-Yo, Campy's newest ride. It's of course a Chance manufactured Yo-Yo and without a doubt the finest Yo-Yo I've ever seen. Not only does this ride have LEDs, but color changing LED's on the sweeps and top ornament that flashed through different patterns. It also looked to spin a bit faster than most other Yo-Yo rides. Interesting that they kept the ride spinning at full speed while they let the sweeps lower; usually I see these rides slowed down before the sweeps are lowered.
Speaking of LEDs, Scrambler has some on the center ornament now. I remember seeing this before on Amusements of America's Scrambler and thought was cool, and I don't doubt that I see more like it the future. A total first world problem I have with it is that the LEDs are too bright for my photography! To be fair, carnival photography kind of has a golden hour that occurs at dusk where the sky is dark blue, but bright enough to have some foreground light. I was way past that time.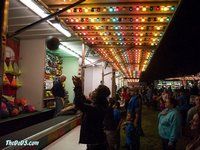 Other rides around the fair remained largely the same as previous years, just in different locations. I watched Super Slide for a bit while waiting for Tilt-a-Whirl to start; seemed like a lot of people were having problems making it down the slide without getting hung up somewhere.
I did a once over the games and kiddie rides area. All of the games were manned by Fire Department personnel. Makes sense…fireman's fair and all. I like the location of this fair, essentially in a park, with trees towering over some of the smaller rides. Too bad they weren't fully leafed out or some sections of the fairgrounds, particularly the games and kiddie rides area, would have been under a canopy of leaves, which would have looked pretty cool.
I wandered around for about an hour before heading out. One fair down, many more to go! Remember, if you're in the NJ area and looking for a fair, check out my NJ-Carnivals.com site!