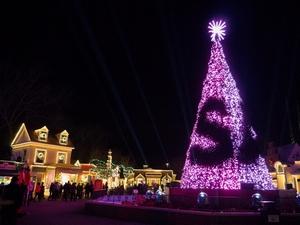 Check out the 2018 Holiday in the Park trip report
I made my final visit to Six Flags Great Adventure this year on December 19th, 2015; literally the first time I can say that I went to Six Flags in December. So, this winter has been super mild in the northeast with temperatures in the mid 50s every day with some days topping out even warmer. Only a couple weeks ago it was so warm that I went biking with shorts and a t-shirt; something I haven't been able to do since September and it looks like Christmas Eve is supposed to be in the 70s! Unfortunately December 19th wasn't one of these warm days. Hell, it wasn't even normal, rather colder than average with wind. Perfect. Of all the days..
I arrived at the park at around quarter after 4 and did a walk around with my camera. Seems like the park made a few tweaks from my earlier visit to Holiday in the Park. One big difference was that the Big Wheel was operating, and it had quite the line. Another difference was that the Wishing Tree in front of Batman had seemingly grown to triple the size. I have no idea if there's something to this tree, like the more "wishes" people make the bigger it gets, but regardless it's bigger. Fire pits also had some changes, namely they had mesh caps now. Some were opened on one side while others had little holes cut out to stick marshmallows in. There were also some new fire pits in front of Twister in the Treetop Summit area.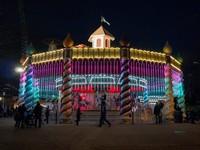 After about an hour of photo taking, I stored my camera in the Skull Mountain Poinsettia Peak lockers and hit some rides. My first stop was Nitro which I arrived just in time for a train switch which wasted about 10 minutes. Got to say, I'm glad I was on the next train afterwards because Nitro with one train is an unbearable wait with how long the course is. Needless to say, Nitro was a really cold experience riding along at 80mph in sub 40 degree temperatures. One of the ride ops was wearing shorts and a t-shirt. I know they run around a lot while loading passengers, but I feel like that's a little too adventurous for the temps.
I went on Batman next which had an empty station save for the front seat. The front was a two train wait, so I thought I may as well wait for the front. These old Batman clone designs are approaching 25 years old but they're probably more intense than most of what B&M has made since then. Front seat is even more forceful, heading into the loops at top speed and such.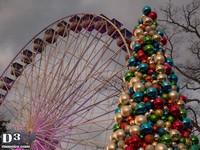 I walked across the park to ride Superman, which I was certain had no line. I was basically right. It had a 1 or 2 train wait for each row. At first I went to the front but then headed for the fourth row after I saw no one waiting for it. It doesn't really matter where you sit on this coaster, you see ground the whole time anyway! I skipped Green Lantern and hopped on Twister instead which has been running a lot better these days with like four flips during the first half of the cycle. After edging the gondola downwards at the end of the cycle, the brakes released and the gondola was seemingly stuck upsidedown due to perfect balance. The arms jerked a bit and it finally flipped forward.
I decided to hit two more rides, Fender Benders and SkyScreamer before going back to the locker. Fender Benders had the longest line of the night, mostly due to how long it takes to load the ride. The cars seem to be running a bit slower than I remember. SkyScreamer was a walk on basically. Temps had dropped further than when I rode Nitro, and it was soooooo cold on this. The wind was also gusty at the top, which made the swing sway and bend a bit. I got back to the locker a minute or two after its expiration. Seems like it doesn't just pop open when time is up. Grace period, maybe?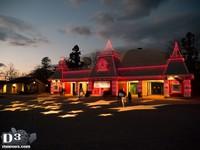 My final stop of the night was Showcase Theater for Jack Frost's Magical Christmas. A show at Great Adventure is a rare thing these days, so how I could I pass it up? Plus, it would be warm. The path leading to the theater was adorned with small pine trees with orange lighting. A few light sculptures were placed around; one with a nativity scene, another featuring a Kwanzaa kinara, and another of a Hanukkah menorah. The path was walled in with high fencing, hiding all but the tops of the Old Country buildings. I don't know, I feel like the Bavarian architecture of that area would fit pretty well with the holiday vibe.
The theater itself was decorated with color changing LEDs with lighted star patterns projected on the ground in front of it. Aside from that, the area didn't have a whole lot going on. Funny enough, they actually decorated the window of the old Ice Works store in front of Chiller. I wonder how many people even saw it?
Jack Frost's Magical Christmas featured the eponymous Jack Frost in his quest to get a Christmas present. It was essentially a small circus type show starting with a block balancing act, then a fleet of dogs came out and did tricks, finally wrapping up with a chair balancing act. I like how they played the theme song from The Goonies during the final act. In the end, Jack Frost got his present…wont tell you what it is though! Not a bad little show overall.
After the show ended there was a half an hour before the park closed, so I made my way to the exit. Got to say, I really liked Holiday in the Park! Six Flags did a fine job with theming and festivities. Hopefully they continue the event in coming years.
Finally, I hope everyone has a Merry Christmas and Happy Holidays!