I headed over to Six Flags Great Adventure on Sunday, November 26th. The park was in its second weekend of Holiday in the Park festivities. I heard that the day before was pretty crowded since it was the Thanksgiving holiday weekend with temperatures in the mid 50s. Sunday, on the other hand, was cold with just a bit of a breeze.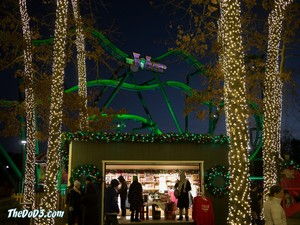 I got to the park at around 4pm and parked right next to the tower in the parking lot. As I've mentioned before, if the lot is empty past this tower then you're going to have basically no lines. While driving in, I saw that Green Lantern was stuck on the lift. I don't think it ever reopened while I was there. The security gate had no line; they actually checked my camera this time to see if it complied with the camera rules. Apparently they've ramped up these efforts as far back as September as per a post on the Great Adventure Connoisseurs Facebook page lamenting about it. My camera was fine, being a somewhat compact camera with a very short lens.
There were some changes this year, namely the shows. Spirit of the Season: a Holiday Celebration was in the Showcase Theater this year. This was a song and dance show featuring different Christmas and holiday songs. It was kind of like a cheery, holiday version of Dead Man's Party with snowfall in place of pyro. It was a good half an hour to 40 minutes long with some good singing and choreography and a touch of audience participation.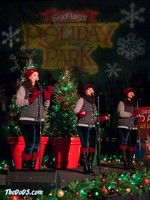 Poor Jingle Jammers…they started on the path in front of the Backlot Commissary food court in 2015, got a nice new stage last year, and got the ax this year in favor of Holiday Harmonies with Hotsy Totsy. It's basically the same type of show only with Hotsy Totsy, a Jersey based music trio. I didn't stick around for too long but I assume they sang classic holiday songs along with some they had written, such as Snow Day.
I think they added some more meet & greet characters, at least I don't remember seeing the Peppermint Princess last year who was near the entrance of Houdini's Great Escape in Gingerbread Junction. Speaking of the themed areas, there's a ton of them with most being very small in size. There's even a new area this year, Holiday Heroes, but it just comprised the plaza between Showcase Theater and Justice League and the path leading to the Metro-Narrows Bridge put in this year. The themed areas are so small that it reminds me of a map of Bergen county in northern NJ which has like 70, 2 x 2 mile towns jammed in there.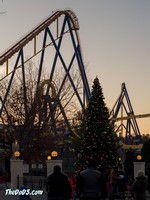 By 7:30pm the park was really, really quiet and the temps were now around freezing. I stored my camera bag in a locker near Batman and hit a few rides, starting with Batman. The station had absolutely nobody waiting, so I headed for the front seat. Even after I got on I think the only other riders were people that stayed on for a second go around. As a result I was the only fool in the front on this cold night. It's worth noting that Batman has on-ride video now which records your ride for purchase, as opposed to on-ride photos. I don't think the front row has it as only the other rows have lighting for night time videos. Hmm, the lights on the trains might make for some nice long exposure shots if I can find something to stabilize my camera on.
Next up was Nitro, which had some people waiting for the front but no one in the back, so I headed for the back seat to get some insane airtime over the drop with this front heavy train. Not so fast! I was told to go to the front of the train by an attendant…gah, whatever. A couple guys sitting in the row behind me questioned the attendant about this and were told it was so the train would make it over the hills. I have to say, Nitro near the front isn't as good as Nitro in the back seats. You just don't get the same snap over the hills that the back seats give. The two guys behind me talked about whether bunny hops or camelbacks were better while on the brake run, obviously coaster enthusiasts.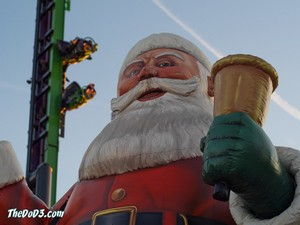 Nitro actually made me a little nauseous. I think I'm going to pop a Dramamine or ginger pill or something on my next trip because this is just ridiculous now. It's totally the up and down movements that do it too as I didn't have any problem on Batman, which is like all positive Gs. I wandered over to the boardwalk area and then back to the eastern side of the park, just kind of walking it off. I decided to get on Dark Knight, which not only had no line but no sign of anyone. I thought they were closed before I saw an attendant inside the entrance to the pre-show theater. No pre-show today, luckily. It seemed like there were only one other group on the coaster; by the sound of it they were on their X number re-ride at that point. I just took one spin. This is probably the best Wild Mouse coaster I've been on, certainly the fastest with no braking on the upper portion of the track.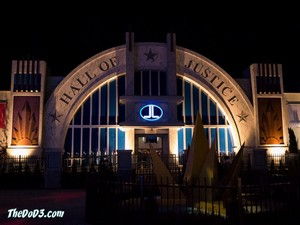 My last ride was Justice League: Battle for Metropolis, the newest addition this year and the first time I had ridden it since its opening. I ended up waiting one car in the single riders line; the normal line was maybe a 10 minute wait. The line had been out the door every time I saw this during Fright Fest, which is why I waited till now to take a spin. The ride is a Sally manufactured dark ride which features light guns and 3D elements. Riders shoot at targets on various screens throughout the ride to rack up points. There's a mix of actual props and screens with the final half of the ride featuring three (I think it was three) large screens that give the impression of movement. I fired my gun like crazy during the first screen only to get 0 points. Apparently you have to shoot the flying things; I was shooting Lex Luthor which seemed like the sensible thing to do. I guess if you were able to neutralize him on the first screen then the rest of the ride would be kind of pointless. I ended up with like 31,000 points which is complete bupkis since the score can go up to 999999…of course you're a dirty, stinkin' cheater if you get that high!
Afterwards, I picked my stuff up from the locker and headed out at around quarter to 9. I'll probably get down to the park once more before it closes for the season.
I took quite a bit of video and made a little hybrid music video sort of thing:
And here's a bunch of photos!