Updated 11/1/17
I've been pretty busy lately; on the website front I've been moving my sites to a new web host and configuring things to work as smoothly as possible. There shouldn't be much downtime, but if there is then you know I screwed something up. Anyway, I've been to Great Adventure's Fright Fest twice this Fall: once on September 22nd, the second weekend of Fright Fest, and October 20th. I may eek out one more trip before the Halloween festivities wrap up. I'm surprised that they'll be open on Monday and Tuesday, October 30th and 31st, but I doubt I'll be making it on those days…too bad, the coasters will probably be all "walk ons" those days.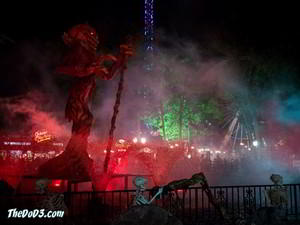 They have a couple of new haunt mazes this year in Wicked Woods over by the log flume, and Aftermath next to Nitro. Some other haunt used to be in Aftermath's place, but I forget the name. Wasteland maybe? I'll have to dig out some old Fright Fest guides. They also had a new scare zone next to the lake called Lady Lake Cemetery which, true to its name, was a spooky cemetery with a few ghouls spread around wielding shovels and those shaker cans. Other sections had ghouls with chainsaws who would flip them on and chase people around. It's pretty funny, some folks will run clear out of the area upon being chased. On the other hand I saw my fair share of annoying people that try to confront or pester the ghouls.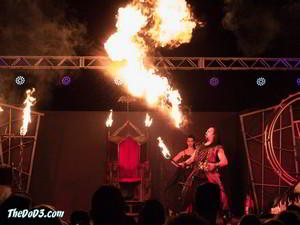 The entertainment lineup has been switched up a bit with Ignite, Unleashed, and performances by Corvyx added in. Ignite is an illusion and acrobatic show with lots of fire effects. The show is like a 15 minute long illusion act set to various songs including the usual Fright Fest anthems such as Bring me to Life by Evanescence and Dragula by Rob Zombie. The main dude had a flamethrower staff that he made liberal use of and did some fire breathing as well. His assistants did some illusions and acrobatic stunts, one of them was basically roasted into a skeleton for the final trick. Pretty cool show!
Doc Swan was back with his solo sideshow in front of Twister in the CarnEvil section of the park. His act featured such spectacles as pounding a nail into his nose, a "trapeze" act where he swings a severed hand from two chains affixed to his eyelids, and some fire eating which seemed pretty pedestrian after all things considered. His finale was escaping from a straitjacket in 2 minutes.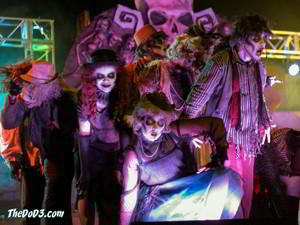 Dead Man's Party was in the arena again this year and featured a couple new songs if I'm not mistaken, one of which being Sweet Dreams by Eurythmics performed by the women of the cast. They toned down, if not completely eliminated the concussion pot this year; you could hear the bangs from across the park last year. Despite that, it does seem like there's more flame and pyro effects. I parked myself down on the floor for one performance with my old school 45mm f2 Rokkor lens and got some decent photos and video. It's funny how the video turned out great straight from the camera but the RAW photos were like pulling teeth to edit due to the stage lighting.
10/29 Update
Unleashed is located in the Showcase Theater and is a really, really good acrobatics show. The show had four big acts with dancing and choreography inbetween each one. The first bit was a trio of…well, I guess you could call them pole dancers, but not how you might be thinking. The second act featured a roller skate wearing couple doing ridiculously fast spins. At one point the guy looped a leash type of thing around his neck and spun the girl around while she twirled in the air. Either there's some trick I'm not wise to or that guy's traps are made of steel, good lord. The next one was a couple spinning and rolling in large hoops. The final act featured a Tron-looking trio bouncing off a trampoline, crossing over each other's trajectory and such. This was a fantastic show! I just wish I had seen it earlier than my last trip to Fright Fest to get some better shots for the video below.
11/1 Update
As for rides, I didn't do too much on the first couple trips other than the SkyWay. On my final trip on the 27th, I had some downtime before the shows started so I hopped on El Toro, Bizarro, and Runaway Mine Train – all having very short waits at around quarter after 6 to 7:30 or so. Things didn't start getting busy until 8-ish. I took the back car, front seat on El Toro which had basically no line. Everyone was sort of bunched up towards the front of the station. I closed my eyes for the drop, not because I was nervous but because I wanted a heightened sense of falling. A tip to those scared on a coaster: closing your eyes makes it scarier.
Bizarro had no line at all and only a few people in the station waiting for the front row. I hopped into the second row. I don't know if it was because I was kind of dehydrated or if I'm just this way now but I felt a little nauseous after Bizarro. Not good! Mine Train is nice and easy, so I hopped on that next taking a seat near the back. So, the airtime is pretty good in the back on that bunnyhop over the lake, but I was looking at the video I took of the Mine Train and saw that the person in the front of the train got some monster air on the bunnyhop. Maybe I need to take a spin up there someday!
Here's some photos from the two trips, lots of Dead Man's Party photos among others. I'll have more plus a video after my final trip, which will likely be tomorrow night, Oct 27th. (10/29 update: added some new photos and the video!)