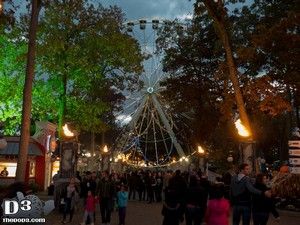 On Sunday, October 25th, I headed over to Six Flags Great Adventure for my last trip to Fright Fest for the year. I actually went twice to Fright Fest in total with the other being on Friday, October 16th. I had bought a season pass during the Labor Day weekend sale and redeemed it on my first Fright Fest visit for a free upgrade to Gold. Now that I've entered the park twice with it, I've officially "paid off" my 2016 season pass before 2016. Actually, thinking about it, less than one visit would have done it since it's like $70 for a single day gate admission and $25 for parking (!!!); my season pass was $83 and change total.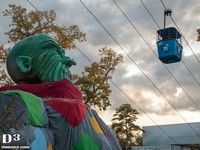 I entered the park at around 4:30pm. I decided to do this trip in two parts with the first part being just walking around with my camera. I've always meant to do a "photo trip" to the park and this was going to be it as, being a Sunday, it would be moderately crowded with longer lines than I care to stand in (as a spoiled season pass holder at least.) After that, I planned to stash away my camera in a locker and hop on a few rides.
Well…the lines weren't terrible, but they weren't great either. Batman had a line that extended out into the gardens area a bit. They actually opened the entire outdoor queue which you don't see too often these days. Batman was still running the backwards trains, which they were originally going to take off after Labor Day. Nitro had nearly a full queue. That's really not as bad as it sounds. I've waited the entire Nitro queue before and it moves pretty fast. I had heard that the waterfalls on Skull Mountain were running, and sure enough the waterfalls were going. I don't know when the last time I saw them flowing was.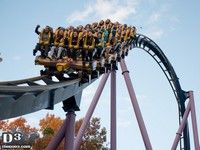 On the other side of the park, El Toro had a full queue. Unlike Nitro, this one is kind of a pain to wait in when it's full. They had even setup a rope queue leading down the creek path for overflow but I didn't see it used all night. Bizarro also had the entire queue open, although most of it wasn't used. Again, a rope queue had been added, this time in a switchback configuration. Fort Independence and Aqua Stadium are both completely gone now, ready for Total Mayhem next season. A little part of the Lakefront behind the arcade is open to walk through and the trees surrounding the lake were approaching peak autumn color. I noticed some strange barge parked on the opposite side of the lake. I know I've seen it before in the middle of the lake, but now I'm wondering what it was used for.
After dark all the ghouls came out and the park went into full Fright Fest mode. They had a new scare zone this year in Movietown called Demon District. They had a pretty neat setup with fog machines and green, fanned lighting that made the area look like it was engulfed by toxic smog or something. I noticed that the ghouls had a larger range this year, walking into areas that I don't normally see them. However, this also made it feel like there were less of them in some places. A few that I saw seemed to be doing their job pretty well. I came across one that was on the ground on all fours, growling at people. A group started to form before she leapt towards a bunch of them.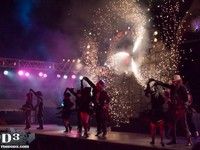 I caught two shows, Doc Swan's Sideshow of Oddities and Dead Man's Party. The first is like a carnival sideshow with Doc Swan doing such feats as fire eating, hammering nails into his nose, and walking across broken glass with someone on his back. The second, well, do I really need to explain that one? I think every Six Flags Park has it! I got a spot in front of the stage but ended up moving to a raised planter bed to get better shots.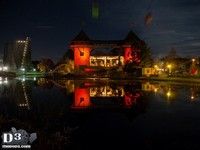 I stashed my camera away at around 8:30 to hit some rides. The lines were getting better now with the 10pm closing just around the corner. I first went to Zumanjaro. It was closed. Great start. El Toro had the far switchback full. That would eat up a lot of time, so I went to Bizarro instead which ended up having a stairway wait. Despite the short line, it still took about 20 minutes thanks to all the double stacking of trains! I want the old crew back; the ones who pumped out trains like crazy. I took a second row seat along with a group of three ahead of me. A single rider waiting behind me jumped into an open seat in the front row. Blah, I should have looked before sitting.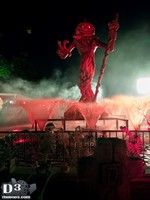 Runaway Mine Train had no line, so I randomly picked the front seat in second to last car. There was some sort of visitor/attendant dispute going on and they ended up opening the gates to let me and a couple into the train that was sitting for dispatch. I got bounced around pretty good on this coaster!
I jumped on the Skyway next which had a three gondola wait. It was kind of windy at this point but I guess not enough to close the Skyride. At one point a fresh breeze hit the gondola and shook it a bit. Yikes! It was now 15 minutes to closing, so I decided to wrap things up with Skull Mountain. I took a back seat and got some monster air over the drop since most of the other riders were in the front.
The ride attendant notified us as we were exiting that the park closed in eight minutes. Instead of trying to scramble into line for another ride, I just grabbed my camera (stashed in the lockers near Skull Mountain, I had planned!) and headed for the exit. Normally this would have been my last visit to the park, but Great Adventure is doing Holiday in the Park this year and will be open weekends from November 21st to January 3rd! They're even opening several coasters including Nitro and Batman, which is why I skipped them this visit. Hopefully it isn't too cold!