2016 marks 25 seasons that Six Flags Great Adventure has done Fright Fest. It originally started as a modest weekend festival called Halloweekends in 1989 and adopted the Fright Fest moniker in 1992 (Great Adventure History has some great articles about the early events.) Since then the festival has grown into a huge event for the park, bringing in some of the largest crowds all year. I visited Fright Fest twice this year; on October 7th and October 23rd. Both trips were pretty uneventful in and of themselves, so I'll talk about Fright Fest as a whole and add in some bits specific to each visit.
Right off the bat, I'd like to point out that I redeemed my 2017 season pass after buying it during the September flash sale. I got it for $68 and it was automatically upgraded to Gold since I redeemed it before Oct 31st. That one trip paid off the season pass if we compare it to a single day admission/parking. Yay.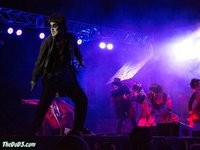 Compared to last year's Fright Fest there's been a few changes, one of them being that Dead Man's Party is now located inside of the old Batman Stunt Show arena. The venue works out really well and the show even features some more pyrotechnics now, most notably some concussion pyro to give extra oomph to certain elements. Guests also had two options for seating: in the expansive stands or on the floor right in front of the stage. I sat in the stands for the first show and in the floor section on a second viewing. Awesome show as always and without a doubt the finest show Great Adventure puts on every year.
They also had a few new shows, the first being Slash which took up residence in Showcase Theater and replaced Hypnosteria. Unfortunately I missed this one but from what I hear it's an illusionist show with some dancing and a whole lot of edgy jokes. According to the folks at the Great Adventure History Forums, the show was slightly toned down after some guest complaints.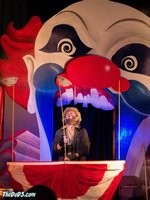 The Donniker Brothers Worlds of Mirth was another new show. This was basically a circus type show with three clown brothers, one of which being Doc Swan who did a one man show at last year's Fright Fest. The show featured juggling tricks, bowl spinning, an escape trick, and balancing act where two of the clowns one upped each other with tougher tricks. On the second night I went, Doc Swan was replaced by another "brother," a lady clown who primarily acted as the emcee. It was a really fun show! FYI, donniker is a carny term for 'toilet.' The more you know!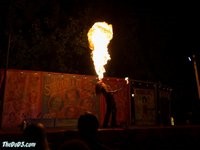 Another new show was Bilkum, Burnham & Haugh's Sideshow Spectacular. The first act was Lizardman, a dude that had tattooed his entire body, split his tongue, and gotten subdermal implants to look like a lizard. He showed off his split tongue for his first bit, making it move in different directions and such. Then he looped what was essentially a giant corkscrew through his nostril and out of his mouth. The second act was Murrugan the Mystic who did a fire eating act that ended by breathing an 8+ foot flame out of his mouth. According to him, he drank the flammable liquid and basically vomited it into a flame. It sounded like kayfabe until I was packing away my camera next to the stage and could hear him trying to gag up the rest of the liquid behind the curtain. I guess it's like sword swallowing where the trick is that they swallow a sword.
There was of course one more Fright Fest addition, possibly the biggest of all the additions, and that's Rage of the Gargoyles Virtual Reality Coaster. Six Flags has been on a VR kick recently and it was only a matter of time before Great Adventure saw a ride get the VR treatment, that ride being Skull Mountain…but only for Fright Fest. I wish I could give a review but both times I went the line was out the door. There's no way I'm waiting that long just to ride Skullie with some greasy goggles strapped to my head. On top of that, it was a slow moving queue as VR goggles have done a number on the throughput of every other coaster they've been added to. I remember checking the wait times on the Six Flags app on my Sunday visit and Skull Mountain was listed at over 2 hours. Ack! They even setup some temporary queues to handle the crowds. Funny enough, Skull Mountain used to have a massive, elaborate queue when it first opened that would have handled its popularity resurgence quite well.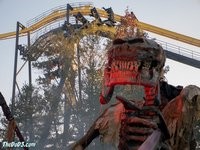 The scare zones remained largely the same with a few alterations. The Demon District, located over in Movietown, featured an animatronic alien where the Batmobile usually hangs out. Every so often it would move and growl, surprising those taking a photo in front of what looks like a non-moving prop. Apparently this was inside of one of the terror trails last year. The far entrance of Circus Psycho had also been moved to the thoroughfare in front of the tent buildings as opposed to the border of the Boardwalk area. This was probably done so that Big Top Terror, which is just of outside of the Boardwalk, would be officially included into the Circus Psycho scare zone.
A new haunted maze was also added, Cell Block 6, which was located near the Showcase Theater. This took the place of The Asylum which was located across the way in the old Chiller station and areas behind it. The former Chiller location is currently being prepared for Justice League: Battle for Metropolis, a new interactive dark ride. When I swung by on Oct 23rd, the station was completely gone with just a flat expanse of land left and the old Xploratorum building still standing.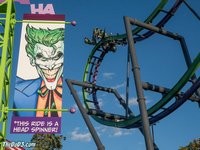 October 7th wasn't too bad, the lines were about what you'd see on an average Summer Monday or Tuesday. I waited 25 minutes for Joker and the line moved a lot quicker than I thought it would. The ride itself was all right, and I got a few flips and some moments of riding upsidedown. I'll have a full review on this coaster in the coming weeks. Most of the other coasters had modest lines and I was able to hop on El Toro, Bizarro, Mine Train and the Sky Way before heading out at around 10pm.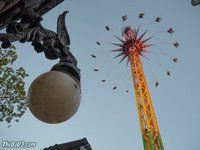 The second day I hit a bit of bad luck in terms of crowds. The previous day was cold and nasty while Friday had a high chance of rain that never really materialized. Seemed like everyone that would have gone those two days simply went on Sunday instead which turned out to be a gorgeous day. I arrived at around 4:30pm and mostly just walked around taking photos and video since the lines were all pretty bad.
At around 9pm, I stowed my camera in a locker and went to ride Zumanjaro and Kingda Ka. Zumanjaro had basically no line at this point and I was on in one cycle. I think Zumanjaro might be my favorite ride in the park after El Toro. It's got a drop that lasts forever and a wonderful view with time to take it all in.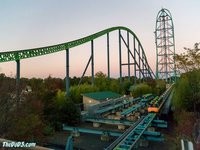 I got in line for Kingda Ka next which had half of the switchbacks full. I browsed Reddit while waiting and about 10 minutes later noticed that we not only hadn't moved at all but no trains had been launched either. A few minutes later a guy walked into line and called out to his friends about how the ride has "technical difficulties" and to just leave the queue. His friends brushed him off, but the fact that he said "technical difficulties," which is the exact verbiage that the ride ops use, made me realize that it probably did break down. I walked out and sure enough they had the chain up with the little "temporarily closed" sign. Man, it's like you can't even get on Kingda Ka anymore between waiting for Zumanjaro to complete its cycle and sporadic breakdowns. So, I took a second spin on Zumanjaro, which again had no line. Fun fun!
I left the second night right around 10pm, which was closing time that day. All in all, Fright Fest was great fun despite the crowds on the second night. It's always my favorite time of the year to go to the park. Guess it's on to Holiday in the Park next!
Here's a video featuring some shows, rides, and theming.
And here's a bunch of photos!