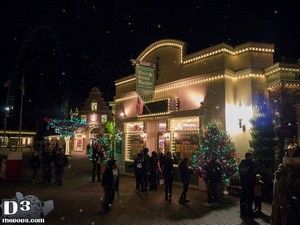 I was down at the summer house last Saturday to put things away, clean up leaves, and get stuff organized for the winter. It's not too far from Six Flags from there, so I decided to take a quick trip over to the park to check out the Holiday in the Park festivities. The day called for light rain later on that night but I was sure that it wouldn't based on practically every busted forecast this past year. Well…they were right, and I arrived at the park with something slightly heavier than drizzle falling.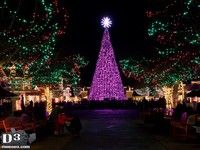 Many of the buildings were decorated in lights, more so in the entrance area of the park, whose architecture seems to fit perfectly with the whole holiday vibe. The fountain was drained and now featured a large Christmas tree in the center. This tree was actually a show with music and dialogue being played while the tree's lighting flashed through different scenes. It was really cool and kind had a Disney-esque feel to it; like it reminded me a bit of Illuminations at Epoct, without the fireworks of course.
Most of the rides from the right side of the park to the Boardwalk area were open. Additionally a path through the former Old Country area to Showcase Theater was open for once. The trees along the main paths were wrapped with lights; blue lights near the Wheel and Lakefront area, red near Skull Mountain, and red and white near Houdini's and the Carousel.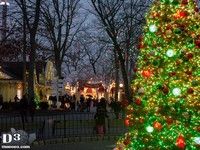 MovieTown was now dubbed Holiday Memories and featured some holiday happenings such as decorated buildings, a tree where the Batmobile used to be, and fire pits that people could roast marshmallows over. I could have sworn that I saw people cooking up S'mores over the fires as well.
Just up the way was a micro section of the park called Poinsettia Peak, featuring the Poinsettia Peak indoor coaster. Ol' Skull Mountain was decked out in red lighting that covered the entire facade. Fender Benders and "Holly" Jolly Roger were also adsorbed into Poinsettia Peak; all three are in different sections of the park during the normal season. This area also featured a large tree made out of Poinsettia plants with the "Poinsettia Princess" on hand near it for photo ops.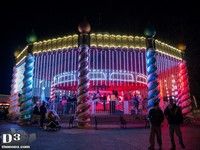 The opposite side of the park had three sections. The first was Gingerbread Junction which featured the Carousel as its focal point. The Carousel had hanging light strings that flashed through different colors and patterns. They did a really nice job on it! The Teacups were now Gingerbread Twist and was lightly themed with a new sign an some Gingerbread Man light ornaments. Yum Yum Palace, the large cafe in this area, had lights wrapped around the ice cream cones on top of the building and lighted ribbons around the pillars. It brought some attention to an already cool looking building.
The other two areas were Snowman City and Treetop Summit; both were originally The Boardwalk. Snowman City comprised the games area, the entrance to which was adorned with a big inflatable snowman. Treetop Summit was everything behind it with its namesake coming from the parachute drop that was turned into "one of the world's tallest light trees." At 250 feet, there's probably some credence to that. Green Lantern and Superman had their entrances adorned with lights; poor Twister was left out on the decorations.
I walked around with my camera until 5:30pm or so before stashing it in a locker and hitting some coasters. Nitro was my first stop, which had a three train wait. It would have been two if not for a group of Flash Pass holders…like they needed it. This is obviously the latest in the season that I've ever been on a coaster around these parts but it was really mild out for late November and I wasn't whipped by 80mph wind chill like on previous late season visits.
I headed to Batman next which I guessed had a non-existent line. I was right and got what amounted to a walk on. I rode Batman backwards during the summer and while it was quite the experience, I think I like forwards running Batman more. Backwards Batman kind of made me dizzy but I didn't find it particularly "intense" as many others have noted.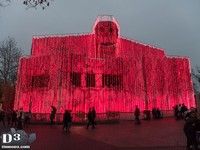 Poinsettia Peak was next up. On any other day if Nitro and Batman had no lines then this would be deserted. Tonight it was flipped due to the amount of families in the park and the station was jam packed with a mess of people waiting for any rows they could jump in. I waited for the back car and went into the second to last row of seats when the lines became more organized closer to the gates. I was kind of hoping that they would have decorated the inside but it was your usual in-the-dark experience. Funny enough, the Pumpkin Man and spooky skeleton guy props were turned on. It's still Fright Fest somewhere!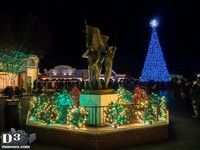 I headed across the park to hop on Green Lantern. I thought about hopping on some flats on the way but some actually had sizable lines, again due to the families at the park. Fender Benders actually had a Fright Fest sized line. Green Lantern was running one train yet it was still a walk on. I think I rode somewhere in the middle. If you're not in the front then it really doesn't matter where you ride. I've been slaking on my biking recently due to the colder weather (and thus skipping leg day) so I felt the burn in my legs that everyone seems to complain about on Green Lantern.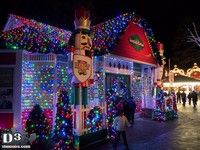 I headed back to the other side of the park and decided to hit Nitro again. This time I quite literally had an open airgate walk on. I don't think I've ever had one of those on Nitro. Well, to be fair the row I was in line for was full and I scampered into an open seat in the row behind it but I'm still counting it! I probably had enough time to hop on Batman again before the locker time limit was up, but I was actually a little nauseous. Damn, at this rate I'll be done after one coaster in a few years!
I grabbed my camera and did a short walk around the park before heading out at around 7:30pm. All in all it was a neat little event! Hopefully I'll get to the park one more time before it closes till Spring.