I headed over to Six Flags Great Adventure on Sunday, December 4th for some Holiday in the Park fun. I really liked the event last year so I was eager to head over and check out this year's festivities. I got to the park at around 4pm and spent the first 45 minutes walking around getting photos and video of coasters and such; basically stuff that I'm not going to be able to get photos/video of once it's dark. The lines at this point were all 10 minutes or less, maybe 20 for Joker.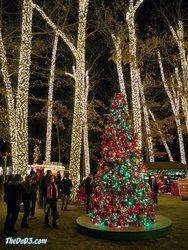 At 4:45, basically dusk, I got in line for Skyway which had a nearly full queue equating to a 15 to 20 minute line. The ride ops were pumping out cars and the line never really stood still for long. The ride was really nice, flying over the decorated trees and seeing the thousands of lights lit around the park. Unlike normal one way operation, the Skyway was round trip during Holiday in the Park. Once you got to the Fort station, the ride ops simply rolled your cart around and sent you on your way back. The Fort was decorated with lights along its perimeter and around the canon openings but nothing was decorated (or open) between the Fort and about where the Carousel is.
After exiting, I took another lap of the park getting after dark shots. Along with the Skyway, another new feature this year was the Merry Market Place in the wooded area between Yum Yum Cafe and Joker. The trees were decorated with off-white lights with a nicely decorated Christmas tree in the middle. Along the perimeter were little shops with trinkets, snacks, and hot chocolate. The area kind of reminded me of the Winter Village that opens up at Bryant Park in Midtown during this time of the year.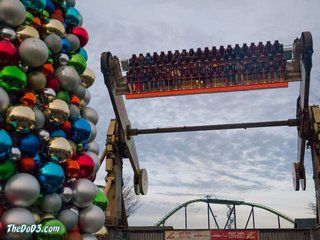 They had a new show this year in the Showcase Theater called Trouble in Toyland. I haven't seen it yet, but I'll make sure to stop by on my next visit. They also opened up the path so that you can walk past the theater and into the Holiday Memories area (aka Movietown.) The Jingle Jammers show now had a little stage with some lighted trees around it; last year they just did the show right on the path in front of the Commissary food court. They had some fire pits setup in front of the food court with another batch near Twister. Last year the fire pits started out as just an open flame, then were enclosed in cages, and now have small wrought iron gates around them.
At around 6:45 I stowed away my camera and hit a few rides. The lines were basically nothing now aside from the Skyway which maintained its nearly full queue. I started with a spin on Skull Mountain which I actually hadn't been on all season. There's a couple modifications inside Skull Mountain, namely some lockers in the station that I assume held the VR headsets during its Fright Fest run as Rage of the Gargoyles. There's also a new, lighted hallway near the helix. I thought it might be a new emergency exit but it's apparently a new Flash Pass line. I don't know where the heck it starts. I took a second to back car as the back car had a little line. Hmm…people are starting to figure out that the back is the best seat in the house on Skullie. I still got a nice little pop of air in my seat.
Next, I headed over to Joker which had a one cycle wait for both sides. Just as I predicted, Joker has an expandable queue now. Although, I think it was always there but just blocked off by a chain link fence that they had setup. I took a backwards facing seat on the purple side. I didn't really flip much at all during the ride aside from the initial flip off the lift. After exiting I immediately hopped in line again for a second spin, this time heading for the green side and choosing a front facing seat. What a difference! I got at least three flips including one on the top section that caught me completely by surprise and jolted me straight into the harness. Green side is the side you want if you're looking for a wild ride!
I headed over to Treetop Summit and took a ride on Twister. Along with the usual pre-ride announcements, the ride op now cautions riders to not spit lest they want to be ejected from the park. We got about five flips in during the first portion of the ride. Twister has been running a much better cycle in recent years.
Superman Ultimate Flight was my next stop, skipping over Green Lantern. I had my pick of rows aside from the first row and a couple middle rows. The cars flipped up…and waited. I knew it broke down as soon as there was a longer than usual pause. Eventually the seats flipped down after…eh, a little more than 5 minutes I'd say. All that badmouthing I've done to Superman in the past, it's like the ride had to get back at me!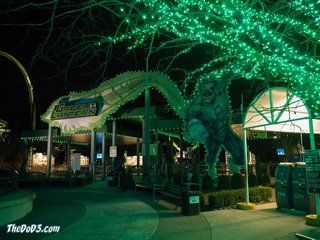 I headed over to the other side of the park and hopped on Sky Screamer along the way, which had a one cycle wait. Sky Screamer has a slightly different cycle than I remember; now it rises up about a quarter of the way before spinning up to full speed – which is pretty darn fast – and then rising to the top. The ride slows down a bit before lowering to halfway and then rises up again while slowing down. At the top, the ride revolves slowly for a couple revolutions before accelerating to full speed again and lowering.
Next up was Batman which not only had no line but no one in the station so I waltzed right on into the front row. Eventually several more people filed into the station along with two others hopping into the front row with me. Nothing like cutting through 30° air at 50mph with nothing to break the wind! I had like five layers of clothes on, so it wasn't bad at all save for my face.
Nitro was my next stop which had a one cycle wait with lots of open rows so I headed for the back row. Two kids were riding in the back row and stayed in their seats for a re-ride. The ride op asked if I was OK with them re-riding and I told him that I wanted the row all to myself and had them kicked off! Nah, I didn't do that. Maybe if they were hogging the end seats then I would have told one to scoot over, but I couldn't care less otherwise. Nitro was great as always and I actually think the cold temperatures makes it more fun.
My locker was close to expiring so I hit one more ride, Fender Benders, which had a two cycle wait. While watching the ride while waiting, I saw a parent and their maybe four or five year old kid riding one of the cars. Every time they bumped someone the kid would burst out laughing hysterically; it was too funny! Afterwards I grabbed my camera, took a few more photos and headed out at close to the 9pm closing time. Great day to visit overall!