Updated 12/17
I went to Six Flags Great Adventure for their Holiday in the Park festivities on opening day, November 17th, 2018. This is the fourth year that the park has opened for the holiday season. Like the Fright Fest trip report, I'll separate this one into two portions covering the attractions in 2018 with the actual trip report underneath.
In short: The park had lots of decorations and lights, the shows were neat, and the rides had barely any lines!
2018 Shows & Attractions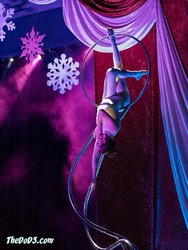 New this year is Wonder: A Cirque Spectacular, a variety type show in the Showcase Theater. This was kind of similar to the Unleashed show that took place during Fright Fest – only with more holiday cheer.
The show began with some chirography by several dancers, whom returned between each act to do different performances. The first act was a juggler who first juggled pins followed by an increasing number of balls – up to five I think it was. The next act was a magician, who performed a couple of tricks including a disappear/reappear illusion and another snow type trick. Cool bit, but he messed up a few times during the show that I watched. Everyone makes mistakes, but when it's like a cascade of mess ups, oof…started to feel some secondhand embarrassment there!
One of the dance portions featured an actual singer who was very good. She also sang during the contortionist act which, funny enough, was the song "I'm Alive" by Sia which was one of the Dead Man's Party songs last year. The final act was a trampoline bit featuring three performers doing flips and crossovers. Nice show overall.
Hotsy Totsy returned for a second year, performing near the fire pits in front of the Dark Knight coaster. They sang classic Christmas carols along with some of their original holiday themed songs. The signage for the show also billed another group named Co-Ed, who I don't think were there on opening night – at least I didn't see them.
There were a few differences this year around the park. Probably the foremost one was that Treetop Summit (aka The Boardwalk area) is now called Deck the Halls. The Parachute Jump, which had been closed and decked out with string lights in the past, was now in operation sans lighting. Additionally, the area in front of Twister had giant, illuminated ornaments that people could take photos with and even walk through.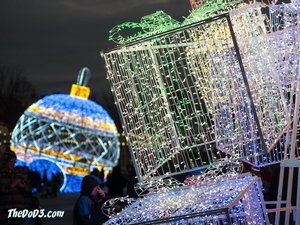 Joy to the World, which was placed in the path between Sky Screamer and Showcase Theater in prior years, is now in that deserted area of The Lakefront between Jolly Roger and Buccaneer. This is actually a better place for it with all the light sculptures grouped together in a little oval path area. It got me to thinking about what the heck was in that area, though. It's literally a section I've never paid attention to before.
A final change was that the old Panda Express next to Skull Mountain is gone with a holiday themed restaurant called Holiday Feast in its place. Looks like it had turkey, ham, mashed potatoes and such. I've heard this will be a Chop Six once the regular season comes around again. I also noticed that Skull Mountain just has red fill lights shining on the structure rather than the red string lights it had in years past.
One final thing of note is that the area next to the Movietown Arena, where Freefall used to be, is being prepared for 2019's addition – Wonder Woman: Lasso of Truth. It's a Zamperla giant pendulum ride which will top out at 172 feet. Pretty neat, but I'll need the Dramamine for that one!
Opening Day Trip Report
Opening night was around mid to low 40s when I arrived at 4:30pm and dipped down to the mid 30s by the time I left at 9pm – the park's closing time. The park had low crowds for the most part with rides having a station wait when I got there. All rides became walk ons by quarter to 8 or so. The first few hours I just walked around with my camera and rode the Sky Way, which had a 15 to 20 minute wait – probably the longest wait in the park.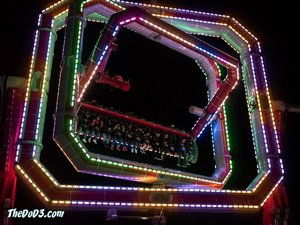 I put my camera away at the Batman lockers and hopped on Batman: the Ride straight after. When I got to the station I actually had to wait a bit, not due to a line but because they were taking the second train off. Batman is still a very good inverted coaster despite being the first model of its kind. I kind of wish B&M made more compact layouts like Batman.
Next, I walked over to Holiday Heroes to take a spin on Cyborg Cyber Spin. In my Fright Fest trip report, I noted that the ride seemed to struggle in flipping the seats. That was not the case at all this time with only like six other people on the ride. Very disorienting ride when running at peak speed; I didn't even know which way I was pointed at some points. Surprisingly, this didn't make me too nauseous.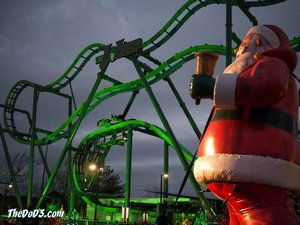 I headed for Joker next. When I got to the gate, the queue attendant was in mid conversation with a pair of individuals with lots of loose items. Joker, along with El Toro and I think Kingda Ka, are rides that the park has cracked down on regarding loose items in pockets, even zipper pockets. After they left for a locker, the attendant questioned me as to if I had anything in my zipper pockets. I said yes because I'm an idiot. When prodded further as to what I had, I said my glasses case. Apparently that was satisfactory as I was let into the line. I think it's funny how only certain items are considered contraband, namely keys and cell phones. I mean, certainly my fat wallet full of dubs might injure someone if it was flung from the ride! Actually, my wallet would probably just fly due to all the moths inside.
Joker essentially had no line at all. I just walked through and was told to go to the green side where I was paired up with three others. The seats did the usual flip off the top and then rocked around, almost flipping on the first set of hills. On the second half, the seats were flipped by the second set of magnetic fins and we actually got a double flip going into the second turnaround. Not a bad run! Bonus points in that we didn't wait on the brake run for five minutes like usual and went right into the station.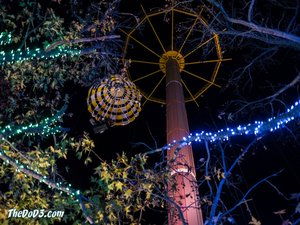 I thought about hopping Swashbuckler next, the park's Round Up ride, but it was about to start which meant I'd have to wait for the next cycle; no thanks! I pressed on to Nitro instead. On my way, I noticed that the Sky Way's line had dwindled to just half a switchback. Definitely the time to ride if you can't get on just after sunset.
Nitro itself had a half empty station wait. I took the second to last row as a group had already gotten the back, and I didn't feel like waiting for another train just to be one seat back. I was ok on the first leg of the ride, but the bunny hops on the back end really make me nauseous for whatever reason. I grabbed my bag and headed out shortly after, but not before stopping to watch the LED tree show at 9pm, right at closing.
Here's a video!
And a bunch of photos!