I had been down at the shore house in Brick a few days along with my father and sister. We took a day trip to Wildwood on Thursday. We all used to head down to Wildwood for a week back in the day, but stopped around 2007 or so. They each left on Friday morning while I stayed an extra day. Friday afternoon I went for a ~20 mile bicycle ride around the Brick area, mostly around the lagoon neighborhoods on the Barnegat Bay. At some point this fall I want to do a ride from the shore house to Seaside via Rt 35, which now has a bike lane. Almost entirely flat and around 30 miles round trip so it shouldn't be bad at all since I'm used to hill riding. Friday night I headed over to the Seaside Boardwalk.
I left at around quarter to 7, assuming that it would be tough to find parking being a Friday night in August, but I was surprised to find that it wasn't hard at all. I paid $5 and parked in a lot instead of using a metered spot…which probably would have came out to around the same for the time I stayed. Casino Pier itself had some light to medium crowds. The last time I was in Seaside Heights at night was before Sandy and the place was far more crowded even on a weekday. I hate to say it but I think Sandy, combined with the fire a year later, really did a number on this place. The bars didn't even look too crowded when I was leaving at around 10.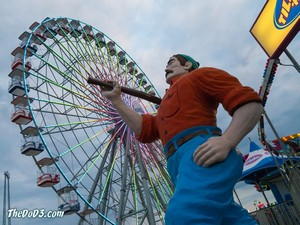 Casino Pier has two big additions this year being Hydrus, a Gerstlauer Euro Fighter coaster, and a 120 or so foot gondola wheel manufactured by Technical Park I believe. Before I even got down there, I was able to see the new wheel during my bike ride from across the bay. It's one of the tallest things in Seaside now; I think Skyscraper is taller, but you can't see that as easily from 12 miles away. The wheel itself ain't exactly the nicest looking during the day with basically a gray, unpainted metal look. At night, however, it's really awesome with the best LED lighting I've ever seen on a wheel. The lights are really close together and make for seamless sequences. They also flashed through some cool patterns such as a smiley face and waving American flag.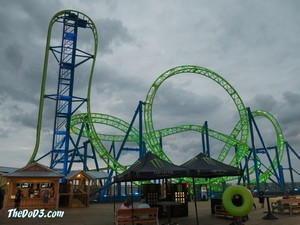 Hydrus was the main addition this year and situated on the newly constructed northern end of the pier. Before Sandy, the pier jutted out a good 300 feet over the water. Now it seems like they're going wide instead of long to avoid similar damage if another nasty storm hits the area. Hydrus starts out with a vertical lift into a beyond vertical drop followed by a large vertical loop with some hangtime. Next is a cutback near the edge of the pier and up into a barrel roll with one last turn before the brakes. At night, lights on the track light up as the car rolls over them with the entire track lighting up at the end. I noticed that some of the supports fix to steel pallet looking things that are filled with rocks. Very interesting, I wonder if this ride is technically portable?
Between the wheel and Hydrus was a sizable open space for future additions I'm sure. Surf Shack, an Owen funhouse, was the only ride in this area. They did some shuffling around of rides since the expansion with Pirate's Hideaway at the back of the pier now. This is a half indoor coaster that was modeled after the Wizard's Cavern ride that used to be on the pier. It has a neat spiral lift with a rotating frame to hoist cars to the top. It's actually not the same ride as Wizard's Cavern but a newer version manufactured by Wisdom. Wizard's Cavern was a Mack made ride for the record. The bumper cars are now in front of the wheel and have some neat LED lights on the ceiling. The cars look really fast too!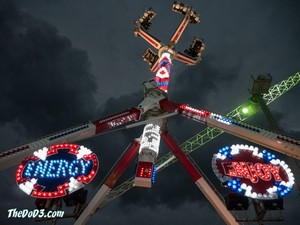 Musik Express looked a lot like the old one that used to be there but with LED lighting. Seemed like it ran pretty fast, maybe on par with Strates Show's Musik Express which is amazingly fast. The only thing missing was the mic man, who was really good on the old Musik Express. The ride op still did ask riders if they wanted to go faster, but they didn't have the same gusto as the original guy. Superstorm was on the opposite side of the pier, a ride literally named after the storm that wrecked Seaside. It's a Technical Park Street Fighter Revolution. Heh, I don't know if I can ride something like this anymore. The swinging actually looks really forceful as opposed to Kamikaze style rides that are balanced but swing for effect.
I hung around the pier for about an hour and a half before taking a walk down the boardwalk. Looks like there's some new stands on the south end of the boardwalk, near Sawmill. I do remember seeing them under construction earlier in the year. They weren't open that night, or maybe they were but closed earlier, I don't know. There's really not a whole lot of action down there with only a few bars on the south end now. No real anchor either with Funtown Pier gone for good.
Here's a video of Casino Pier and some photos of the pier and boardwalk.