Jersey Shore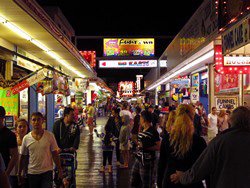 Many parks along the coast that suffered damage from hurricane Sandy are continuing to rebuild in hopes for a 2013 opening.
Keansburg Amusement Park in Keansburg, NJ is shooting for an Easter weekend opening. Updates on their rebuilding efforts can be found at their Facebook page. The park recently bought a new fleet of Bertazzon bumper cars to replace the destroyed Lusse skooters. Keansburg Amusement Park's waterpark, Runaway Rapids, will also be adding in some new slides for 2013.
Casino Pier in Seaside Heights, whose Star Jet roller coaster became an icon of the storm's destruction, is hoping to reopen by Memorial Day weekend. The front half of the pier is currently being rebuilt and will feature rides that made it through the storm such as Pirates Hideaway and Disk-O along with a selection of kiddie rides and games. The back portion of the pier will not begin construction until after the 2013 season. Star Jet, which has been sitting in the ocean since the storm, will be removed in early March.
After speculation swirled on whether they would even reopen again, Funtown Pier in Seaside Park will in fact rebuild in hopes of  a 2014 opening. A lot of attention was paid to Casino Pier in the aftermath of the storm yet Funtown Pier sustained as much, if not more damage from Sandy.
Other shore parks such as Jenkinson's Boardwalk in Point Pleasant, Fantasy Island in Long Beach Island, Steel Pier in Atlantic City, Gillian's Wonderland and Castaway Cove in Ocean City, and Morey's Piers in Wildwood are all scheduled for their usual spring openings. Check their websites for details! While not at the Jersey shore, Coney Island's Luna Park and Steeplechase Park are also set to open in late March.
Rye, New York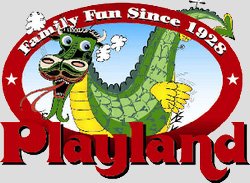 Rye Playland's future is pretty uncertain right now. For those who don't know, Playland is owned and operated by Westchester County and is the only amusement park in the US owned by the government. The park costs the county anywhere between $3 and $5 million to operate annually so of course Playland is at the top of the list when it comes to cost cutting measures. The Westchester County government wants to keep the area a park space, while allowing a private entity to run the amusement park.
This all sounds okay until we take a look at the proposal pushed forward by the front runner for Playland. The non-profit group Sustainable Playland Inc. is proposing to cut 30% of the amusement rides while emphasizing park space and adding in a sports complex. A problem with this proposal is pointed out in an editorial on Lohud by Keith Iorio noting that Sustainable Playland will abandon zones that do not preform as expected. Iorio goes on to say "Eliminating a large portion of the amusement park will not bring it out of the red zone. Based on Sustainable Playland's business model, the amusements eventually will face elimination."
Many other groups have also submitted proposals such as Central Amusements International (an affiliate of Zamperla), Standard Amusements, Legoland, and State Fair.
This whole thing reminds me of the Thor Equities debacle in Coney Island. But to be fair, Sustainable Playland does have good intentions for the community while Thor was just a total land grab.
There's currently a petition over at Change.org for those in favor of keeping Playland a major part of the area. Please consider signing it to show your support!