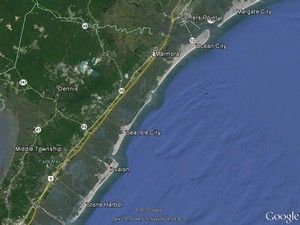 Continued from Part 1.
I exited Wildwood using the Wildwood/Stone Harbor bridge. This is one of several, independently operated toll bridges that connect the barrier islands of New Jersey along a 50 mile road known as Ocean Drive. I rustled up $1.50 in stray quarters hanging around my car's center console to pay the toll only to find that the toll booth was closed. I'm not complaining.
Stone Harbor and Avalon are the towns located on the barrier island just north of the Wildwoods. There aren't any amusement parks and little in terms of year round establishments here. I thought Wildwood Crest was desolate, but this place seemed practically devoid of movement. The odd street would have a dumpster and some trucks parked around a house, but I literally saw four cars driving around the whole time there. This is what I love about the shore in the off season. Growing up in northern NJ where congestion is abundant and where the population density is among the highest in the nation, it's a welcome change to be in place that's so desolate yet not really in the middle of nowhere.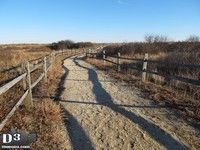 I parked down some random side street and took a walk to the ocean. Between the residential areas and beach is a large swath of dunes. Once you finally get to the ocean, it feels like you're on some isolated stretch of coastline. There were actually a few people on the beach, albeit so far away that they were just shapes in the distance. Speaking of shapes in the distance, I could just about make out the Giant Wheel and Sea Serpent down in Wildwood through the blowing sand. I strolled around for a few minutes and found this sand toy embedded in the sand. Creepy! I didn't stick around for too long as it was really starting to get nippy out as the sun got lower.
I made my way to the next bridge to cross into Sea Isle City but was denied by bridge construction. Blah, this meant that I needed to get onto the Parkway and go around. As a result, I skipped Sea Isle City and Strathmere completely and headed straight for Ocean City.
I arrived in Ocean City just before sunset. I was actually a little later than I wanted to be to get some sunset good shots. Actually, I was about a month late if I wanted to get some really good sunset shots as the angle of Ocean City's boardwalk makes for some really good photo opportunities in late January. I parked near Playland's Castaway Cove and walked up to around Music Pier before getting some photos near Gillian's Wonderland and heading back. It was getting really stinking cold now! Didn't see much happening at Castaway Cove. I know they've been trying to sell the Python looping coaster for a little while now, but it's still there.
I exited Ocean City via the bridge heading into Longport. I then drove northward until I stopped by at Lucy the Elephant. I knew it wasn't going to be open, but I wanted to check it out nonetheless. At this point I had to make a little decision: either go through Atlantic City and catch the Parkway in Absecon, or just head out the way I came and make my way to the Parkway from there. I decided on the latter as Atlantic City is a pain to drive through with like 20 traffic lights, bus traffic, and pedestrians. One of these winter trips I'll probably just get a room in AC and hit up a casino to gamble a bit…and get comped drinks. I eventually made it back to Brick at around 9:30pm.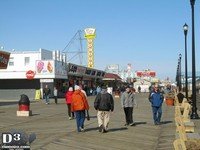 The next day, I took a little trip to Seaside before heading back north. The area between Sawmill and the last business untouched by the September 2013 fire was completely cleared. A temporary sand dune replaced what was once a boardwalk and stores. Funtown Pier essentially ceases to exist now with Drop of Fear and Sky Coaster having been removed. I read recently that they're hoping to get the boardwalk completed by this summer. They might complete it, but I'm not sure if there will be anything to go with that boardwalk this season.
Since it was about 50 degrees out, there were some people on the boardwalk and even a few shops and games open for business.  I saw one store selling outdated signage and even wheels of chance. For $300 bucks, you could own a legitimate, Seaside Heights used chance wheel that has probably raked in hundreds of thousands of dollars in 25 cent bets over the years. The signage for sale  was interesting as well, one was a Tamogachi sign. Jeez, remember those things? The store must have had that thing sitting around in the back room since 1999!
I walked down to Casino Pier before turning around. Looks like Casino Pier is still working on getting the back of the pier rebuilt. There was a giant pile of lumber next to the pier which I can only assume will be used for the decking. I figure by next season they'll be ready to add rides onto the new portion of the pier. Looks like they were also getting the Sky Ride ready to open this season.
I headed out eventually and stopped by at the shore house before heading back north. Fun little weekend shore trip overall!