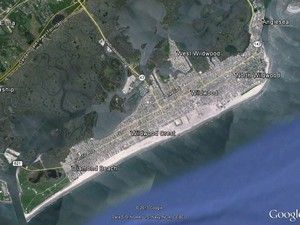 On a relatively mild Saturday in late February, I headed down to the southern shore points of New Jersey to see what was going on, or lack thereof. I usually like to make this trip once a year, using my family's summer house in Brick as a starting point. From my place in north Jersey, it would be a two and a half hour drive to Wildwood, while it takes an hour and change from Brick. I left for Wildwood at about 11am and arrived shortly after 12pm.
I parked in North Wildwood, near Sportland Pier and plodded down the boardwalk for about 100 feet before turning around and grabbing a heavier jacket. It was like 50 degrees out, but the wind coming off of the Atlantic was pretty biting. Sportland Pier had basically nothing going on. Other than turning an arcade into a walk through haunted house several years ago, I don't think that pier has built anything substantial in the past 20 years so the lack of anything happening wasn't much of a surprise. Looks like the snake atop the boardwalk tattoo parlor was repainted…maybe.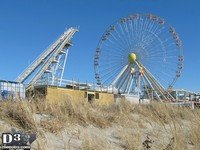 The next pier up, Morey's Surfside Pier, didn't seem to have much going on either. Further south at Morey's Mariner's Landing pier, construction was underway on the platform that will hold their new Wave Swinger ride. I believe this will be a brand new Zierer model to replace the 35 year old model they previously had. The new ride will be decorated with Wildwood inspired artwork; a nice touch I think. Here's a whole page about it, including a video, from the Morey's website.
Further south, Morey's Adventure Pier seemed to have some new attraction called Art Box, stylized as [artBOX] on their site. The attraction is built from re-purposed shipping containers and is billed as an "interactive artists community." Basically, each container will be occupied by a different artist (speed painters, musicians, glassblowers, surf art, homemade crafts, etc) and people can walk around and check out their work, and watch them work on new projects and such. Morey's seems to have been trending towards turning Adventure Pier into an attraction and upcharge only pier in recent years. At some point I won't doubt that Great White will be the only non-upcharge ride left on the pier…or we could rev up the Great White removal conspiracy theories.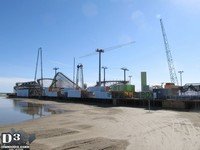 I walked down to the Convention Center before turning around. Instead of walking back up the boardwalk, I decided to walk on the beach for a bit, heading behind Adventure Pier and Great White which juts out onto the beach. In the beach areas between piers, giant pools of water had accumulated in which legions of seagulls hung out in. I made my way back to the boardwalk near Mariner's Landing.
Further up, I hopped off the boardwalk again to explore the area around the old Seaport Village pier, just north of Sportland Pier. This used to be a pier made up of a collection of stores selling an assortment of sundries. The stores closed in 2004 and were eventually torn down in 2008, leaving just a barren pier. There was talk that a year round water park would occupy the spot, but needless to say that never happened. A large sand dune blocked my way to the ocean, so I just walked under the abandoned pier and looped around the back.
From this angle,  I was able to get a good view of the back of Sportland Pier which has a large, plywood looking structure on the back. Turns out, that's exactly what it is, a large plywood structure! No frills at all other than a "no trespassing" sign crudely spray painted on the side. Apparently this was going to be a haunted walk through attraction called Dead Zone, but never got off the ground thanks to a small fire inside the structure back in the 2011 off season. I walked down a bit further to see if anything was going on at Surfside Pier, but I couldn't see anything through the jumbled mess of Great Nor'Easter track and waterslides.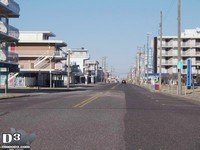 I decided to wrap things up as I wanted to make some stops in Avalon and Ocean City before heading back for the night. I took a ride down to Wildwood Crest, the southernmost of the four "Wildwood" towns. This is where my family and I stayed when we used to vacation "down the shore" for a week every August. The town is mostly motels and summer rental properties, so naturally it was absolutely dead in February. I probably could have parked my car in the middle of the main thoroughfare without affecting anyone.
I eventually left the Wildwoods, heading out through Angelsea and across the bridge to Stone Harbor. Stay tuned for part 2 where I cover the southern barrier islands, Ocean City, and Seaside! Oh look, here's part 2!