I don't know what it is but I find defunct rides extremely interesting. Maybe it's because you will never, ever get to experience the ride first hand. I'm not talking about any old defunct rides though, I'm talking about ones that were axed for a number of reasons. Perhaps the ride was too ambitious for its time. Perhaps it was due to an unfortunate accident. Maybe it was 86'd thanks to giving riders an ass whoopin'! In this series, we're going to take a look at some of these strange, wild, or mysterious rides of the past starting with a beast of late 60s ingenuity.
Chance Rides are well known for producing a plethora of flatrides. In the 60s and 70s, Chance was akin to the modern day KMG or Technical Park in that they were making some pretty unique and thrilling rides. Zipper is probably one of the most famous rides to carry the Chance branding. Other rides like Sky Diver, Turbo, and later on Chaos also fit the bill for being wildly different compared to what was offered at the time. The apex of Chance's innovation, or rather their culmination of mad scientist experimentation, came with a ride dubbed Tumbler.
In the simplest description possible, Tumbler was essentially two Sky Diver looking wheels affixed to a revolving boom. It's rumored that the idea for Chaos came about by slapping a Zipper pod onto a Round Up. It's hard to pass up the thought that Tumbler was possibly designed under a similar circumstance.
Like most Chance rides of the 60s and 70s, Tumbler had a very no-frills look about it. The center boom was made up of a bulky frame made up of metal lattice supports. I'm not quite sure what turned the hub originally, but sometime during its life it was fitted with several tire drives. Got to keep up with all the…uh, cutting edge technology, right? Two supports on either side held up the ride and looked a lot like Sky Diver's X style supports.
The wheels, while similar looking to Sky Diver, weren't exactly the same. They seem to be slightly smaller with no light decorations in between each pod. They did manage to squeeze in 20 pods per wheel, for a grand total of 80 riders per cycle! The capacity coupled with size seemed to indicate that the ride was tailor made for amusement parks with a need for high capacity rides. Chance has also made other high capacity, one-off attractions in the past, namely Super Sidewinder at Six Flags Great Adventure, a 144 passenger Scrambler type ride.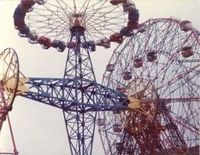 To the left is a photo of Tumbler in Coney Island. The image was salvaged from Webshots (an image host that changed format and deleted tons of content) thanks to the trusty Internet Archive. It was posted by a user named Rockowheel and a million thanks goes to him/her for uploading this extremely rare photo. Here's the archive link
With the combination of wheel motion, hub motion and horizontal rotation of the pods, Tumbler must have seriously lived up to its name. The pods were similar, if not the same ones seen on a Sky Diver ride complete with steering wheel to rotate the pod. However, a rider that posted to the Coney Island Message Boards noted that the ride spun so fast that turning the steering wheel was mostly a fruitless endeavor. "Once it started rotating towards the top, there was no chance you were holding on to the wheel – the G force was so strong it was ripped out of your hands."
Chance didn't produce many of these rides; in fact, only one was produced. In 1968, Tumbler was installed at Six Flags over Georgia and went under the name Wheel Burrow. It was then moved to Rye Playland around 1972 before landing in Coney Island. After its tenure in Coney Island, the ride was likely scrapped. It's a shame but not too surprising either. The ride needed a huge amount of space and a place that could make good use of that 80 person capacity. On top of that, the 80s saw manufacturers like Huss starting to produce a more polished brand of thrill rides. Even though Tumbler was likely safe, its wild demeanor combined with dated appearance would have likely turned some people away.
There is nothing like Tumbler today. Appearance-wise, the closest thing we have to Tumbler are Evolution rides made by Nauta Bussink. While Evolution is a thrilling and visually dominating ride, Tumbler had those two attributes coupled with a completely out of control motion thanks to the three rotations served up by the ride. As wild as a ride like Zipper could be, I'd imagine a ride on Tumbler could make Zipper seem like a Ferris Wheel.
Here's a short, three photo gallery of Tumbler. The first two are when it was at the Chance factory, and the last is the installation at Six Flags over Georgia. Thanks to 2for2true for the uploads!
DoD3 reader llacb47 also posted a video of Six Flags Over Georgia featuring a short segment of Tumbler in action.
Lynx