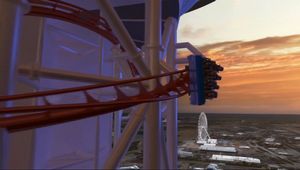 Hey, it's the off season, and there isn't a thing to talk about that most amusement parks fans don't already know about. Like really, "did you know Carowinds is building this ride called Fury 325? Wow!" Even reporting about Dorney Park's 2015 addition, Cedar Creek Flyers (flying scooters) is old news by now. Funny enough, some park fans are lauding Dorney Park for their addition of a "carnival ride," while still groveling over Great Adventure's Looping Dragon addition for 2015. Oh, that's rich!
SkyScraper at SKYPLEX
In one of the past news articles here, I mentioned US Thrill Rides' Poler Coaster and how the style would be used to make the tallest coaster in the world. Well, a video has popped up in the past few days showing the proposed layout of a coaster that is to be affixed to a tower complex called SKYPLEX, to be built in Orlando, FL.
The coaster, named Skyscraper, is actually a pretty impressive coaster with multiple inversions and a lot of crazy elements such as 90+ degree drops and outward turns, all done at hundreds of feet in the air. The tower itself will be 570 feet high with the coaster topping out below that from the looks of things. It will still supplant Kingda Ka, the current record holder at 456 feet.
Here's the video…
Chance Turbo to Return
There is a ride that has hit almost mythical proportions within carnival circles. In the 1960s, Chance produced a ride called Radar which featured two vertical wheels that revolved around a center tower. Attached to the wheels were small Ferris Wheel looking cars. Later on, in the 70s, Chance jazzed up the ride with circular pods that were able to tumble sideways. This version was named Turbo, and was regarded as one of the wildest rides on the midway, right up there with Zipper.
Fast forward to today and only a few Turbo rides remain, none of which operate. Then, something happened…one went up for sale on UsedRides.com! A seller in China listed the ride for sale at $49,000 and it was quickly snapped up. Tricia over at Amusing the Zillion managed to get the skinny on the purchase: It was bought by PNE Playland in Vancouver, BC who are going to send it back to Chance in order to bring it up to date with current safety standards as well as retrofit it with open air cars. A park manager gave "early 2016" as a tentative opening date.
Here's a tribute video to Turbo by SpecialMake featuring a lot of photos and some off-ride video.
King Kong returns to Wildwood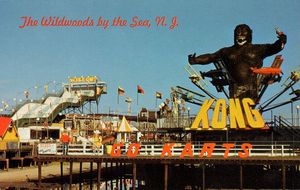 Again, we go back in time to the 70s when Morey's Piers in Wildwood, NJ was a new-ish amusement venture. One of the most famous rides on the pier back then was Kong, a spinning airplane type of ride that revolved around a giant statue of King Kong.
It appears that Kong is going to make a return to the island in 2015 as Morey's Piers finalized their plans for a Larson Flying Scooter ride with a Kong statue in the middle. In a photo featured over at NewsPlusNotes, instead of climbing a building or holding a woman, Kong will be scaling a Lighthouse, wearing an "I love Wildwood" shirt, and holding a Tram Car.
The ride will be placed where the old Condor ride was, in the middle of the pier in front of Zoom Phloom, and to the left of Dante's Dungeon. The location is currently occupied by Kang-a-Bounce, a ride that Morey's essentially added in as a space filler after removing Condor.
Here's a page all about the original Kong ride.