Few rides can compare to this masterpiece of awfulness. Its sheer presence is one of a giant buzzsaw ready to inflict suffering upon anyone daring enough to ride. Its tiny caged cars are like little prison cells with the sole purpose of making you nauseous over the next two or more minutes. Yes…that perfectly describes our number one WTCR…enter the Sky Diver.
Sky Diver is a Chance Rides creation that was seen virtually everywhere back in its heyday and up until 1994 or so when they went through a mass extinction of sorts. For all intents and purposes the Sky Diver is a ferris wheel…a ferris wheel thats design may have been outsourced to Satan by Chance Rides that is. The Skydiver sports small caged cars that are able to rotate horizontally while the wheel turns vertically. The small caged cars that riders are squeezed into are able to roll upsidedown; the cars were even equipped with a steering wheel that allowed riders to rotate the cars as they wish! Sounds like fun, huh?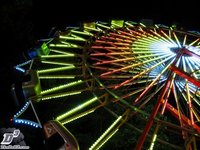 Welllll….according to some riders, the steering wheel was very tough to move. If you couple this with the fact that the cars are a bit top heavy, riders may find that the cars will remain upsidedown for much longer than any normal human being can stand. The riders might be able to flip their car right side up, but it's likely that this will occur seconds before blacking out after they, due to an endorphin rush, manage to muster superhuman strength to flip the car.
The Ride
I have never been on this ride, but I will ride a Sky Diver…one day. Instead of a commentary on how the ride is, here is a comment from DoD3 reader Brooke G. about her experience with the Skydiver's diabolical restraint system.
"The way up isn't bad, you're laying on your back (kind of like a Toboggan [Note: a Chance made 'Toboggan' ride] lift hill). It would have been a lot more fun if the way down wasn't so uncomfortable — Your car is pointed straight down, so you are literally hanging over the lap bar on your stomach. No matter how much flipping around you do (my friend and I tried), you can't make it any more comfortable. Plus, you get stopped on the way down while they unload and load everything, so you are constantly stopped hanging over the bar. When I went to Lakemont and realized that they had one, I stayed away from it as much as I could."
Other Info
Originally, Sky Diver rides were outfitted with long florescent tube lighting. If I were to ever come across one of those today, I would be blown away by the classic-ness and would probably write an entire blog post about it. When Turbolite lighting became popular in the 80s, many Sky Divers were converted to that style of lightning. Today, more and more being upgraded to LED lighting. The one in the photos has static LED lighting in the same colors that the original Sky Diver lighting used. Some, namely Power's Great American Midway's Sky Diver, have sequenced LEDs that make the ride look absolutely stunning at night.
Multimedia
Here's a video of a Sky Diver at the 2011 St Bart's Italian Festival in Scotch Plains, NJ; ride is owned by Majestic Midways:

Here's a nice on-ride video by JamminJay1986. It's about what I assumed a SkyDiver to be like, right down to the screams of "oh shit", "ow that hurts", and "oh my nuts."

10: Yo Yo | 9: Trabant | 8: Hustler | 7: Cobra | 6: Ring of Fire | 5: Paratrooper | 4: Scat | 3: Zipper | 2: Hi-Roller | 1: Sky Diver | WTCR Home