On Saturday, August 19th, I went over to the annual fair hosted by the Rotary Club of Hillsborough, NJ. The drive over was about a half an hour and parking was easy due to fair being held next to a shopping center – although I had to park pretty far away. The rides were brought in by Majestic Midways and the fair had…
Himalaya
Wipeout
Power Surge
Wave Swinger
Alien Abduction
Sizzler
Rainbow
Hustler
Ghost Town
Scooter
Super Shot
Cuckoo Haus
Several kiddie rides

Bumble Bees
Groovy Bus
Surf City
Barnyard
Carousel
Play area type ride

Several vendor stands
Petting zoo
Fireworks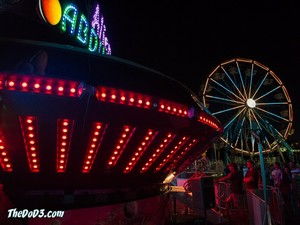 The fair was absolutely jam packed this night. Apparently the fair had closed the night before, which was originally the fireworks night, and rescheduled them for Saturday. That combined with usual weekend crowds made for a big turnout – no wonder I had to park so far away!
They had a nice layout this year with kind of a large oval setup with rides in the middle and right side, concessions and games on left side, and vendors near the front; kind of gave it a "big fair" feel. The front side had a few major rides: Century Wheel, Power Surge, and Alien Abduction. The wheel had big line, no surprise. While walking in, I heard a couple people commenting on how crazy Power Surge looked. The ride did not have the second rotation going, like many Power Surge rides nowadays it seems. The ride is probably thrilling enough to most people without the extra movement, to be honest.
Super Shot was in the middle of the lot this time around, a really nice spot for it. This is an ARM drop tower with a slow hoist to the top before the drop. Not sure how tall this one is. They come in 70, 90, and 105 foot models and all look the same. Probably one of the latter two. Hustler was also setup in the middle and was without a doubt the best Watkins Hustler ride I've ever seen; in person or in photos. The ride had a multi-colored color scheme and the original Watkins railings with lighting. The ride also ran much, much faster than other Hustlers I've seen with the crowns spinning a good deal.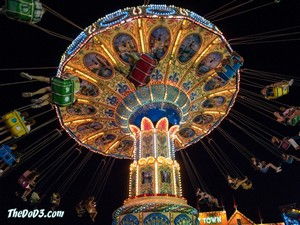 Himalaya, Wipeout, Rainbow, Wave Swinger, and Ghost Town rounded out the back end. Not a whole lot to say about the Himi or Wipeout that I haven't said before. They were both running at full or near full capacity every time I was over there. Rainbow had a big line extending past Cuckoo Haus. This was an ARM Ali-Baba themed as Rainbow, by the way. I haven't seen the real deal in years. Games for this fair consisted of all the usuals such as line-up games, Frog Bog, Shoot Out the Star, etc. Additionally, they had a dunk tank with swim club members as the dunkees and a high striker.
I spent about an hour and a half at the fair, leaving a little after 10. The fair was still pretty crowded when I left. I heard that the fair had one of their best years to date despite closing on Friday.
Here's some photos and a video!