A couple of my cousins and I headed over to the New Jersey State Fair up in Sussex County on Saturday, August 12th, the last full operating day of the fair. We arrived at the fair earlier than normal, around quarter after 11, as it was a Saturday and might be crowded. We had all gotten a Mega Pass which were $30 each and allowed for entrance and unlimited rides. It's a pretty good deal as the normal entrance fee is $14 with rides being several tickets each. The rides were brought in by Reithoffer Shows, their Blue Unit specifically, and the fair had…
Super Himalaya
Zero Gravity
Enterprise (Wisdom Starship 2000)
Pharaoh's Fury
Zipper
Yo-Yo
Century Wheel
Sizzler
Musik Express
Surf City
Tidal Wave
Tornado (Wisdom)
Scooter
Fireball (Larson)
Tilt-a-Whirl
Dizzy Dragon
Crazy Outback
Ice Palace
Haunted House
Fun Slide
Wacky Worm
Lots of kiddie rides

Hero Zone
Rockin' Tug
Hot Wheels
Flying Tigers
Merry go Round
Mini Wave Swinger
Wiggle Wurm
Circus Train
Jumping Jumbo
Bumble Bee Bop
Inflatable obstacle course
Magic Bus
Speedway

Several shows and attractions

K9's in Flight
Hot Dog Pig Races
BMX bike show
Petting Zoo
Dinosaur exhibit
Monster truck rides
Pony and camel rides
Chainsaw artist
Live music

Lots and lots of animals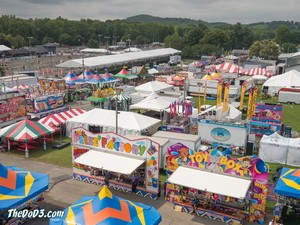 The rides were billed as starting at 12 noon, but were running when we got there, so we hopped on the Ferris wheel first. This was Reithoffer's Chance Century Wheel as opposed to the larger Chance wheel they usually bring to this fair. They had a slightly different midway this year. Along with the different wheel, Haunted Mansion had been replaced by a smaller walk through dark ride. Air Race was missing – likely at a larger spot, and I think I saw Wild Claw sitting racked at the far end of the parking area; no question why that wasn't set up.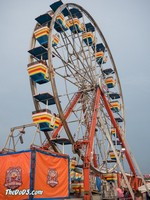 After the wheel, we walked around to Tidal Wave to take a spin. This is a Chance Thunderbolt with a surfing theme. We all took separate cars and mine swung like mad even though I wasn't trying. It made the ride more fun, I thought! Next up was Scooter, a Majestic made bumper car ride. There weren't enough riders to fill up all of the cars on the floor and the ride was started with some loose cars in the middle. I tried my best to bash them to the sides with my car because…well, why not. Zipper was next and boy, did we get a wild ride. I was rocking the pod during the first half of the ride, but stopped during the second half as I was starting to get woozy from all the flips and G force. We decided to check out the rest of the fair afterwards.
First up was the Snook Museum which had antique machinery and farming equipment. Since I'm all "biker boy" now, I was most intrigued by the old school bicycles hanging from the ceiling. Wonder how 20 miles of hills would be on one of these 50s bikes? Next was the greenhouse which housed the flower and vegetable show. Being that it was day nine of the fair, some of the flowers weren't in the best shape while some of the vegetables had turned into slush. They also had scarecrows with a Disney theme it looked like. I liked the Beast scarecrow, but the Monster's Inc themed ones got the blue ribbon.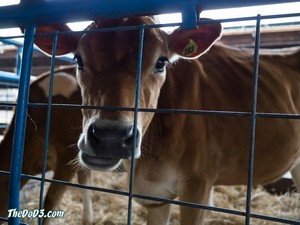 We walked through some animal barns afterwards, one of which hosting a bunny obstacle course of sorts. The rabbit I saw didn't do so hot, knocking down most of the jumping fences. Then again, the rabbit was actually doing the course as opposed to hopping around and pooping, so that's something. The barns also had cows, goats and sheep all in different states of eating, sleeping or play fighting – you know, typical animal stuff. An enclosed barn had small animals and poultry. There was this humongous rabbit that was like two feet long. You could actually buy a chicken for $12; I'm sure my neighbors would love that.
At this point we watched two shows. The first one being Hot Dog Pig Races, which we sat in the bleachers for. The next show was K9's in Flight, which I decided to stand for since it was so freakin' hot sitting on the bleachers and all crowded in. Plus, I wanted photos. The dogs jumped into a pool at one point. I felt like jumping in too. We walked around a bit afterwards, checking out the horses and bee exhibit. While walking around, I couldn't help noticing several people with confederate flag shirts, a lot more than other years. One guy's shirt said "if this flag offends you, maybe you need a history lesson." Heh, wonder how they'd react if someone wore a shirt with a French flag that read "thank us for winning the American Revolution."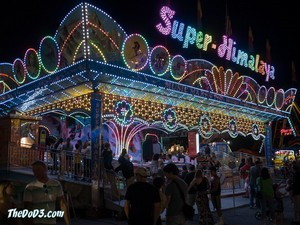 After some milling around, we headed back to the rides. First ride was Super Himalaya, a Bertazzon Himalaya ride that was wonderfully fast. The ride went in both directions and had a horn. At night, this ride was very bright with all LED lighting. I stood near the fencing to get some photos. I think someone else was as well as a lot of people were posing as they went around – some were gesturing as well! Tilt-a-Whirl was next, in which we all piled into one tub. We got a few good spins; probably because I wasn't trying to spin it. When I try to spin one of those things, I usually just mess up the flow and get no real spins at all. Decided to take a run through Crazy Outback afterwards followed by Yo-Yo. That ended up being the last rides we took that night.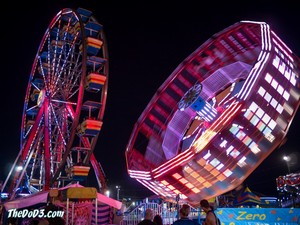 We looked through some of the vendor areas and arts buildings next. If the photo contest wasn't only open to Sussex county residents, I'd certainly submit a couple. My county, Union county, doesn't have a county fair so no fair photo competitions for me! One of my cousins wanted to check out a singer in the band tent. We sat down with like ten other people in this 500 seat tent to watch this guy for a bit. Wow, this would be like my own nightmare come to life if I was playing on stage. Then my cousin decided to leave as he was announcing his next song and looking out at the crowd, as opposed to mid-song and in the zone with his eyes closed. Oh my, the nightmare just got worse! I'm sure playing to no one at all would be worse, but my goodness.
We picked up some ice cream at the Frozen in Tyme stand before heading out at around quarter after 9. Got to say, I was surprised how light the crowds seemed for a Saturday. It got more crowded later on, but nothing like I expected.
Here's some photos; didn't take a whole lot this year.