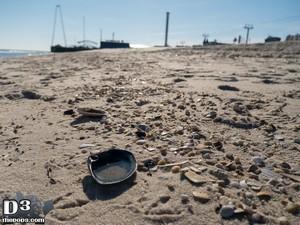 After spending Saturday at Six Flags Great Adventure for their Holiday in the Park festivities, I decided to ride down to Seaside Heights on Sunday to check out what was going on and walk the boardwalk before heading back north.
One thing I noticed while driving down was that there were a lot of houses in the process of being raised, mostly in the towns between Mantaloking and Seaside Heights that took a beating during Sandy back in 2012. There's actually several in the neighborhood that our "shore house" is in that are being raised as well. Our summer house was originally constructed several feet above ground and escaped major flooding damage unlike many older homes in the area.
I parked at around 12:30pm near the northern end of Seaside Park, where Funtown Pier used to be. The owners of the former amusement park have said that they're coming back but I didn't see anything going on when I was down there. Only the Sawmill bar was open and it looked like some work was being done on an adjacent building.
There were actually a few stores and arcades open that day. Lucky Leo's and Casino Arcade in particular had pretty decent crowds inside. I walked around the latter of the two briefly, mostly snapping photos of the 1910 Dentzel/Looff carousel which was supposed to be auctioned off, then supposedly sold, and now being kept and potentially placed in a boardwalk museum proposed by Casino Pier. In a few months time it might be something else, who knows now. Personally, I think they'd be crazy to sell off a classic carousel such as that one no matter what the cost is. The ride is a true treasure and without a doubt the finest carousel in New Jersey.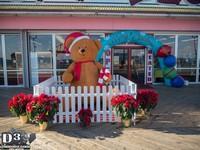 I walked along the beach for a bit. I stuck my hand in the water and to my total non-amazement it wasn't freezing cold. Like I noted before, it's been really warm out for this time of the year. As of this writing, the ocean temps around there are officially pegged at 50 to 55 degrees; almost 10 degrees warmer than average. I noticed some ships far out at sea that appeared as blobs on the horizon; fata morgana I think it's called, basically a mirage. While heading back to the car, I saw that the Sawmill was now roasting a full BBQ pig on a rotisserie. Might look gross, but man…I bet that's going to taste goooood!
Here's wishing you all happy and healthy New Year!