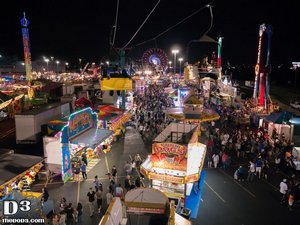 On Friday, June 26th, I went to the biggest fair of the year, the State Fair Meadowlands. This fair undoubtedly has more rides than any other fair I go to each year and likely more rides than any other fair I've ever been to. In addition, the midway is packed full of shows, food, vendors, and more.
This year I went with a few of my cousins. I headed up to their place and we all drove over, arriving a little after 6pm, the fair's opening. Amusements of America had the bulk of the rides there, with Strates Shows bringing in a fair amount of their own rides. A few other operators also had rides there including Jeremy Floyd, Christanni, and Reithoffer Shows. The fair had…
Space Roller
Enterprise (closed this night)
Crazy Mouse
Fireball
Disk-O
Giant Wheel
Zipper
Zero Gravity
Banzai
3x Himalaya (Strates Music Express, AoA Music Express, Strates Himalaya)
2x Swing towers (SkyFlyer, Vertigo)
Wave Swinger
Tilt-a-Whirl
Rock & Roll
Sizzler
Tornado
Ring of Fire
2x Scooter
2x Cliff Hangers
2x Super Slide
Gravitron
3x Dark Rides (Tomb of Doom, Haunted Mansion 1, Haunted Mansion 2)
Several funhouses (Crazy Outback, Cuckoo Haus, Magic Maze, Mardi Gras, many more.)
Sky Ride
Double Deck Carousel
Merry-go-Round
Bumper Boats
An assortment of kiddie rides (multiple Hampton umbrella rides, Bees, Rainbow Rock, Wacky Worm, Kiddie Bumper Boats, Swing Carousel, Go Gator, several more.)
Entertainment  (Steve Bayner Hypnotist, Rosaire's Royal Racing Pigs, Open-Air Thrill Show, Lipzanner Stallions, Eaglemania.)
Commerford's Petting Zoo
A slew of freak shows
An astounding amount of foodstuffs
A plethora of games
Many, many vendors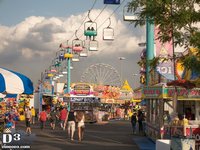 Upon entering, we were handed a program with show information, a map, and coupons and such. I couldn't help noticing that the New Jersey State Fair up in Sussex County had a full page ad in it. We decided to hit a few rides first since the crowds were pretty light at this point. We started off with Haunted Mansion. For what it is, it wasn't too bad with motion activated props around every corner. The same could be said about our next stop, Tomb of Doom, a dark ride that's been at the fair for as long as I can remember now. Next up was Musik Express, the largest of the the three Himalaya type rides at the fair. This one is owned by Strates Shows and ran pretty fast! The ride lasted about 4 minutes and only went forwards. Crazy Mouse had a short line, so we hopped on that next. This coaster flies through its course and we had almost non-stop spinning on the lower portion of the ride.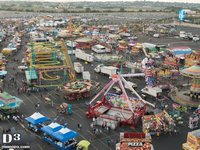 Next we got on Giant Wheel, Strates' 33 meter, Interfair manufactured wheel. The wheel has a new medallion at the center with Strates' logo and seemed to be blocked quite a bit higher than I've seen it in the past (meaning that the base was farther off the ground.) This is a great wheel and made for a spectacular view of the fair and New York City to the east. We rounded out the rides for now with a spin on Rock & Roll, a Himalaya type ride with swinging cars. My car swung like crazy for some reason; like I wasn't even trying!
Here's some photos on and off the wheel: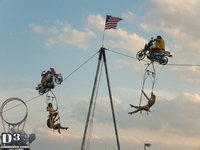 Some of the shows were starting now. We stopped by at the Open-Air Thrill Show which was in mid-show I think. They were doing a dog act with dogs going down a slide and a pair of dogs doing a mini "wheel of steel." Next were a pair of motorcyclists that rode up high wires with trapeze artists hanging below. After that was a balancing act where the guy balanced on objects that could barely stand by themselves, let alone with a person on top of them. The final act was a human cannonball. I had my camera (Panasonic G6 today) set to burst mode to catch him flying out of the canon…but I forgot to turn of RAW + JPEG capture. I hit the shutter, and buffer ran out before he even flew out. Ah, oh well…noted for next time.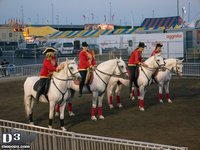 The horse show was starting in a few minutes, so we grabbed a seat on the bleachers. This show featured several horse acts, mostly choreographed maneuvers or things that came natural to the horses. It wasn't bad, but it went a little too long I thought. Quite a few people were leaving in the latter portion of the show, so I guess I wasn't alone in that thought. We grabbed a bite to eat after this show and watched Steve Bayner while we ate. This guy has been at the Meadowlands Fair forever now and his show is still as enjoyable as ever.
After the show, we stopped by at the racing pigs for a little bit before checking out Commerford's petting zoo. We then took the Sky Ride back to the far end of the midway. Here's some sky ride shots: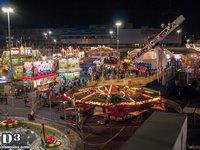 It was about 11pm by this point and lines for some rides had swelled to several cycle waits. One of my cousin's and I hopped on Scooters and had a one cycle wait. I almost got caught in a bad bumper car traffic jam at one point but managed to wiggle my car out. Next, we got on Himalaya, Strates' older Reverchon Himalaya ride. This one wasn't as fast as Musik Express, but that's okay as it meant that I didn't get crushed as bad!
We went on Tilt-a-Whirl next. My cousin and I tried to get some good spins but it just wasn't working out for us until the very end of the ride. I thought about getting on Space Roller, but the line was really long at this point. My stomach was a little rocky all night anyway, so I decided to skip it. Vertigo was our next stop which, unlike the Sky Flyer on the opposite side of the midway, didn't have a long line. We rounded out the rides with a second go on Rock & Roll and headed out at about midnight. Overall it was a wonderful fair as always; truly one of the summer highlights for a ride fan like myself!
Here's the final batch of photos…and there's a lot of em'!