I headed over to the Warren Lions Expo on Saturday, June 17th. This is an annual fair hosted by the Lions Club of Warren Township, the 50th annual Expo as a matter of fact. I got there at around 8pm, parking at a shopping center down the street. Admission was $2 and the rides were brought in by McDaniel Brothers Shows. The fair had…
Screamer
Octopus
Quasar
Gravitron
Hustler
Swinger
Ferris Wheel
Super Slide
Alpine Village
Merry-go-Round
Several kiddie rides (Hampton Cars, Granny Bug, Jungle of Fun, Kid Power, Sooper Jet, Teacups, at least one more.)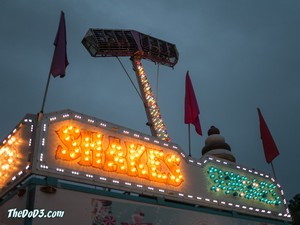 There were a couple of rides switched out this year. Hustler was back, replacing Tempest, which is really a pretty similar ride to Hustler. Scrambler was also removed with Alpine Village, a medium sized funhouse, switched in. Octopus looked like it had been repainted with a new black color scheme with green pods that had orange and pink interiors. Looked really good! The pods looked like they were really whipping around as well. The ride ops had a little stereo setup playing a variety of songs; everything from Jason Aldean to Drowning Pool.
Ferris Wheel, a Big Eli wheel, sat next door to Octopus. Looked great with white lighting on the sweep decorations and a blue, white and pink color scheme. Quasar was on the opposite side of Octopus. The lights on the sweeps weren't working that night, so I didn't take many shots of this ride after dark (and not many at all in the end.)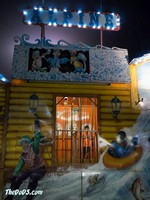 Screamer, an ARM High Flyer, was at the back of the lot and probably the sleekest looking ride of the bunch with flickering Turbos (I think) on the arm with a reflective surface underneath. Like Octopus, this too also had some music playing with the operator preferring what sounded like 90s House. Awesome. This ride had a massive queue, as did most of the other major rides aside from ones like Gravitron which have high rider capacities.
The games area consisted of the usual fare such as chance wheels, frog bog, watergun race, knock over the X. They had this one game on the midway side called Crazy String which I had never seen before (or maybe I just haven't looked hard enough.) Players pick several strings from a bundle of strings. Each string is attached to a colored ball which rises when it's respective string is pulled. The more colors you match, the bigger the prize you win!
I stuck around for about an hour before heading out, grabbing a bag of zeppoles on the way to the exit. Didn't have time to stick around for the fireworks unfortunately.