Feast of Mt. Carmel is a Christian feast held each year on July 16th. In some places festivals are held to celebrate this day; such is the case with the Berkeley Heights Mt Carmel Festival, a multi-day Italian festival that's been going on for over 100 years now. This year's festival started on July 13th and ended with the fireworks spectacular on the 16th. I headed over to the fair on two nights, once on the 14th to check out the actual fair and then again on the 16th for the fireworks, albeit not actually entering the fair. The fair had:
Quasar
Trabant
Hurricane
Round Up
Scrambler
Rock-O-Plane
Ferris Wheel
Swing Ride
a bunch of kiddie rides
several games
a handful of vendors
lots of greasy treats
beer garden and band
It's a modest fair but not a bad ride line up. I beleive Ace Amusements provided most of the rides, at least it's a good guess they did since the generator unit had 'Ace Amusements' emblazoned across it. The fair was basically just set up with the rides nearest to the road with the vendors, food and the beer garden towards the back. A sizable portion of the field behind the beer garden was cordoned off, reserved for the fireworks setup.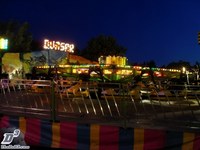 The ARM Quasar was a new addition this year; it's like an Enterprise mixed with a Trabant if you've never been on. Well actually, I've never been on it because each time I've seen the ride, it commanded a $6.25 ticket price along with a no single rider policy. That means I'd likely have to shell out $12.50 to drag one of  my friends on since no one I know would dish out that much to go on a ride the caliber of Quasar. Anyway, the ride was pretty nice looking with a cool backflash, multicolored turbo lights, and a green and yellow color scheme. It also ran pretty fast, although I think it was running faster the last time I saw it. Here's a video of it that I took back in 2009.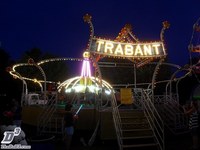 Trabant was a straight from the 60s, no gimmick needed version with tube lighting, turbo light decorations, and a mostly yellow color scheme. I know I rag on this type of appearance in the white trash carny ride section but let's face it, it's pretty neat! Kind of like the appeal of an old car, it's just cool in different way. The only downside of this look is that the tube lights give off an overpowering incandescence, blowing out its appearance in every long exposure photo I tried to take.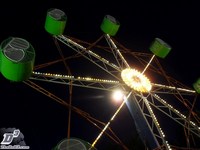 Just a quick rundown of the other rides; the Eyerly Rock-O-Plane they had has been virtually unchanged for years now. It really doesn't look bad but Rock-O-Planes, with their skeleton/bolted together ladder-like appearance always look sort of rinky dink. Round Up was a Hrubetz model with multi colored turbos on the outside of the cages. Scrambler was an Eli Bridge version and had some tube lights on the arms and center. The Ferris Wheel, an Eli Bridge Hy-5, had pink tube lights which were kind of…eh. Other than that it looked pretty good. Finally Hurricane sat idle while a couple of guys, who were absolutely drenched with grease, worked under it.
I didn't stay for too long, just doing a few laps of the carnival before buying a bag of zeppolies and leaving.
The Fireworks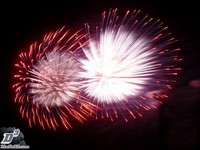 July 16th is pretty much Berkeley Heights' equivalent of the Fourth of July. People shoot off their own consumer fireworks all day along with Garden State Fireworks, providers of the Mt Carmel fireworks since the 1930s, shooting off rounds of salutes as early as 7AM (I was actually awakened by them at 8AM and I'm like 3.5 miles away!) The actual show started at 11pm and lasted roughly 45 minutes. The show isn't like the Macy's Fourth of July fireworks (which coincidently have been done by Garden State Fireworks in the past) but is more like a firework clinic in which many exotic shells are launched. Here's a pair of great videos (part 1, part 2) that YouTube user pjb123abc uploaded of the July 16th fireworks. Bookmarked below are some of the highlights:
Certainly one of the best fireworks shows I see each year; I'd never miss it!