Thursday night, not much going on, so I decided to shoot over to the Morris County 4-H Fair in Chester, NJ since it was semi-close. Well, actually I underestimated the trek out to Chester, which ended up taking like 30 minutes. The fair is obviously a 4H festival featuring animals, art, and agriculture along with amusements. The rides were run by Dreamland Amusements and the fair featured:
Zipper
Starship 2000
Sizzler
Tornado (Wisdom)
Super Slide
a funhouse or two
a bunch of kiddie rides
lots of greasy treats
blue ribbons and awards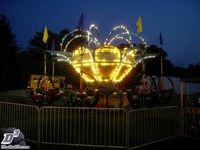 Not a whole lot of rides but then again this was a small affair. Dreamland actually has a pretty nice ride lineup including a Technical Park 'Street Fighter' renamed Dreamcatcher among other things.
There really wasn't too much going on that night as it was an oppressive 90+ degrees out plus humidity (even at 8pm! The next day would see 100+ temps all around.) On the midway, Zipper was in near constant motion, really the only ride generating somewhat of a line. Sizzler also had a few riders while I was there. The Wisdom manufactured Tornado had like one pair of riders the entire 45 minutes or so I was there. It had a cool blue and yellow lighting scheme though. Starship 2000, well, I didn't see that move once. Given the heat and humidity, the inside of that thing must have been stifling anyway.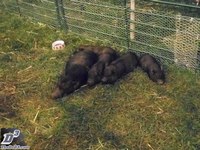 I checked out the animals next, most of which were sleeping or lazing about with industrial fans blowing towards them. One tent mostly had livestock like pigs and goats or calves or something (yep, spoken like a true suburbanite.) The next tent had smaller animals like rabbits and roosters along with amphibians and snakes. Another tent had dog stuff but no dogs (fairgoers are allowed to bring their own dogs so the lack of fairgoers meant lack of dogs!) A horse ring was also set up but it was too dark at that point to take any usable photos, otherwise there'd be a horse to the right.
Another tent had a band playing jazz rock along with a sea of chairs. There were a few watching them but, considering the attendance that night, they mostly played to folding chairs and passers by. The last tent had art and agriculture stuff, more art stuff really. Like always I glanced over the pictures and drawings, some surprisingly nice and some just there out of pity. They also had model rockets on display along with this one massive model rocket that looked like it would require an ATF license to shoot off!
I left at around 9pm, a half hour before closing. Ok little fair, nice to visit a fair in the more open areas of NJ for a change though!