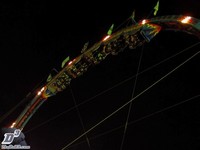 As the first week of August rolled around I decided on either going to the Middlesex County Fair or the Warren County Farmers' Fair as both were happening the same week. On Thursday night I made the decision to head down to the Middlesex County Fair as I had been to the fair in Warren last year. Well as luck would have it, I hit a disgusting traffic jam caused by fair congestion; I mean, people walking on the sidewalk were moving faster, no joke. Being the short fused driver that I am and the fact that it was nearing 8:30pm and I was only halfway through the mess (with the fair closing at 10) I decided to just turn around. Needless to say I don't think I'll be heading to that one again.
I was still eager to put my new camera to the test so the next night I decided to check out the Warren County Farmers' Fair which was a longer drive but at least with no traffic tie-ups or excessive back road travel. I arrived at about 8:15pm and quickly found a spot in the parking area (aka a field.) Admission was $6 and the fair had:
Fireball (Larson)
Hurricane
Pharaoh's Fury
Spider
Scrambler
Scooter
Ferris Wheel
Mini Himalaya
Fun Slide
A myriad of kiddie rides
An incredible amount of greasy treats
Animals, vegetables, art, tractors
Vendors. Vendors everywhere.
Demolition derby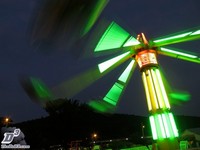 This was basically your classic county fair, bigger than the Morris County 4H Fair but smaller than the NJ State Fair. The rides were provided by Valley Amusements who don't seem to have a website unfortunately. Fireball was the lone looping ride at the fair and ran on a one direction cycle with lengthy pauses upsidedown (like 15-20 seconds of hang time.) Hurricane, an older Hrubetz model, got some new green tube lights or something because it gave off this extremely vivid green glow, much brighter than the last time I saw it. It kind of looked like it had been irradiated by radioactive waste and was glowing as a result. The thing was attracting moths like crazy as well. Those poor ride ops must have had their cornea's burnt by the lighting, it was just intense.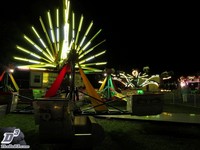 Spider looked very nice with a black paint scheme (really is there any Spider ride that isn't black?)  along with yellow turbo lights and green florescent tubes. It also had a white globe in the center with multi-colored lights. Scrambler was an Eli Bridge model with long, gaudy yellow light tubes on the sweeps and multi colored banners on the arms. Not exactly the most visually pleasing Scrambler ever but it works (hell, it's better than ones with no lighting at all.) Pharaoh's Fury seemed pretty stock looking with alternating red and blue lights on the supports and some lighting on the boat itself. The Ferris Wheel had some yellow light tubes, albeit not all lit, and the Scooters had a mostly pink lighting scheme.
The fair also had four animal stables with each housing different livestock such as horses, pigs, alpacas, and goats among other things. On the opposite side were more buildings and stables featuring antique tractors, vegetables and plants, artwork and vendors. The entire back portion of the fair surrounding the arena also had numerous vendors and foodstuffs. Speaking of the arena, they had a demolition derby that night which was a separate admission. The fair also doubles as a hot air balloon festival and featured hot air balloon rides in both tethered and non-tethered flavors along with a mass balloon launches at 6:30pm (which needless to say I missed.)
After making the rounds a few times I left the fair at close to 10pm. Nice fair with a lot of stuff to do and see, too bad I couldn't make it down there earlier for the hot air balloons though!
Also, I took some video to test out the HD video function. Better use manual focus next time (which it has for video surprisingly!)