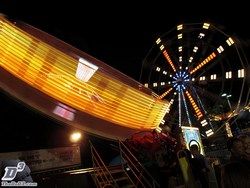 The Corpus Christi Parish Carnival is a smaller fair in Chatham, NJ, just up the hill from my town, that took place from June 7th to the 9th. This fair is usually just a "zeppole run" for me, stopping by mostly to get a bag of zeppolies while checking out the festivities. I went over on Friday the 8th and parked a block away. You can actually park right next to the fair in a lot but I, uh…didn't. The fair was slightly different this year, it had…
Zipper
Round-Up
Swinger
Ferris Wheel (Big Eli Hy-5)
Fun Slide
Samba Balloon
Dragon Wagon
A handful of kiddie rides
A selection of foodstuffs
Game area
Like I said, on the small side; the parking lot it's held in isn't exactly large so not that many rides can be piled in there. The rides were brought in by Tommy's Midway who seemed to have made some upgrades this season. Zipper sat on the right side of the lot, tilted at a 45 degree angle to make room for other rides. It had the standard red/yellow turbo lighting going on with multicolored tubs. Interestingly this Zipper had music via a laptop hooked up to a lone speaker. I think they played mostly hip hop while I was there…not exactly Zipper music but I guess the kids like it (unfortunately.) By the way, this was the third Zipper I've seen over the course of four fairs this season, each being owned by different shows. I'm sure to see at least three more Zippers, all owned by different fairs, by the end of the season. Basically Zipper is to the United States as Breakdance is to Europe.
To the right of Zipper and sort of hanging off the side of the midway was Fun Slide…it's fun, or at least thats what it's billed as. Maybe they should rename it Cash Slide as the ride seemed to have a constant stream of riders while I was there (don't think there was a pay-one-price deal that night either.) To the left of Zipper was a Watkins Swinger. Looks like the lighting was sorted out this time around; in 2010 the lights would flicker on and off as the top rotated around a certain point and in 2011 they simply weren't on at all.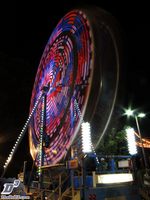 To the left of Swinger and across a parking lot divider was the Ferris Wheel, a rim-driven Eli Bridge Hy-5 II model. This wheel was upgraded with sequenced LED lighting on the sweeps, the first time I've seen that done with an Eli Bridge wheel. The lights were set to various patterns and color combinations although I didn't stick around to see how long the light show was before it started over. Not a bad looking wheel at all, it also had a pretty lengthy line when I was there.
The last major ride was a Hrubetz Round Up which looks like it had something done with the lighting; the outside of the cages had a smattering of green, red and orange turbo lights with red and white lights on the center sweeps. A quick look back at the 2010 photos shows that the Round Up previously had a chaotic mixture of multicolored turbos on the outside with red white and blue lighting on the sweeps, yikes. The ride also raised up much farther than the last time I saw it; the last time it was stuffed in next to a funhouse and if raised to its full height would have come just a bit too close to the funhouse.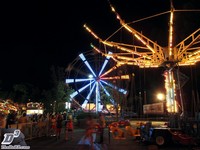 Kiddie rides lined the middle of the parking lot including a Zamperla Samba Balloon, a small oval train ride, Dragon Wagon kiddie coaster, at least one Hampton umbrella ride and about the smallest kiddie swing ride I've ever seen. Towards the church building were games and food. Games included wheels of chance, knock over the X's, Frog Bog, balloon darts, watergun game and a ball toss (one of those games where you toss a ball and hope it lands in a spot that you put money on.) Food looked like it was all done by local merchants/church organizations. Needless to say I picked up some zeppolies (6 for $5) before heading out, showering powdered sugar on myself as I attempted to eat them while walking back to my car.