Event: Orange County Fair
Location: Middletown, NY
Date: July 20, 2007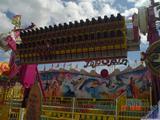 I saw that the Orange County Fair was coming up so I decided to make the trek up there to check it out. I left for the fair at about 1:30pm and hit barely any traffic on the 30 mile stretch of highway I-287 going out of NJ. Once I hit 87 however, which is the NY Thruway, I hit a lot of slowish stop and go traffic. I immediately blamed the fact that there were more NY drivers on the road for the delays. Later on, on NY-17, there were three different sections of road work that I hit.
I finally got to the fair at around 3:30, a half an hour later than what I had expected. It was five bucks to park in a grass lot (as opposed to two dollars for the paved lots of the Meadowlands Sports Complex.) Admission was $8 and a wristband for rides was $14.99.
The first ride you see at this fair is the towering ferris wheel owned by Strates Shows. Its 125 feet high, the biggest wheel I've ever seen at a traveling carnival. The midway goes a long way from the entrance, starting off with kiddie rides and the wheel at the front, getting to bigger rides towards the back. The ride lineup was…
Top Spin (the only traveling Huss Top Spin in the US)
Fire Ball (KMG Afterburner)
Fireball (the newer Ring-of-Fire)
Enterprise
Zipper
Wave Swinger
Scrambler
Musik Express
Himalaya (one of those older ones)
Tilt-a-Whirl
Sea Ray (a swinging ship)
Thunderbolt
Rok-n-Roll
Giant Wheel
A Fun Slide
A couple of spook houses/fun houses
A myriad of kiddie rides
A load of independent merchants
Lots of skill games and greasy treats stands
Tons of barnyard animals
I got my wristband (which was only valid until 6pm) and hopped on the Top Spin first. The Strates Shows Top Spin is the only one traveling in the US because it comes in by train. A racked Top Spin goes above the weight limits for US roads so it cannot be transported on US highways and such. Strates transports all of the rides by train actually, something I'd love to see. Anyway, this Top Spin seemed to be on a manual cycle but the motions were similar for every ride. The arms would move back, next the ride op would brake the gondola then bring it through the loading platform upsidedown and release the brake sending the gondola flipping three to five times in a row. Then they would do it again, followed by the thing where they lock the gondola while slowly edging the arms down, finally they would do the flips again. It would have been nice to do some front flips as well but still, it was a fun ride.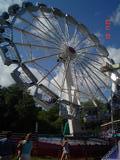 Next I ambled up to the center of the midway and scrambled onto the Enterprise which looked about to start if more people didn't come. This was the first carnival Enterprise that I had been on; every other was at a park. Although some of the park ones have simply been trailor mounted versions; smaller parks and pier parks typically do that. This one was pretty good; a little slow but all Huss Enterprises are. The ride lasted about two minutes from spin up to stop.
After the Enterprise I went on the Musik Express. This particular Musik Express only went forwards but we got an incredibly long ride due to no one getting in line. Four times the ride op slowed it down and then sped it up again. The resulting ride was like five minutes long. After the Musik Express I thought about taking a break for a bit but jumped in line for the Wave Swinger instead. The fair is set up on sort of a hill and the Wave Swinger stood atop a large embankment so the view on this was pretty good. It was windy that day so occasionally a wind gust would hit the ride and my swing would turn completely outwards. At the end I was also attacked by a bunch of rouge swings that were freely swaying around.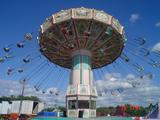 After the Wave Swinger I took my break and checked out all of the 4-H exhibits. They had everything you'd expect to find: artwork, handmade clothing, various wood built objects, jams, livestock, etc; all of which with a ribbon of some sort, from honorable mention to the lofty first place blue ribbon.
I was hungry so I hunted around for a pizza stand amongst the array of random concessions. I stopped at this little stand housed in a shack that must have been built in the 1900s. I ordered a slice of their "4 star pizza" and a small drink. I have to argue that 4 star pizza designation. I sat at a picnic table under an overhang of another concession stand. Soon after I had sat down, a wind gust knocked my soda over and blew my plate away; I was holding the pizza at the time. I involuntarily exclaimed "motherf—–!" as it happened only to notice that I was sitting near a family. Wonderful! I apologized, feeling bad that I had swore in front of their kids…even though the guy looked like he was the type to nonchalantly swear all the time in front of them. Luckily the soda was only $1.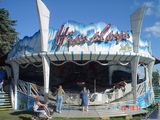 After getting another soda, I walked around and found a plane hangar full of 4-H displays. With 6:00pm approaching quickly, I decided to hit the rides one last time. First I hopped onto the Himalaya, an older Reverchon model. This one didn't run very fast but it was incredibly smooth. It ran for a pretty long time as well; forwards only however. Previous encounters with older Himalayas are much different than this one however. The older ones are usually much faster than the Musik Express or Super Himalaya counterparts. A good example is the one that used to be on Casino Pier in Seaside, NJ . They ran that thing so fast that it seemed like it would have violated some sort of amusement ride safety standard. In addition they also blasted techno, used strobes and sirens and ran it backwards. The Meadowlands Fair sometimes brings a Reverchon Himalaya that is run pretty briskly.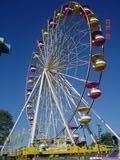 Next I went up to the front of the fair to go on the Giant Wheel. Due to its location, the view from atop was very nice. Unlike most big wheels, this one simply had a chain to 'prevent' you from exiting the car in midair. I also liked how the cap on the gondola had a sticker that read "125 foot drop." Finally I headed towards the back of the fair to get one last ride on the Top Spin. But before I did, I boarded the Thunderbolt, one of those second generation Flying Bobs rides. I never liked the Thunderbolt, and this one reminded me why. It was rougher than heck and fluctuated in speed quickly during hills, resulting in a jarring front to back motion. This ride did go backwards however. After it I went on the Top Spin as planned and then decided to pack it in as far as rides.
Seeing as it was 6:00pm now, I strolled over to the outdoor circus show, which I saw advertised at six earlier in the day. There they had a pretty good tightrope walker, a bunch of trapeze performers, and one of those "sphere of death" things where they ride motorcycles in. After this I took the time to take all of the pictures and video I needed. I also stopped to briefly watch a country rock band called "Sundown" perform.
All in all the Orange County Fair was a lot of fun! It was the second biggest fair I've been to next to the Meadowlands Fair. It's also in a nice setting in the hills of New York State . If you like racing or demolition derbies, the fairgrounds had those going on at later dates. The ride home was much easier that the trip up, although those NY motorists drive faster than hell. The posted speed was 65mph but the going rate on the NY highways was like 80mph.
Original Top Spin video
Video uploaded in 2020
Here's a bunch of photos that I found in the depths of an old hard drive. These photos are featured in the Orange County Fair 2007 video that I posted above.