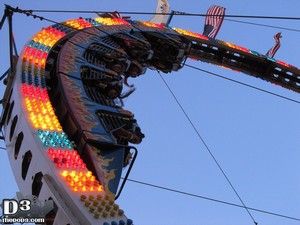 The first carnival of the 2014 season for me, as is that case pretty much every year, was the Middlesex, NJ Fireman's Carnival. I headed over on Thursday, April 24th to check out what was going on.  The event was done by Campy's Blue Star Amusements and had…
Ring of Fire
Scat
Octopus
Tilt-a-Whirl
Gravitron
Scooter
Scrambler
Ferris Wheel
Super Slide
Berry go Round
A number of kiddie rides
A selection of greasy treats
An assortment of games
It was a somewhat cool night but the lot was absolutely jam packed that night. The section containing most of the larger rides had huge lines radiating out from each entrance that all kind of coalesced in the middle. I made my way to Ring of Fire, which looks like an older Ring of Fire model fitted with newer Fireball trains, to get some photos. When I got there, I saw the ride op trying to fish something out of the inner workings of the ride. He eventually produced a pair of glasses and looked for the owner. I have no idea how those glasses ended up where they did let alone how they didn't get pulverized by moving parts.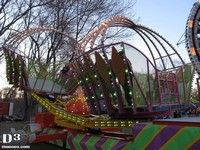 I checked out Scat next, which had been re-done with a cool new green, orange, yellow and purple color scheme along with lighting of the same color. They were also running it on a slightly longer cycle this year instead of the ol' 1 minute POP wristband spin cycle.
Octopus sat near the front of the lot under a canopy of trees. I've always knocked Tilt-a-Whirl as being a tough ride to get photos of, but Octopus is seriously un-photogenic. Make no mistake, the ride looked great with a black, white and green color scheme, but I can't get a good photo for the life of me!
I took a walk around the game and food areas. Like the rides, the food stands all have insanely huge lines. Good for the vendors, they certainly made some coin that night. I actually saw a 'new' game on the midway. It's a Frog Bog game only instead of frogs and lily pads, players had to launch rubber chickens into cooking pots. The pots sat on a revolving grill rack with faux, flaming coals underneath.
I meandered around for a little longer before heading out at around 8:15pm. One fair down, ??? to go!