There's been a lot of piers down in Wildwood, NJ over the years. Today, Morey's Piers has all but dominated the amusement landscape but at one point there were up to seven different amusement piers competing against each other. One of the more notable piers was Hunt's Pier which featured a number of custom designed dark rides that led some to refer to the park as a mini Disneyland. Rides such as Golden Nugget Mine Ride, Keystone Kops, and Skua grazed the pier along with the Flyer wooden coaster, Log Flume, Rapids ride and others.
Hunt's Pier was sold in 1985 and went as The New Hunt's Pier until 1988. It was then bought by Conklin Shows and renamed Conko's Party Pier, adding in the five looping Kamikaze roller coaster at the back of the pier. The pier closed around 1992 and sat defunct until it was bought in 1995 by Family Kingdom Inc, owners of Steel Pier in Atlantic City. The pier was reopened in 1996 as Dinosaur Beach Pier.
Dinosaur Beach was an interesting pier to say the least. The obvious theme was that of dinosaurs and others things related to the Jurassic era. With the film adaptation of Jurassic Park coming out three years earlier and a sequel slated for 1997, I wouldn't doubt the owners attempted to ride on the popularity of the franchise. A few of the old Hunt's Pier rides remained but were re-themed, namely Golden Nugget Mine Ride, Log Flume, and the rapids. Along with themed rides, there were also random rides placed in for filler. Why plunk down money to theme everything when they'll be ridden regardless, right?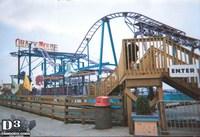 The park had two flagship rides of sorts. Golden Nugget was one, which was re-themed with dinosaurs and renamed Golden Nugget Mine Rescue. The second was a more modern ride through dark ride called Escape From Dinosaur Beach. The park also featured a Reverchon Crazy Mouse that was added to the pier in 1997…although I could have sworn that I rode it in 1996. It was likely the first spinning wild mouse in America, possibly the first installed anywhere. Strangely enough, it wasn't re-themed to fit the dino motif (like Animal Kingdom's Primeval Whirl). Prior to Crazy Mouse, a Pinfari Zyklon took up the spot for a single season.
The transformation of Golden Nugget was kind of a sour deal for some. While the classic ride was back in operation, it had been slightly re-themed to give it a story that riders were heading into the mines to rescue archaeologist miners that had been attacked by, big surprise…dinosaurs! I had the opportunity to ride both the old and new versions while it was in Wildwood, but I seemed to remember enjoying both the same. I was like 11, what did I care? Golden Nugget was removed in 2009 after standing but not operating for years. The Morey's held a closing ceremony for the ride on January 31, 2009 which I managed to attend. The track and remaining props were relocated to Knoebels where it now operates as Black Diamond.
Escape from Dinosaur Beach was a Sally Corporation designed darkride that was housed in a large warehouse looking structure on the north side of the pier. I believe this building is still there, and if I remember correctly from the Golden Nugget Farewell ceremony in 2009, is now a cafeteria and storage area for Morey's Piers. Riders rode in four person jeeps that looked like something you'd see on a kiddie ride. The ride, however, was not a kiddie ride in the least! It reminded me of a somewhat tamed down (and less elaborate) Dinosaur at Disney's Animal Kingdom. I really wish I remember more details about the ride, but I seem to remember a part where the jeep was traveling through a jungle section while being stalked by a T-Rex. It wasn't a bad dark ride at all for the time; certainly on par with the newer Sally rides.
Escape from Dinosaur Beach had it's own gift shop at the exit which sold dino plush animals as well as a large case full of Beanie Babies, a scorching hot item at the time. I remember the clerk trying to pitch us some of the beanies, saying that they'd be worth some coin in the future. Of course, looking back we now, we know that the time to flip Beanie Babies was at the point where the craze was hitting its apex…in other words, approximately the same time that the Dinosaur Beach clerk was trying to sell us on beanies.
Like I mentioned, Dinosaur Beach had a couple of other Hunt's Pier holdovers in operation. The Log Flume was renamed Long Neck River Log Flume and I seem to remember that it featured a large Brachiosaurus near the drop. What I certainly do remember was that the log I rode in immediately filled with water, soaking my sneakers and socks, after sliding off the lift hill. Ugh, there's nothing worse than wet sneakers and socks. The flume was pretty quick, simply navigating a series of S turns before hanging a 180 and dropping down the hill. After all said and done, the flume moved to Arnolds Park in Iowa where it still runs today.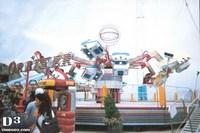 At the back of the pier was Raptor Rapids, Hunt's Piers' old river rapids ride. This had some dino themeing added in, but not much. The rapids had a serpentine-like layout since it was crammed into a somewhat tight area. The rafts were also smaller than your typical theme park river ride, holding four people seated facing outward. Above the rapids was Thunder Lizard, a newly added 'dry' waterslide. It was one of those Master Blaster slides where the rafts were propelled uphill by water jets.
Dinosaur Beach also had an assortment of non-themed rides along with the aforementioned Crazy Mouse. Near the front of the pier was Orbiter, a staple at many traveling carnivals. This particular one had a cool, multi-colored color scheme. The park also had Racing Star, which I'm pretty sure was a Reverchon Matterhorn ride. I remember thinking that it was a newer Petersburger Schlittenfahrt (or Peter's Burger Slip and Fart that my 11 year old adult self found funny), an older Mack manufactured Matterhorn ride that was located on Morey's Surfside Pier at the time (which I found a photo of!)
Dinosaur Beach was also home to The Rocket, billed as the tallest ride on the boardwalk. It was a reverse bungee ride, typically known as Slingshot. This was one of the older models that actually used bungees instead of the spring and cable system that many use today. I've heard that the older models really pulled some Gs compared to the newer variants, but I can't confirm because I've never been on either.
A number of kiddie rides and a carousel rounded out the rides on Dinosaur Beach. Other attractions included a very, very large arcade in a second warehouse type structure that I believe is still on the pier today. I remember it had 'Namco' in giant letters on the side, a popular arcade game developer that "designed" the arcade; basically just filling it to the brim with their newest games. I remember it having a slew of 3D fighting games which had graphics that were about as real as real could get in the 90s. The pier also featured an amphitheater near the back and fossil dig for kids.
After a paltry 3 years in operation, Dinosaur Beach closed after the 1998 season. As mentioned, the Log Flume and Golden Nugget were sold off, as were many of the more portable rides I would assume. Crazy Mouse was swapped to Steel Pier where it operates to this day.
Dino Beach Pier was purchased by the Morey's in 1999 who turned it into a half storage, half attraction pier. For a while, the pier featured a Sky Scraper ride and a collection of go-karts along with a couple of food stands. Eventually the rides were removed and it turned into a giant storage area for Morey's Piers. There's been plans to build a wooden rollercoaster that would start on Surfside Pier and extend over the beach to "Maintenance Pier," but that's been in development hell since at least 2009.
Here's some scans of a Dinosaur Beach ticket book that I found while sifting through junk drawers. There's even a coupon for Islander Raceway & Amusement Park in there, which I did a park map feature on way back when. I omitted several generic coupons for funnel cakes or pizzas.
So that's what I remember about Wildwood's Dinosaur Beach. What do you remember about it?
Lynx