A number of you looking at this might wonder "what the hell is Islander Raceway and Amusement Park?!" However, I'd be willing to bet that quite a few New Jersey residents, particularly those who venture down to Wildwood, NJ, remember this hole in the wall amusement park. The park resided near some marshland right before the Rt. 47 bridge that leads into the Wildwoods, a popular south Jersey beach destination and home to Morey's Piers. Islander lasted a few years before closing up; it was left abandoned and is now home to some trailers and the reminants of the park. Click an image to enlarge!
---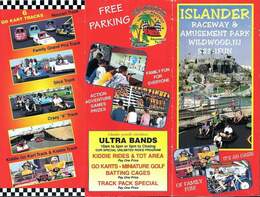 Here's the first set of pages. On the left they pitch their assortment of go-kart tracks, which was the 'main attraction' of this place. I like how they call those mini plastic electric cars 'kiddie go karts.'In the center they showcase some carny games. They also have 'Ultra Bands' which are actually pretty mediocre. Finally on the right is the actual cover. The park claims to be in Wildwood but is actually in Middle Township; that's forgivable though, many other parks use the larger city/town nearby as their location.
---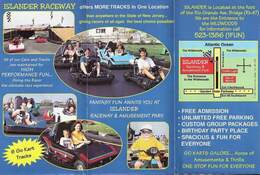 Go karts, go karts, and that stupid kid in sunglasses again. They probaby aren't bullshitting when they say that they have more tracks in one place than any other park in New Jersey. But as far as I'm concerned, go karts are one of the lowest forms amusement park attractions, next to the inflatable slide and those standalone "Spin the Apple" pods. So that didn't say much for this park! And I don't know what the hell "fantasy fun awaits…" is supposed to mean; there is nothing fantasimal about this park! To the right is a map that shows Wildwood as a tiny sliver of land, 'traffic light' as a place, and Islander as a huge park that dwarfs anything around it.
---

Here's a map of the park taken from an overhead photo. Jerseyans take note of the gorilla slide thing, it was featured in Weird NJ once! I find it hard to beleive that Islander could be anyone's favorite park considering that Morey's Piers is right down the road. As you can see, the park was thrown together, dusty, and it was situated around a marsh which meant that it smelled like shit all the time. At one time this place had a huge Slingshot ride called "Rocket." After the ride closed (possibly due to the Slingshot accident at Steel Pier in Atlantic City), it basically just stood there not operating. The ride actually blended in with a radio tower on the property.They also have a photo from inside their giant arcade. I find that photo misleading because I remember the arcade being a huge, high ceilinged, windowless white room with a ton of games stuffed in it. I distinctly remember the cacophony of noise generated from each game going at the same time as well.
---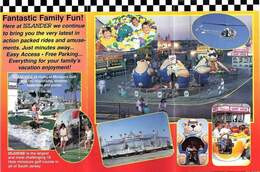 On the last page the brochure talks about their 'adventure mini golf' course. I personally think this was the main draw of the park, despite all the go kart tracks they liked to show off. Unlike the rest of the park, Islander's mini golf was really well made with waterfalls, caverns, and rock formations; it was also hard as hell! I think this was the course that listed par 5 for every hole; a bad mini golfer (like myself) knows they're in trouble when they see that!This page also shows their pitiful amusement ride collection. That friggin kid in sunglasses is present yet again at the bottom right.
And there you have it, Islander…a blast from the mid 90s past.
Back to Theme Park Crapstravaganza