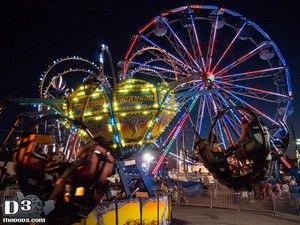 I headed over to the Great Allentown Fair in Allentown, PA on Sunday, September 6th. I left my place in New Jersey at around quarter to 2. It's a pretty easy fair to get to for me, despite a somewhat long drive. I-78 is only a 5 minute drive and I just drive for an hour until I get to Allentown.
The midway rides were brought in by Powers Great American Midways; this is the only fair I see this show at. I parked at a lot across the street from the back gate for $8 and walked into the fair at around 3pm. The fair had…
Khaos
Vertigo
Stampede
Wave Swinger
Wipeout
Orbiter
Genesis
Fireball
Cliff Hanger
Rock Star
Sizzler
Alien Abduction
Super Shot
Tilt-a-Whirl
Coyote Run
Zipper
Gondola Wheel
Scooter
Tornado
Magic Maze
Spin Zone
Fun Slide
Merry Go Round
Trampoline Bungee
THE BEAST
A number of kiddie rides (Fun Wheel, Spider Mania, Samba Balloon, Charlie Chopper, Cyclone Tunnel, Kite Flyer, Monster Trucks, Raiders, Rockin' Tug, Ships Ahoy, Wiggle Worm, Balloon Fiesta, Jumpin' Jumbos, probably more.)
An insane amount of food vendors
An incredible number of games
Prize livestock and animals
Prize crops, photos, and everything in between
Shows and entertainment for all!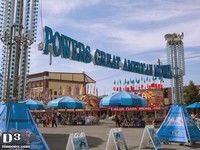 The weather said it was going to be about 85 that day, but it felt like 105 on the fairgrounds. This August and now September has been hot everyday around this parts. Not much rain either, which has kind of worked out for fairgoing.
I was afraid that I was going to have trouble finding a spot being a Sunday and all, but the fair, while not empty, only had a modest crowd at this point. Crowds usually build at night regardless for the concert. That night was standup comedian Jim Gaffigan, who was penciled in less than a month prior after the original Sunday headliner, Megan Trainor, bailed out. I feel like the fair would have been a lot more crowded that day with Trainor playing. After all, the kids are all about that bass…but are they all about that bass? That being said, there was some bass the night before with Deadmau5, I guess…assuming he didn't cut the music off and run around, flailing his arms. Other artists this year were Eric Church, Def Leppard – Styx & Tesla in one night, Carrie Underwood, and Little Big Town.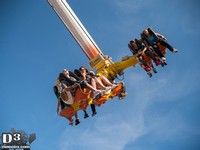 I did a couple rounds of the midway first. Powers changed the lineup a bit from last year with the most notable addition being Khaos, a KMG Inversion, that took Freak Out's usual spot. The usual Swing Buggy/Flying Bobs spot next to Khaos was taken up by Wipeout this year, a Chance Trabant type ride. Further up the midway was Coyote Run, a Loony Tunes themed dark ride. I seem to remember going on this type of ride some time ago; the one I rode was called Mouse Trap. This is kind of like a mini roller coaster as the car navigates a small drop and goes markedly faster than your typical dark ride.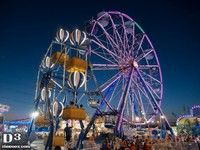 Another addition was a large inflatable Dinosaur with some sort of attraction inside of it. It was called The Beast and it was an upcharge, $5 to go in I think. What was in it? I have no idea. The ride attendant outside was dressed like a stereotypical safari guide. Some other additions, albeit a smaller ones, were a Zamperla Balloon Fest ferris wheel named Balloon Fiesta which was positioned next to the big Gondola Wheel, and Spider Mania, this strange three arm kiddie swing ride. I remember seeing Spider Mania on one of those amusement ride trader sites and thinking that it looked cool. Well, it's slow and boring…I mean, it is a kids ride after all. Another new ride was Charlie Chopper, a Majestic made kiddie ride. It kind of reminded me of those Dumbo kiddie rides only with spinning choppers.
There were a couple of rides that were down all night, those being Zipper and Super Shot. Zipper had no activity whatsoever every time I saw it. Conversely, Super Shot's seats were hoisted up a bit and always had a guy looking down at an opening in the decking underneath, presumably at someone working below.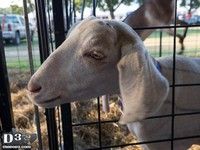 After a few laps for the midway, I walked around the animal stables. The first was a long, open stable with pigs, cows, and goats. The pigs were practically all sleeping when I milled around. A couple of smaller stables housed goats and sheep. In one pen, two goats were getting feisty, literally butting heads with each other. A final enclosed barn housed all of the smaller animals, rabbits and guinea pigs it looked like. They usually have winged animals in here as well but there weren't any when I went.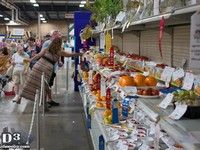 I walked through the Agriplex next, a gigantic building that housed arts, crafts, baking and crop related things as well as vendors. Oh man, it felt so nice to be in the air conditioning after trudging around outside. I didn't realize it until recently, but the original ECW Wrestling used to do shows at this venue quite a bit. Awesome. Today it was a little less wild, with flowers, antiques, and so on. While I was there, they announced the winner of the Iron Chef competition. The winner received a giant check for $100 bucks. Good job, man! They had some prize cakes on display as well; one looked like a Candy Land board while another took the form of a chest with treasure spilling out of it. The Candy Land one looked delicious; the chest one looked more like a Styrofoam cutout than a cake.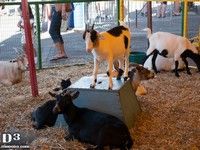 I did a once over the petting zoo next. Nothing too exciting. One goat was standing atop a box, just…standing. It looked like it wanted to do something but was confused by the other goats around the box. Maybe it just felt good to be the king of the box. Beside the petting zoo were camel rides. As I was walking by, some mouthy animal rights activist was throwing a fit about how the camels were imprisoned or something. Bah, if they were in their natural habitat they'd either be ridden, just like they are right now, or eaten.
I walked through the area under the grandstand next. I'm pretty sure it's a farmer's market when not taken over by the fair. Various social, political, and religious groups took up the space where delis and baking shops would be. I grabbed some food after this. I got two slices of pizza and a soda. I asked for a medium soda and the girl said they didn't have it. "Oh, just small and large I guess?" The reply: "yeah…oh, and extra large." Uh, well large it is then…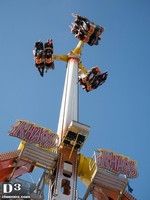 After milling around until after dark, I decided that I wanted to hop on a couple of rides. I didn't know how many I'd ride, but I got 22 tickets anyway; I can use them next year if I have some left. I took a spin on Khaos first. It had a line that extended across the pathway, but only amounted to a two cycle wait. Now, I know I can't do pendulum rides anymore, but I was prepared to man up and ride this one as I've never seen an Inversion in person before now. The ride is super forceful and has a lot of hangtime. If this lasted more than the minute and change it ran for, I'd certainly walk off feeling like crap. The seats on this ride are able to freely flip (example), but they were locked for the whole cycle. As much as I would love to ride this with seats flipping like crazy, I'd probably have to be carried off or something.
My second ride was Vertigo, a sky swing ride. Due to the downward slant of the lot, half of the swings were way off the ground when loading. In the past they had a step stool that would help if you couldn't get in. This time, they just closed off the back half, limiting the capacity to 6 seats, or 12 people. I mostly wanted to ride this just to get video. This ended up being the only other ride I went on. I thought about riding Stampede, but the view wasn't so hot with the giant inflatable Beast in front of it. As you may have guessed by that reason, I was going to ride mostly for the video opportunity. Worth noting though, Stampede now has LED lights on the boom that holds both wheels, making the ride look even brighter now.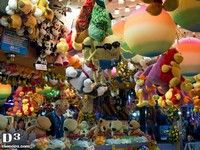 It was nearing 10pm, and I decided to make one final pass through the game area before heading out. I honestly think this fair has more games than the Meadowlands, and that's saying a lot. There were at least two or three watergun races, one of which was manned by a jointee that looked like Walter White and had the voice of Krusty the Clown. They also had some more non-conventional games; ones that I never see back in NJ at least. One was a dime pitch where players can win dishes and glassware. This game was packed with people pitching coins at their leisure. I don't even know how they know who really wins to be honest. Another game that was always packed was I Got It, a Bingo-like game. Like the dime pitch, prizes were items that one could actually use like coffee makers, blenders, and more. They did not have the Mouse Game this year. That's a shame.
I exited the fair at around 10:30pm. Cool fair as always; one of my favorites of the year.
Here's a video!
And here's a boatload of photos…