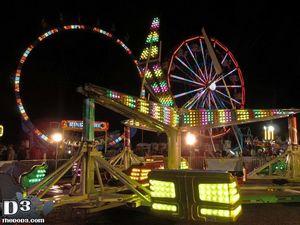 So, in late July someone contacted me asking to add an event onto the annual carnival list; the Hillsborough Rotary Fair. I did a little sniffing around and found that Majestic Midways was (likely) doing the spot and would bring in a good deal of their rides. I've seen Majestic before, but only in abbreviated form at the St. Barts Italian Festival in Scotch Plains, NJ. Hillsborough isn't too far away so on August 15th, I decided to head over and check out the festivities.
Before leaving, I glanced at Google Maps and then winged the 30 or so minute trip. I got a little tripped up as I approached the location; the field I thought the fair was in had no fair! I eventually pulled into a shopping center parking lot and saw a ferris wheel and drop tower in the distance. I then drove in the direction of the fair, navigating the maze of roads that made up the Hillsborugh Promenade strip mall. I entered the fair at about 8:45pm, and the fair had:
Wipeout
Rainbow (ARM Ali Baba)
Ring of Fire
Super Shot
Himalaya
Sizzler
Scooter
Century Wheel
Cuckoo Haus
Monkey Mayhem
Kite Flyer
Orient Express
Carousel
A bunch of kiddie rides (Hampton cars, Bumble Bee, Surf City, Crazy Bus, Pirates Island, a few more)
A selection of greasy treats
Numerous vendors and organizations
A bunch of games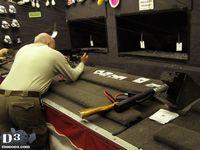 That's a pretty solid lineup! The front of the lot was filled with tents manned by various organizations in the area. There were also plenty of food stands and a few vendors. One side of the fair held a row of those State Fair game trailers filled with chance wheels, knock over the X, and ball rolling games. A few other games were scattered around the lot like a watergun race center joint, shoot out the star, and a miniature shooting gallery game.
Wipeout and Super Shot sat at the back of the midway. Of the two, Wipeout was getting vastly more ridership with full loads on almost every cycle. The ride was running pretty fast as well, namely the arm holding the wheel was rotating at a higher than average speed. I wouldn't doubt riders were getting some significant airtime as they were flung over the top. Super Shot had a handful of riders every so often, I don't think I saw it fully loaded all night despite having 12 seats.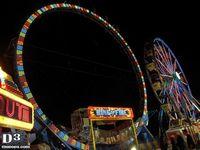 Speaking of fast, Ring of Fire was also running at a feverish pace. Probably as fast as PGAM's Fire Ball ride. The speed also meant that the ride was awesomely loud as the train rocketed around the loop. A Chance made Century Wheel sat to the right. Usually, a ferris wheel seems to tower over other rides but this one was only slightly taller than the adjacent Ring of Fire (Century Wheels are 65 feet, Ring of Fire is ~60.) The wheel was fully decked out with LEDs and flashed through a bunch of patterns. With all these wheels having LEDs these days, it's going to be a treat to see one with turbo lights now, haha!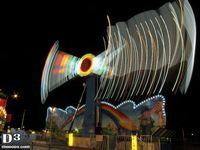 Across the midway was Rainbow, an ARM Ali Baba masquerading as a Huss Rainbow I think. It may not be as dominating looking as the real deal but it probably had more flash. The boom had multicolored LEDs in arrow type patterns. The center was adorned with a happy (overjoyed? excited?) sun. A really sharp looking Wisdom Himalaya sat to the right with some crazy flashing lights and a loud truck horn. This one had a predominately red and white color scheme with some yellow and blue thrown in. I don't think I've seen a mediocre looking Wisdom Himi yet.
Plopped into the middle of the midway was Sizzler. That's actually a pretty neat spot for it! Some of the guard rails around the back of the ride were placed pretty close; I'm sure one could easily high-five a rider as they came by. I love the purple, green and yellow color scheme on this Sizzler.
I stuck around for maybe an hour before heading out. The fair said that it ended at 10pm that night, but there were still people coming in despite it being about 9:45 as I was walking out. Cool fair overall…a ton of parking too, I like that! The moral of this trip report? Send me a fair to add to the annual carnival list and you could get some free publicity!
Here's a batch of photos!