First fair of 2018! I went over to the Middlesex Fire Dept Fair in Middlesex, NJ on Saturday, April 28th. I had some other plans later on, so I went a little earlier at around 5pm. It ended up raining later on, so going earlier actually worked out. The rides were brought in by Campy's Blue Star Amusements and the fair had…
Ring of Fire
Yo-Yo
Scat
Tilt-a-Whirl
Gravitron
Scrambler
Scooter
Ferris Wheel
Berry Go Round
Super Slide
Several kiddie rides

Carousel
Toy Town
Tea Cups
Rio Grande Train
Elephants
Like 4 more I'm forgetting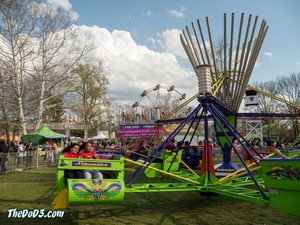 There was good sized crowd that night, about what I'd expect for a Saturday evening with nice weather. The ride lineup was essentially the same as last year with Campy's bringing in most, if not all of what they have. I think most of the rides were even in the same spots as last year.
Scrambler, an Eli Bridge ground mounted model, had been re-painted with a really nice five color scheme. Certainly the sharpest looking Scrambler I've seen to date. Even the cars were painted, forgoing the usual silver metal look while still retaining the artwork. Scrambler, Scat, Yo-Yo, Gravitron, Fun Slide, and Tilt-a-Whirl all now have matching color schemes.
Not a whole lot to say that I haven't said about this fair or Campy's in the past. This is always a nice fair to kick off carnival season!