Each year leading up to July 16th is the Our Lady of Mount Carmel Festival, a fair hosted by the Mount Carmel Society of Berkeley Heights. The festival is most well known for the fireworks display on July 16th, the feast day, which attracts folks from all over. The festival was five days previous years but went with four days this year, starting on July 13th. They actually had a "normal" fair week this year going from Wednesday to Saturday like most other carnivals. Since this fair always ends on the 16th the days are sometimes strange, like starting on Sunday and ending on Thursday. Ace Amusements was back after one year with McDaniel Brothers Shows, and the fair had…
Zipper
Trabant
Rock-o-Plane
Jitterbug Swing
Ferris Wheel
Bear Affair
Monkey Maze
Fun Slide
Several kiddie rides (Tank Ride, Mini Jet, Jolly Choo Choo, Elephant Tower, Hampton Quads(?), Truckin', maybe one or two more)
A handful of food vendors
A selection of games
Beer garden with band
Fireworks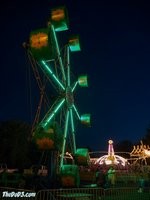 I went over to the fairground on two nights, Thursday & Friday and ventured out to see the fireworks on Saturday night. The fair was kind of desolate on Thursday night. A storm passed through earlier in the day and the evening turned out to be unbearably humid. So bad that my camera lens was constantly fogging up. That combined with it being a weeknight may have been the reason for the low turnout. I stuck around for like 20 minutes before grabbing a bag of zeppoles and heading out.
Friday night, however, was jumping. The weather was much better and they also had a "mini" fireworks display. Trabant sat in the right corner. This was an old school looking Chance Trabant complete with florescent tube lights as well as red and yellow lights. Next door was an Eyerly Rock-o-Plane that looked really sharp. This ride had a dark blue support, white and orange sweeps, and green pods with orange flame art. The sweeps had LED lighting that ran through different patterns.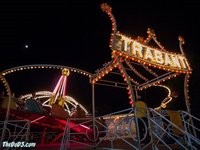 Like Trabant, the Ferris Wheel had the classic look going on with yellow florescent lighting, although the decorations flanking the boarding area looked like LEDs. Zipper had a line that went straight across the main thoroughfare on Friday. I like the artwork on the support, which features clouds with lightning and the show's name.
Amongst the kiddie rides was one that I don't remember seeing before, a ride called Jolly Choo Choo. It looked like a larger Hampton style ride but with train styled cars that could spin. It kind of reminded me of a children's version of Twister. Apparently it was manufactured by Wisdom.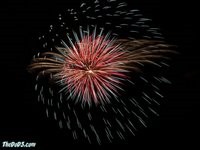 The mini fireworks display started a little after 9:30pm and was about 10 minutes long. They call it the "family friendly" show, I guess because the real deal on the 16th starts late and has some seriously loud booms. Not a bad little show with a couple groundworks and a nice finale. Really, this could have been the main fireworks display at most other events. I stayed for about 20 minutes after the fireworks before heading out.
The feast day of Our Lady of Mount Carmel is on the 16th and the festival is bookended by the "fireworks extravaganza." Garden State Fireworks has been doing the show since the 1930's and the display features some of the most elaborate fireworks you'll see outside of a bona fide fireworks competition. The show was about 25 minutes long and had not only aerial fireworks but quite a bit of groundworks, which I couldn't see as I was outside of the fairgrounds…sounded good though! The finale was about three minutes long and probably had more fireworks than most local town fireworks have in their entire display. To kick it off, they basically shot a cloud of loud salutes into the air. Awesome.
Here's a video that I shot at the fair on Friday night:
Here's a video of the finale on July 16th:
And here's a bunch of photos from the 15th and 16th: