Have you ever been to an amusement park or carnival and seen a ride that simply pushes every limit you thought couldn't be pushed? A ride that looks so intense, nauseating, or just downright torturous that you cannot beleive anyone would actually ride them…and enjoy them? Maybe a seemingly normal ride that is run in a way that makes it horrifying? I know I have! Here are the five carnival rides that I think fit the bill of being the most 'insane' out there.
5. Storm (Wisdom)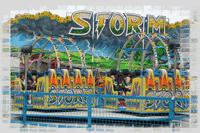 I can do spinning rides quite well but our number five ride, Storm, is one that's too much even for me. Storm is basically a modern version of the Hustler/Tempest ride. The movements of all three rides are nearly identical, with the Storm's components being upgraded a bit; for instance, Storm allows riders to board all at once and has a better safety mechanism.
While the Hustler or Tempest have cars that can spin freely, Storm's cars spin mechanically. They don't spin too terribly fast, nor does the main platform, as a matter of fact, the arms that hold the cars only spin at a moderate rate as well! The thing is that all three spin in the same direction. These combined movements make the ride faster than hell.
The lone Storm ride I had was at the New Jersey State Fair in 2008. When the ride was up to full speed, all I could see were the people sitting across from myself with everything around the car as a giant blur. If the ride lasted for 30 seconds, slowed down for a bit and then sped up for another 30 seconds, the ride would have been fine. Instead we got a full two minutes of crushing G forces and spin cycle-like rotation; as an added bonus, the ride was in full sunlight on a 90+ degree day with high humidity! Needless to say, I felt like crap afterwards.
Another ride that can probably be lumped together with Storm is the Huss made Take Off, which spins in a similar fashion to Storm minus one axis. Take Off also has the ability to rise up to a pretty steep angle and spin in opposite directions and such. The large ride vehicles on Take Off can also spin at an incredible rate, much faster than Storm's vehicles, providing some very high G forces.
To sum it up: Storm, and subsequently Take Off as well,  make it on the list for having prolonged periods of high G forces.
Below is an old, shitty video of Storm taken by myself.
4. Matterhorn (Reverchon/SDC/Sobema)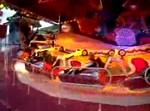 Ok, I know what you're thinking, "Matterhorn?! That's just one of those Himalaya rides with the swinging cars! My grandmother could ride it!" That's very true; the average Matterhorn/Flying Bobs type of ride is pretty much a family ride. Maybe you'll come across one that goes fast enough to swing the car nearly sideways, but that's about it. Although there are some exceptions…
While I'm not sure how fast a Herchell Flying Bobs or Chance Thunderbolt can go, the Reverchon, SDC and Sobema manufactured Matterhorns can indeed run at a stupid fast speed! They can run so fast in fact, that the cars swing well over what could be considered 'sideways.' Mind you, these are standard Matterhorn cars with a simple lapbar restraint.
I remember reading on some showmen forum a couple months ago that sometimes the cars swing so high that they've been known to hit the top of the tunnel entrance! That story could just be some type of urban legend amongst showmen though, I don't know.
Needless to say, I've never been on a Matterhorn type ride of that intensity, but I have been on a Flying Bobs ride where the car started swinging uncontrollably. That was actually kind of scary (in a fun way) since my car would point outwards so much that I would nearly come off the seat! I wrote a little blurb about it back in August.
To sum it up: Matterhorn makes the list in sort of a weird way; it's insane for being able to run faster than what might be advisable. It's kind of like this kiddie ride called Barnstormer that I used to run when I worked at a small amusement park. If you set the speed dial to 5 or so, the ride was pretty tame; if you crank it up to 10 however, the ride turns into this swinging, flailing ride from hell that could scare the piss out of anyone!
Here's a video by Youtuber jeanmarie40 of Le Paradise, a Sobema manufactured Matterhorn in France. The cars fly particularly high on this one with nothing more than a grab bar to keep riders in!
3. Discovery (KMG)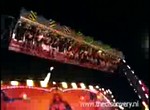 Of all the Top Spin-like rides I've seen, KMG's Discovery seems to be the most nauseating…and smallest as well. Discovery is maybe half the size of a normal Top Spin, but in turn, the movements are much quicker. Discovery is made up of one, long row of seats slung between two arms. The arms can move in different directions and are controlled by two separate joysticks, meaning the operator has pinpoint control over the movements.
The ride movement is similar to any Waikiki Wave Super Flip or Maverick type ride, only faster with more uncontrolled flips. However this is one of those rides where the operator can make or break the ride. In the video that I chose, the operator knew exactly how to run it and flipped riders numerous times in a row. If all of these rides were run in automatic mode, they probably wouldn't even make this list.
To sum it up: Discovery makes the list for being able to perform quick and seemingly nausea inducing movements and flips.
Here's a great video of Discovery at a carnival in Provins, France. Video thanks to jeanmarie40.
2. Energy Storm (Soriani & Moser)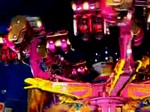 First of all, you almost never see this ride named Energy Storm, forgoing the trade name for the decidedly more interesting name of 'Extasy.' Whether the name is derived from the state of altered consciousness or from the recreational drug is debatable. In any case, Energy Storm looks more like an endurance test than an actual ride.
The ride is comprised of six arms, with four sets of two passenger cars at the end of each arm. The ride and cars both spin in the same direction, and spin fast which looks like it would cause for some really uncomfortable lateral Gs! Once up to speed, or not, the arms holding the cars begin to rise. At the horizontal position, the ride is basically like an Orbiter…but of course what fun is it to stop there? The arms rise until the cars are completely upsidedown where they proceed to spin wildly while riders are haplessly being dangled. While the entire ride doesn't take place upsidedown, riders do get a good 20 full seconds of being hung head over heels which is pretty damn long!
I remember seeing this ride once in New Jersey at the State Fair Meadowlands many years back, but I didn't ride since I was a total wuss back then. Although I'd love to ride it now, just to see how it is!
To sum it up: Energy Storm makes the list because 1. the ride spins incredibly fast with no attempt to dampen the lateral forces and 2. because it hangs riders upsidedown longer than any other ride I've seen.
The video, made by tinteraminator, shows the Extasy ride at Prater Park in Vienna, Austria.
1. Inversion (KMG)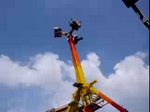 Inversion, better known as 'Dominator' and 'Big Flight,' is a ride that debuted in 2008; so far it's only seen on the Euro funfair circuit and has a chance of making it to North America considering that it racks onto one trailer and doesn't go over US road weight limits. (Update: yep, they're here now.)
Anyway, riders sit in three pairs of seats holding four persons each for a grand total of 12 riders per cycle. The seats are connected to a large boom that swings back and forth, gaining momentum to complete a full 360 degree loop. All while this is going on, the seats rotate around the center. It's not very intense while operated this way, which is actually the way it's typically operated.
So why is this on the list? Well, KMG also added in a feature that allows the cars to freely flip upsidedown. However, if you couple that feature with the fact that the boom swings pretty fast, then you get a ride that's horribly intense and out of control! A testament to how intense it could be is that fact that European showmen, the same people who allow Matterhorn cars to flip nearly upsidedown, the same people who run high G force rides for 7+ minutes, do not allow the cars on Inversion to flip while at full speed.
I can certainly see why they would apply the brakes for most of the ride; the cars are so bottom heavy that they seem to snap downwards when rolling. The force of the car swinging downwards at full speed would probably be damn near whiplash inducing!
To sum it up: The KMG Inversion takes the top spot basically due to a feature that would render the ride overly intense!
The final video is the Dominator, owned by Dutch showmen Otten, at Tilburgse Kermis 2008. This fine video was recorded by OnrideExpert and includes both and off-ride and on-ride video.
Finally, here's a few rides that almost made this list:
Shake (Mondial): It's basically a Breakdance with cars that can flip upsidedown. It's certainly a crazy flipping ride, but the motion is very graceful, if that makes sense.
Zipper (Chance): A very formidable choice; the Zipper certainly is intense but it's almost too much of an obvious choice! So I simply left it out.
Magic Arms (Waagner Buro): Just look at it; it's a pretty good candidate for most insane ride! I didn't include it because it's motion is very mechanical in nature with no elements that would make the ride unpredictable.
All right, those are my five picks for most insane rides; now I'd like to hear rides that you think are insane, intense, or nauseating! Hell, put together a full fledged list if you want!