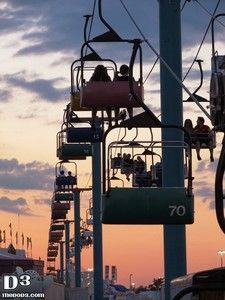 This trip report marks a milestone of The DoD3. The State Fair Meadowlands is the first fair to have 10 years worth of trip reports on this site. Of course, my early trip reports were awful, but there's 10 years of em' nonetheless!
State Fair Meadowlands, located in the parking lot of Metlife Stadium, is the largest fair in New Jersey. It's not the actual "state fair" of New Jersey, but for ride lovers, it's the fair to go to. It's been getting better each year since 2010 and this year was one of the best with a massive midway of rides, many shows, more food than one could choose from (including deep fried…everything), and much more.
Three shows came together to provide rides, the main operator Amusements of America along with Strates Shows and Reithoffer Shows each booking in some of their rides. The fair had…
Space Roller
Tornado (Huss)
Enterprise
Crazy Mouse
Zyklon
Musik Express (Bertazzon)
Musik Express (Majestic)
Himalaya (Wisdom)

Rock & Roll (Bertazzon)

Disk'O (closed)
Fireball (KMG)
Ring of Fire
Gravitron
Cliff Hanger
Zipper
Wave Swinger (closed)
Yo Yo
Scooter x2
Sizzler
Tilt-a-Whirl
Tornado (Wisdom)
Sky Flyer
Orbiter
Banzai
Fun Slide
Super Slide
Monkey Mayhem
Double Carousel
3x Big Wheels (Giant Wheel – Strates Shows; Giant Wheel – AofA; Mulligan Wheel – Reithoffer Shows)
Sky Ride
More funhouses than I could count
3x Dark Rides (Tomb of Doom, Haunted Mansion, unnamed dark ride)
2x Bumper Boats (one large, one small)
A myriad of kiddie rides
Food, food and more food
An incredible number of games
Free entertainment (Hypnotist Steve Bayner, Circus, Rosaire's Royal Racing Pigs, Motocross Stunt Riders, Big Cat Habitat, Commerford's Petting Zoo, and more!)
A number of vendors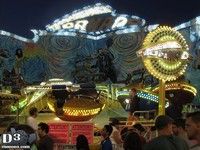 Listen, when a fair has three large ferris wheels, then you know it's big! I was originally set to go with a few of my cousins, but plans fell through and I ended up simply heading over by myself on Friday, June 27th. While it's more fun to go them, going alone ensured that I'd be able to take photos and videos at my leisure instead of boring others to death!
The first ride I hopped on was Tornado, Reithoffer's Huss made Flipper ride. I asked to put my bag down somewhere but was told to just carry it along. Funny enough, on a subsequent ride I was made to put it on the side of the platform. Anyway, being the only one in the car, it whipped around like crazy at some parts of the ride. When the ride would briefly slow down, I would shift my weight to get the car swinging a bit. This worked, making the pod whip around almost violently at the bottom of the ride's rotation. Wow…talk about G-force!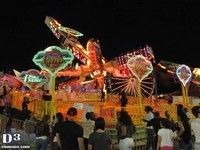 Space Roller was across the way, so I jumped on that next. This is an independent ride owned by Jeremy Floyd and has been getting some TLC these past couple of years, most notably adding LEDs to the signage along with a new backwall. They were only opening sets of seats as needed, so I was left with a second to innermost seat. The ride is better the further out you are, if you didn't know! The cycle was done totally backwards and went for maybe two minutes. The ride op had some trouble parking the ride at the end, but got it after finagling the boom around for a minute or so.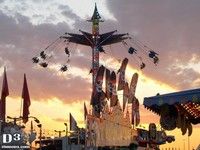 My next ride was Sky Flyer, in which I pulled out my camera to get an on-ride video. I know this isn't a good thing to do, but at least the camera has a wrist strap. There were a couple of stiff wind gusts while at the top; that always kind of freaks me out on rides like this! Not as bad as a rocking car on Enterprise though, that is too much! Speaking of, Enterprise was again no single riders. Boooo! Honestly, even with my cousins I wouldn't have got on it as none of them can handle that ride anyway!
I did a couple loops of the midway. Banzai and a few funhouses and dark rides were on the right side of the midway near the front. One of the funhouses was called Crazy Outback and looked like a Cuckoo Haus re-theme. On the left side of the midway were a few minor/major rides like Cliff Hanger, Rock & Roll, and Bumper Boats. I also took a look at the kiddie land area as plopped into the middle was Reithoffer's new Mulligan Wheel along with Strates' Double Carousel. The wheel was the smallest of the three, but still larger than most wheels that you'd find at a typical fair. A couple of funhouses, Monkey Mayhem, Strates' slide, and a Mini Himalaya rounded out the "big" kiddie rides.
How about some photos?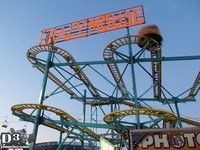 The fair had two large roller coasters, Crazy Mouse and Zyklon. Crazy Mouse now has an RGB LED sign, which looked really cool. Zyklon was fresh off the North Brunswick fair and was again running one car at a time. Amusements of America's Giant Wheel was now located further back on the midway. It didn't seem to have as many riders as Strates' Giant Wheel that sat on the side of the midway. Jeremy Floyd's newly acquired Disk'O was next to AofA's wheel, but wasn't running that night. I saw them test it a few times, but it never opened that night. Wave Swinger was also closed and set up in a similar way to the Wave Swinger at North Brunswick. Coincidence, or are NJ inspectors giving these Zierer swing rides a hard time or something?
I took some time to check out the shows at this point. Big Cat Encounter was well into its act when I arrived with a huge crowd watching. I couldn't see a thing, so there wasn't even a point in sticking around. I had some time to kill before the Open Air Thrill Show, so I walked around the petting zoo and then checked out one of the bands playing that night, a band called Red Jumpsuit Apparatus. Their name sounded vaguely familiar, so I just did the Youtube Video View test to see how out of touch with music I am. Their most popular video has 15 million views. Yeah, somewhat out of touch.
I stayed for a couple of songs before heading over the thrill show, which was now packed because I waited too long! However, I perched myself atop the vacant pig racing bleachers to get a great view of the show. First they had a pole balancing act where a woman balanced atop a pole that was probably like 75 feet high. Next was the "wheel of death" where two guys balance and do tricks on a pair of spinning wheels. The last one I saw was the human cannonball act…well, a human arrow in this case as the thing he flew off of looked like a crossbow.
The show kept going, but I left to see the FMX Stunt Show. This one featured motorcycle jumps and other tricks. A few of the riders did ground tricks like wheelies and stoppies while two of the guys riding stunt bikes did jumps that included flying off the bike like Superman and doing backflips. I took the sky ride back to the midway after the show.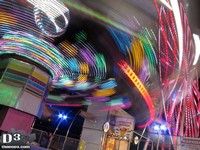 After exiting Sky Ride, I hopped on Orbiter. This particular one runs amazingly fast! Another ride ran at a ridiculous speed was Musik Express, the next ride that I got on. This was the smaller, Majestic made Musik Express owned by Amusements of America. It's small, but man it is fast. Strates' larger Musik Express also runs at a blistering rate, but was also no single riders on this night. There was in fact one more Himalaya, a Wisdom model across the way from Crazy Mouse. I should have got on that one, don't know why I didn't!
I did one more ride on Tornado and Space Roller before heading out at around 12:15am. Just an awesome fair overall, even better than the past year's fair which I also thought was great! I'm already looking forward to seeing what next year brings!
I took quite a bit of video and decided to make a music video for a change:
And here's the last batch of photos: