After missing the Great Allentown Fair in early September, I quickly searched for another fair to go to; I wasn't too keen on the fact that I had missed what was likely to be the last fair of the season. I eventually found a little ad on CraigsList for a fair in Livingston, NJ at St. Philomena's church. The fair would be happening in mid-September so I had over a week until the event.
Fast forward to mid-September (or rewind in this case.) The drive was quick and parking was ample at the adjacent high school, I'm starting to like this fair already! The fair itself had a modest lineup of rides and attractions:
Scat
Gravitron
Octopus
Scrambler (Eli Bridge model)
Bumper Cars
Ferris Wheel
Fun Slide
A myriad of kiddie rides
A plethora of games
Various foodstuffs
Ok, I was a bit ticked at this carnival just because Campy's Amusements provided the rides and didn't bring their Skydiver or Cobra! If there's any two rides that I'd love to realistically see around here, it's those two; especially since their rides are so darn good looking. For instance the Octopus, while it did make some funky noises that many older rides are accustomed to, looked incredible with lights along the sweeps, newer center ornament and nice sleek black and green paintjob. Unfortunately I couldn't get too many good pictures of it due to the darkness.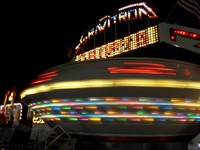 Scrambler also looked cool with a non-chippy paint job, working french fry lights (as I like to call them,) and little lights at the ends of the sweeps. I was able to get some nice trailing shots of this ride after playing around with my camera settings. A little down the midway was a very nice white-ish Gravitron with pastel lights lining the outside of the UFO. I think I like the look of this Gravitron better than Amusement's of America's green colored version actually. The bumper cars were in front of Gravitron and pretty much sat dormant all night.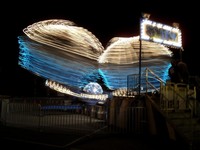 At the end of the midway was a Big Eli Ferris Wheel, or at least it looked like one. This was the only ride that wasn't as great looking as the others, but not bad either. Unfortunately the tube lights caused hell for my camera so the shots didn't come out too well. Finally we have the coup de grâce, the Scat. This was so well maintained that it made me feel bad for calling it a WTCR! The Scat featured lots of white and blue lighting and even had those decorative light trellis looking things over the platforms. The ride also featured a center ornament; I think I've died and went to WTCR heaven! The ride ops gave a long ride as well, which is a definite plus.
Games consisted of the standard fare: hit the x with y, chance wheels, probably a watergun game, and more. Food was also of your typical carnival variety with sausage, burgers, zeppolies and other artery clogging treats. All in all this was a fun little late summer fair that wasn't overly crowded either.