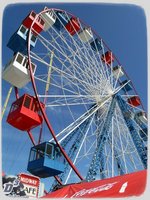 So I was in Seaside Heights, NJ yesterday after another trip to Six Flags for Fright Fest (which will have a trip report coming soon) and I started thinking "hey…I never did that original Seaside trip report!" Considering that I have gone twice now, I'm going to merge the two trips together into a rare double trip report!
September 26
I left for Seaside Heights, NJ from the 'shore' house in Brick, NJ at around 12:30pm. The ride to Seaside took about 15-20 minutes only being about 12 miles away. As I got into town I noticed that there was a street fair going on at Grant Ave; I'd later find out that this was the Que by the Sea event, a barbecue competition. I parked by Funtown Pier in Seaside Park and fed the meter a bunch of quarters; 25 cents for 10 minutes.
I noticed that Funtown Pier was actually open so I walked around that park first. Funtown Pier has seen quite a few different rides over the years including a massive Log Flume at one time. Today the pier is home to Seaside's only looping coaster, an old ass Wild Mouse coaster, the state's tallest drop tower 'Tower of Fear,' a decent sized Ferris Wheel, a few extreme rides and a bunch of flats.
The looping coaster, aptly named 'Looping Coaster,' looks to be a Pinfari looping model with a single loop flanked by a pair of helixes. I've been on it once awhile back; nothing really to write home about but it did add to my (pitiful) coaster count I guess. Funtown seemed to have been getting ready for the off-season already as their Wisdom made Arctic Circle Himalaya ride sat in pieces on the pier (picture). The old Wild Mouse also had its cars sitting on the pier, ready for winter storage.
At the other end of the boardwalk was Casino Pier, which had several rides at the front of the pier in operation, including their Sky Scraper upcharge which commanded $10 bucks to ride. The park's Wave Swinger ride was the only ride up front that was closed; it looked like they were getting ready to pack it away for the season. I strolled around Casino Arcade for a few minutes, home of the Looff Carousel, and decided to head back before the meter ran out. Good thing I did too, I only had a few minutes left and the meter cops seemed to be out in full force! (picture)
October 10
This time I left for Seaside at 1pm and once again I found that Seaside was holding another street fair at Grant Ave, this time it was an Italian Festival for Columbus Day. Again I parked in Seaside Park, fed the meter and was off. This time around Funtown Pier was closed with many rides packed up or getting ready to be put away for the season. The stores around Funtown Pier were in end of season sale mode, however some of the 'sales' were still pretty bad.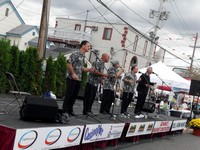 Casino Pier had the front of the pier open again, only this time the Wave Swinger sat folded up on the pier with a blockade of benches in front of it. I guess the park stayed open due to the street fair occurring on the road in front of the pier. I decided to check out the festival, the Ocean County Italian Festival to be exact. The festival went on for two or three blocks and sort of reminded me of the San Gennaro festival. Being an Italian festival, there was lots of food including sausages, gyros, zeppolies, calzones, and that weird torrone candy that looks like concrete blocks. At the far end of the festival was a stage with a singing quintet. There was also a lot of stereotypical 'New Jersey Italian' stuff like "Italian Princess" and "Sopranos" shirts among others.
I went back to the car and notced that I had 20 minutes left on the meter, so I walked the southern boardwalk in Seaside Park. I also went onto the beach where a few people were surfing; I stuck my hand in the water and found that it actually wasn't too bad! Should of brought my swim trunks along! Nah, it wasn't that nice. Anyway, I left Seaside at around 3pm and took the long route along the shoreline to north Jersey.