I took a solo trip to Six Flags Great Adventure on a cloudy Saturday, May 2nd so that I could do whatever I pleased and stop for as many photos as I saw fit. I got to the park at around 2:00pm and found that the lot wasn't too full (yay!) As I walked in, a song with the lyrics "It's gonna be a good day" (or something similar) played over the speakers; foreshadowing maybe?
I had heard around that May 2nd was cheerleader day or something like that and feared that there would be throngs of annoying cheerleaders around. I was partially right, they were kind of annoying but they didn't over run the place.
The first order of business would usually be to get my season pass validated, but I had the piece of plastic all ready to go so instead I made a beeline to El Toro. Upon arriving at The Bull, I noticed that it had a line that took up the entire far switchback and into the closest one. That's not too bad of a line, but I decided to pass as I knew it would be less later on.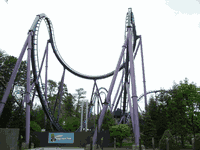 Instead of bull riding, I walked over by Bizarro via the re-opened bridge route, over the stagnant creek that runs through Frontier Adventures. Towards the end of last year the bridge was closed for repairs, resulting in a dead ends by El Toro and Medusa. There really wasn't a whole heck of a lot to see over by Bizarro; I was hoping to see maybe a test train, or some workers, or maybe even Lex Luthor himself. All I got was Mr. Six with the word Funstruction screamed out next to him.
Next I walked through Frontier Adventures and saw that the Saw Mill log flume was open; an original attraction at Great Adventure. I thought about riding until I saw the steady stream of people using the "a-hole devices" next to the flume. Of course I'm referring to those sprayers that cost a quarter or so to use. The sprayers on this flume are pretty bad, dumping a nice robust stream of water right into the log; I didn't really want to risk my camera with those.
Afterwards I walked through The Lakefront, into Movietown and got in line for Nitro which had a wait starting just before the stairway into the station. All in all I waited about 10 minutes before hopping into the back car. Nitro was running pretty nice on Saturday with a lot of floater air over the final set of bunny hops.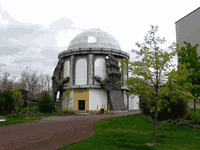 Next I eyed Dark Knight, which had a small line but had also just closed the pre-show doors meaning at least a 15 minute wait right there. Instead I passed up Dark Knight for some more funstruction. In back of Dark Knight construction was still going on with Xploratorium, an attraction being built in Batman and Robin: the Chiller's old observatory feature.
After getting my fill of fun construction, I got in line for Batman: the Ride only to be trapped by a stairway wait…damn! Nitro's stairway wait is totally acceptable; Batman's on the other hand is not at all! First of all it's about a 15 minute wait from the base of the stairs with a good 8 minutes of the wait occurring on the stairs. The stairs themselves are enclosed with corrugated steel and inside it's humid, smelly and decorated with petrified ABC gum (already been chewed that is) and marker drawn graffiti. Who the hell brings a marker to an amusement park anyway?
In total I queued for about 15 minutes plus a quick puke cleanup to accent the terrible wait. The ride was great though! Batman seems to have gotten more and more intense over the years with the loops, turns and even corkscrews plowing riders with G force. Here's some Nitro and Batman photos…
After Batman I walked, walked, walked over to the Boardwalk. There I contemplated riding Twister, a Huss Top Spin, but opted to watch it instead. Twister used to be a respectable Top Spin, but it's cycle now would probably make a German fairgoer cry…and not for joy either. It flips like once and then proceeds to piss fart around a bit, doing nothing exciting while applying the screechy brake too much. The cycle is probably just over a minute with the loading process taking about five minutes. Yeah, I'll pass!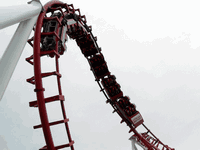 After taking in that spectacle, I decided that Scream Machine was up next; the wait was a total "air gate wait." A combination of people fearing it's roughness and the fact that the ride ops churn trains out like crazy typically makes for a nice quick wait on GASM. Once again I took a backseat ride, but paid for it this time around as I failed to remember that the last car on the white train fishtails and bounces along the track at a furious rate. No amount of defensive riding tactics can counter white train, car 7's wrath. I still had fun though, it's tough not to have fun on GASM with its wild vertical/lateral Gs, stupid fast first half, and hang time filled second.
Now while ascending the lift on GASM, I noticed that there was no line for Superman: Ultimate Flight. That could either mean two things I thought: 1. the ride is broken, or 2. Hell had frozen over. Turned out that it was 3, it just didn't have a line for once in its seven year history. I took this opportunity to take a spin after not riding for three years or so. I'll be honest, I've talked smack about this ride a lot, even saying once that I couldn't care if it was knocked down, but I did have fun on this particular spin. Actually I stared towards the ground for most of the ride; oddly fascinated with the ground speeding by below me.
Kingda Ka was next, which had a 20 minute wait or so. They were running one side (Kingda Ka has a duel loading station) and had they been running both it would have been almost a station wait. Once again I backseated, knowing full well that backseat on Kingda Ka is pretty rough…although this time it was just silly! My car vibrated along the track like I was sitting on a 128mph, cushion-less massage chair with the motor replaced with a top fuel dragster engine (ie. pretty damn bad.) Still, it was quite a rush! I have to assume that's kind of what launching on the Space Shuttle must be be like: fast, rough, and intense! Here's some Kingda Ka photos…
After being batted around by the tiger I came back to the bull, El Toro. The line now took up half of the far switchback, so I queued up and waited about 15 minutes for the second to back seat. El Toro was absolutely tearing over the hills on this particular day, and I got a lot of air as I wasn't totally stapled in for once. Upon exiting I saw that the line had dwindled to a station wait, so I ran (speed walked) around and got right back on!
Another oddity occurred after El Toro in that Skyway, the park's sky ride, had no line in Frontier Adventures. How could I pass this up? I waited cars, amounting to maybe 2 minutes, before boarding a gondola to Fantasy Forest. Unlike Frontier Adventures, the Fantasy station had a fairly large line. Next we have El Toro and Sky Way photos…
Next I milled around for a while, at one point almost being trampled by a large pack of cheerleaders spontaneously breaking out into a dance routine. I eventually made it to Parachuter's Perch, the parks parachute drop. Parachuter's Perch is actually the old name, it's really called Parachute Training Center: Edwards AFB, but that's long and dumb. It's typically just called just 'Parachutes' but I like the old name!
As fate would have it, I entered the line the correct way only to be line jumped by like 12 people crossing over the grass…pfft. They were running two sets of chutes and seeing that the far ones had no line, I went over there. Of course I was shot down by a manager in a gaudy robin's egg blue button down that the side had just closed. Well thanks a lot, manager-man! I waited about 10 minutes to ride the chutes as the line swelled behind me despite that fact that the ride op was cranking out chutes like a madman.
After the chutes I wandered around some more, taking another station wait El Toro ride before hopping aboard the Teacups. I saw a group of five kids in another cup who looked ready to spin the piss out of it. As a resident spinning ride freak myself I wasn't about to be trumped by a group of teens! I spun the hell out of my cup for almost the entire cycle; probably more than I've ever spun on a teacup ride before. At the end I sort of staggered around a little and had a slight headache as I exited, but since I'm telling the story I actually opened the door and fitfully walked right to the exit while the five kids were falling all over the place.
I hung around for a little bit, hoping to see the Big Wheel's swanky new light package turn on, but no dice there. I ended up leaving at around 7:50pm with the song Don't Stop Belevin' playing over the speakers…if that has an sort of significance at all. Hey The Soprano's ended their series with it, I guess I can end this trip report with it!
Ride List
Nitro 1x
Batman: the Ride 1x
Great American Scream Machine 1x
Superman: Ultimate Flight 1x
Kingda Ka 1x
El Toro 3x
Sky Way 1x
Tea Cups 1x
Parachutes 1x