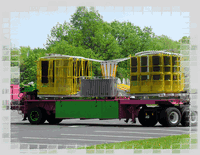 Update: …and here's the completed fair trip report!
Every May the Catholic church in New Providence, NJ holds a fair…now being a ride lover like myself, how can I not check out the build up process? This year the carnival was extended from three days to four; probably to compensate for the fact that it always rains one day! In effect the setup had to be sped up a bit to open a day earlier. Here's some pictures of the area from Sunday and today…
Sunday
A bunch of rides took up residence in the corner of the parking lot. While I was there, they brought in a kiddie ride and moved the Round Up into position. Nothing too eventful. I have descriptions under each enlarged photo since I don't know how many people can pick out 'racked' carnival rides!
Monday
Whoa, they really got things underway! They must have had about 50 workers scattered around working on various rides. Every ride was in position and it looks like Blue Sky Amusements brought in their entire lot of rides this time around! Same as above, each photo has a description.
If you're interested in heading over there, the fair is located at Our Lady of Peace Church in New Providence, NJ and runs from 5/13/09 to 5/16/09.