While the fair in the Meadowlands may be called 'State Fair Meadowlands' there's only one true state fair of New Jersey and that's the New Jersey State Fair and Sussex County Farm & Horse Show at the Sussex County Fairgrounds in Augusta, NJ. The fair goes for just under two weeks each August and features just about everything you could hope to find at a state fair; from spinning rides to prize zucchini.
Three others and myself arrived at the fair at about 10:30am. The rides, brought by Reithoffer Shows, didn't open until 12pm so we walked around the fairgrounds instead. The fair had:
Wild Claw (KMG Fireball)
Zipper
Power Surge
Super Himalaya
Fireball (Larson)
Orbiter
Sizzler
Tidal Wave (Chance Thunderbolt)
Avalanche (Wisdom)
Starship 2000
Century Wheel
Haunted Mansion
Pharaoh's Fury
Cuckoo Haus
Tornado
Giant Slide
A couple of funhouses
A myriad of kiddie rides
A massive amount of greasy treats
Vendors, vendors everywhere
Various shows and attractions
Horse Show
Livestock
There really was a lot to do and see at this fair. We did a walk through of the animal stables first which had cows, goats, alpacas, and pigs. Another building housed all of the smaller animals such as rabbits, roosters, guinea pigs and a lot of others. Of course some of the cages had blue ribbons, trophies and whatnot…actually most if not all did; guess lots of pity awards were going out!
We headed back to the rides and hopped on Orbiter first. Being it was a POP wristband day (actually everyday was) the ride cycle lasted for maybe a minute. Next we walked over to Wild Claw which was looking great compared to the year prior. The cycle itself was kind of different with the boom lightly swinging back and forth for a bit with the claw spinning rapidly before slowing the claw down and giving the ride a few good swings.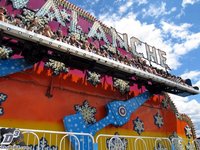 Next up was Avalanche, an old school Wisdom Moby Dick type ride. Interestingly enough this ride ran on a fairly long cycle, which was great since I apparently get nauseous on these types of rides now. By the end I was happy to get off the ride and decided to take a break from the rides for a bit. One of the guys in our group went on Fireball next, the only one not fazed by Avalanche. I was solicited to get on the ride by the Fireball ride op; I said no because I'd get sick and his response was "I got some Mexicans to clean it up, get on!" I lol'd.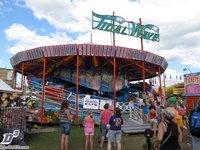 Afterwards we ate and milled around for a bit more, checking out the car show, flower and vegetable exhibits and a glass blowing exhibit/vendor before heading back to the midway which was now getting more crowded. Tidal Wave was the first thing we stumbled across so we took a spin. Tidal Wave is a nicely themed Chance Thunderbolt but, much like every other T-bolt I've been on, it's rough as hell. Even those old Herschel Flying Bobs are smoother; what's up with that? The ride did go pretty fast in reverse I'll say that, of course I almost got bounced into the lap of my riding partner in the process.
Power Surge was right next door so one of the guys and I took a ride. This particular Power Surge does not have a rotating center boom and hasn't had that feature for many years now. I guess it's just not worth getting fixed since it'll still draw in riders even without the third rotation. At the end of the cycle the car in front of us braked in a half upsidedown position as the ride lowered to the platform. That's always funny, especially when it happens to someone else.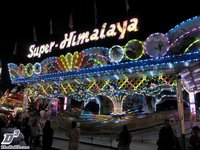 Century Wheel was next which actually had a bit of a line. At night this ride has a very nice LED light show with a variety of different sequences. Next stop was Super Himalaya, a very nice Bertazzon model Himalaya ride. This actually gave a pretty long ride which really was great (as opposed to Avalanche's long ride.) Like Tidal Wave, this ride also went much faster backwards than forwards. I was on the inside so I tried my best to hold onto the bar like some cliffhanger for the sake of my cousin who was being pretty well squashed into the side of the car despite my best efforts.
One of the guys and I were going to ride Zipper next but it was being worked on so we went to Sizzler next. I managed to get a seat alone on this one as did one of the others; I did not want a repeat performance of Super Himalaya! Sizzler ran for a good two minutes with pretty much a full load. Guess the electronic unlock was giving them trouble that day as each lap bar was unlocked one by one with a key at the end.
We headed across the way to Haunted Mansion next which would have been an okay ride if all the lights weren't on inside. Afterwards we noticed that Zipper was running again so one of the group and I took a spin. This particular Zipper had LED lighting and a really nice yellow and red paint job; that thing was sharp!
Afterwards we did a few more rounds of the fair, checking out vendors, the horse show and a few other exhibits. The horse show in particular was actually a legit competition with the winner receiving $10,000. The competition is actually big enough to warrant two large spans of box seating that can be purchased ahead of time; they were about half full that night.
We left the fair at about 9:30pm with the fair closing a half an hour later.
Here's a load of ride photos:
…and a load of general fair photos:
And finally, here's a video!