The NJ State Fair, also known as the Sussex County Farm and Horse Show, is the Garden State's official state fair. It lasts for one week towards the beginning of August (yeah, this trip report is kind of late) and features a horse show, 4H events, free shows and of course a carnival midway provided by Reithoffer Shows. The fair had…
Wild Claw (KMG Fireball)
Power Surge
Zipper
Super Himalaya
Yoyo
Sizzler
Orbiter
Tidal Wave (Chance Thunderbolt)
Fireball (Larson)
Big Wheel
Tornado (Wisdom)
Avalanche (a Moby Dick type ride)
Pharaoh's Fury
Starship 2000 (2x)
Bumper Cars
Super Slide
Haunted Mansion
A bunch of fun houses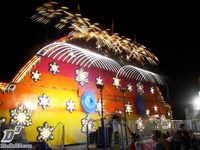 A few things were missing from last year, most notably the Sky Flyer which was too bad since it was pretty good ride. Also missing were Storm, Slingshot (a shot/drop tower) and Tilt-a-Whirl. No biggie I guess, there still were a bunch of decent rides and the fact that wristbands were like $25 kind of made up for it.
The first ride we (two of my cousins and I to be exact) rode was Avalanche. It's pretty much an older model Moby Dick type ride. One thing I never liked about these types of rides is that they all use shoulder harnesses…and not comfortable ones either! These types of rides could surely get away with a lapbar, couldn't they? The ride we got was ridiculously long in both directions. Those paying with tickets actually got a pretty damn good cycle!
Next up was Haunted Mansion, which by all accounts is pretty much just a haunted pair of trailers. It was pretty average by carnival standards with a handful of props, some buzzers, and lots of darkness (save for the few cracks of light coming between the seams.) This is totally a wristband ride.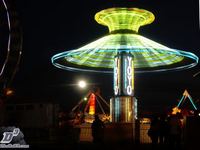 Afterwards it was time for a spin on Yoyo, the Chance swing ride. I have to hand it to Reithoffer, this ride looked GREAT with all LED lights and a clean paint job. If all Yoyo rides looked like this one, it wouldn't be a WTCR! The cycle was a bit short, but whatever, we had wristbands. Zipper was our next stop which now had the required four riders it needed to run. My cousin and I attempted to flip the car while others were loading but it just didn't want to flip; the cycle itself provided a dozen or so flips however.
Our final ride before grabbing something to eat and checking out the farm stuff was Power Surge, which for the second year now did not have the added rotation of the support arm; the resulting ride was pretty sub-par. I hate to say it but it's not nearly as good without the extra rotation of the support arm.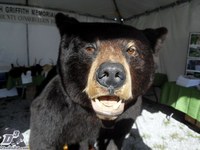 As for food, I grabbed two slices of pepporonni pizza for $5 bucks a slice. Interestingly enough, the cheese slices were also $5 per slice…hmm. While away from the rides we checked out a few shows, including the Pig Races and  Kountry K9 dog show headed by this dude that sort of looks like a mustache clad Carl Pavano in 15 years. We also took a walk through the vast concession areas and club sponsored spaces. Some sponsored spaces of note were the NRA, Pro NJ Hunting, Tea Party Crazies, and the Creationist Ark complete with dinosaurs; yep…we're in the boondocks of NJ all right.
We also stopped by at the art exhibit and made fun of the scribbled drawing that won 1st place. I mean, it was part of  the 5 year old entries, but still…the macaroni and glue art should have won!  The photography entries that had the time stamp visible on the photo were also smirk inducing. Of course we checked out the animals as well. The fairgrounds had rows of stables containing cows, pigs, goats and other barnyard animals. They also had a section with rabbits and guinea pigs; one rabbit was bigger than my chihuahua I think.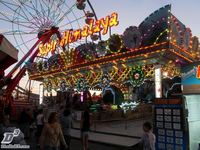 Back to the rides; we hopped on Tidal Wave, a Chance Thunderbolt, first.  Every single Thunderbolt I've been on has been as bumpy as a really bumpy thing and this one didn't deviate from the norm at all. I wonder if it has anything to do with the center mount configuration and how the track is right near the center as opposed to farther out, near the cars (like on Reverchon Matterhorns and Bertazzon Rock n' Rolls.) Super Himalaya was the next stop and in contrast to Tidal Wave, this ride was very smooth and pretty damn fast as well! I think we rode the wheel next, which I think was their Gentle Giant wheel, as opposed to the Century Wheel they had last year (the one we got soaked on.)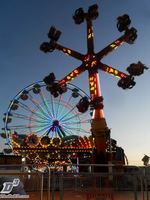 Next we took a spin on Sizzler which went fairly fast compared to other Sizzler rides I've seen lately. The ride was also very long, probably around 4 minutes. Finally we hit up Avalanche again along with another wild flipping experience on Zippity doo dah. Before leaving I ran through the Cuckoo Haus funhouse. Some of the stunts weren't working but the barrel at the end was so I propped my feet and hands on opposite sides and rode the barrel until horizontal. You're probably not supposed to do that, but if I got hurt I wouldn't be dumb enough to sue because…well, it was my own fault!
Before leaving I grabbed a milkshake, a really good one at that for like $5. We left at around closing, probably 11pm or so. All in all we got on a lot of rides and the crowds weren't too bad for the Friday opening day.